One of the interesting side effects of the pervasiveness of technology today is that work in general is becoming so digital that it sometimes completely disappears from sight. By this I mean it's trapped within our e-mail systems, IT systems, Web applications, SaaS, cloud services, document management tools, and so on. Thus the hard work we put into creating knowledge often isn't as collaborative, sharable, or discoverable as it should be.
This is one of the central aspects of social media that has made it so prevalent in recent years and is the reason most of the Web today is being peer produced in such a manner. In social media, by default, things are much more open and public so that conversations, as well as work, are conducted out in the open where all those with interest in what we do can see it. In these newer social venues, outside participation and commentary aren't just tolerated, they're encouraged outright by design.
Applying Social Business to Work Processes
This has led to a small but growing movement to make the workplace take on this issue, with the premise that traditional, pre-digital work processes tended to have more people directly in the loop, reviewing, editing, overseeing, and so on. Now too often, work takes place in digital silos that greatly reduce the human involvement, fails to capture much of the knowledge at all (something I call knowledge evaporation), and leaves little behind to learn from, build upon, or otherwise reuse. This is because older digital tools aren't nearly as focused on discovery, collaboration, or network effects.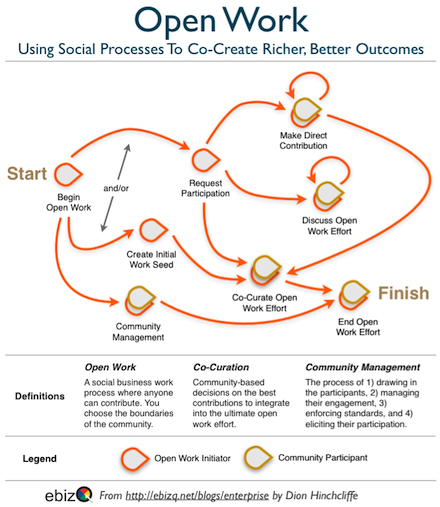 How can we fix this by applying social media to our work? With an ad hoc approach sometimes known as observable work — or as my colleague Susan Scrupski likes to call it, working out loud — it's a process of narrating your work in a social forum and involving your co-workers, business partners, and customers to join you, as appropriate. Is it a formal process? No, not really. Is it repeatable and easy to do? Yes, with a little preparation. Are there people doing it today, and succeeding? Yes, it's done all the time.
As I've said before in my talks, the key principle is a simple one: "Anyone can contribute." Today's work mindset is such that early drafts and ideas in the rough are kept hidden and not shared until far too much work is already done before input is requested. As we've learned with agile software, course corrections are much easier and more effective when done early and often. This is where agility and social business have much in common. In the end, being in frequent (some would say constant) contact with ones stakeholders makes for a highly aligned, mutually well understood, and jointly accepted work product. The activity streams of social media, when integrated in the flow of work, ensure that this is the case.
The Root Concept: Open Work
As with the Enterprise 2.0 naming discussion, most recently rekindled by Greg Lowe, there is some concern about the name of this approach to social media-powered work. Personally, I'm finding simple, self-descriptive names work the best. For now, I'm referring to the combined concepts of observable work, narrated workflow, open collaboration, and working out loud, in the most generic sense as open work.
Open work, like open source, open standards, or even the more prosaic scholastic open house for that matter, has at its core the ethic that hiding the work process in shadows is generally counterproductive. Collaboration and teamwork work best when there is abundant communication, transparency, and therefore most important of all, trust in the process. Open work is the most likely and most direct route to enabling this.
That's not to say there aren't issues with this. As has been said about democracy, it's the worst form of government, other than every other known type. Open work has its challenges too. The deluge of communication and conservation can be interrruptive when not managed well. Driving enough relevant participation for those unfamiliar with the discipline can be hard at first too. But as the sustained success of everything from open source software to Web 2.0 sites has shown, it's changing the world.
But like any new discipline, it will take time to learn and refine. While there are those that say that consumer models for work can't be applied effectively in the enterprise, I'd say that's already disproved. Those are those that opening business processes up early is too messy. To them I answer with John Hagel's trust paradox.
However, frankly, even this is quibbling. There are many success stories for open work, probably the best known being Alcoa's case study delivered at the Enterprise 2.0 Conference a while back. There are others. I urge you to read McGee's excellent Managing the Visibility of Knowledge Work for additional thinking.
Getting Started with Open Work
What do you need to know to get started with open work in your organization? Not much. An appropriate social media tool certainly helps. So is a willingness to experiment and learn. What will you tackle with open work? Just about anything within, across, and outside your organization. This can be in sales, marketing, product development, customer support, and in the executive wing, I've personally seen it happen in all of these areas. The key is to remember that this is no longer really cutting edge; impressive results have already been accomplished with open work processes by businesses in the online world, we're just now getting organized around applying them in the traditional workplace.
Finally, I would urge organizations that are already adopting social networks today, as a great many of them now are,that open work is a basic social media literacy skill if you want to get the most from it. As the visual shows above, digital curation skills and community management capabilities are essential if you want to get the most from this growing new work phenomenon. Above all, don't get wrapped up in the what-to-name-it game or in the my-tool-or-no-tool game. Get some work done.
For more information on strategically applying open work and social business, read The Social Business CIO Shortlist.