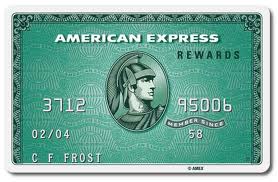 A bit of
news
you might have missed last week, considering all of the high profile (and very sad) headlines out there, was a partner / program announcement from American Express. I've
watched
the battle for "local" rage on for the last couple of years with location based apps, review sites, local deals and more all vying for some piece of the potentially lucrative market. Context, particularly location although other data is useful as well, is one of the most powerful tools in helping local businesses market more effectively. That's why I've always been a fan of FourSquare, even if they haven't yet really capitalized on the opportunity. Social data is the rest of the equation though, so adding another deep source of social data into the offering is a compelling concept. Deals businesses like Groupon and LivingSocial, as well as Google, are
interesting
and have gained some serious traction and interest from local businesses as well.American Express is no stranger to the local business market as well. They have provided small business services through their business credit cards for many years that include many services ranging from merchant services to travel benefits.
Amex
is even embracing and using social to add business value including building brand equity, prospecting and building ongoing brand loyalty for local businesses through its
Open Forum
small business community.
Recently
American Express partnered with Facebook to allow businesses to use Amex Rewards points to purchase (or I guess the word is actually trade) Facebook ads. My point is that Amex is no stranger to the local businesses and in fact, has a great deal of data on them that it could leverage to penetrate the market even deeper addressing one of the issues that new entrants have struggled with, "how do you build relationships with such a high number of businesses"? This is Yelps advantage, it was early to this market and invested in building relationships with the local businesses, something that makes it hard to unseat and one of the reasons that Google tried to
buy
it a few years ago.
So now Amex is getting into the local deals market and in a very compelling way. As I mentioned above, context / location could be an interesting part of cracking the local market and FourSquare has a solid user base that could be leveraged. What it doesn't have though, is deep relationships with local businesses and to get that would require big investments of both time and money and in this race for mind share, time is money. The first partnership Amex orchestrated, announced a few weeks ago between Amex and FourSquare, provides both sides with a compelling value proposition by allowing Amex card members to link their cards to their FourSquare account. The combined offering also gives the partnership some uniqueness that the other leaders in the local deals market don't have and couldn't easily get. Groupon, for example, has invested a great deal in a sales force to reach local merchants, but it doesn't have the long term and broad business relationship that Amex does, it doesn't have the long term and broad cardholder base nor does it have a location based mobile component to add more context and relevance to its deals. Sure you get deals each day based on your general location, but it only general context, not specific and continuously relevant to you. On the other hand, the Amex / FourSquare partnership could provide you with a flow of deals that are specific to both location and context. For example if you checked in on FourSquare at the Mall around 11:30am the deals engine could offer you a discount on lunch with reasonable expectation that the subject would be relevant to you. Or if you check-in to retailer H&M, one of the initial merchant partners of the new offering, the FourSquare app could offer you a deal in the store in real time. As you can see, this combination of real time, mobile, context and deep backend data is compelling.
What was missing from the offering though, is a deeper set of social data and a broader social platform. Last weeks announcement of the Link, Like, Love app in Facebook carries the Amex move into local deals to a new level. The app takes the Amex deals and adds in your social graph to increase context and relevance. Consumers simply go to the Amex Facebook page and link their card to the app to gain access to the deals. From a business perspective the new offering gives merchants an easy way to get a deeper presence and connection on the largest social platform, something that goes beyond a Facebook fan page and creates much more relevant connection. The other thing it does though, is simplify the process for the merchants (and also for the consumers). And don't underestimate simplification, it is extremely important to these small businesses as the deals landscape has become crowed and complicated while the merchants have more economic pressure to get social, and get some local deals or be out maneuvered by the competition. Amex is in a great position to unify and simplify for these merchants and it already has a trusted status relationship with many of the businesses. In addition the merchants get access to the deals data on a dashboard (on the Go Social platform) up front, not days after the fact like most of the current deals offerings. Amex is rumored to be in talks with other social sites as well, in a move that could leave it as the backend platform for much of the new digital commerce (and outmaneuvering PayPal in the process).
From a consumer perspective, at least for the Amex cardholders (~44M in the US alone), this is all goodness as well. It does provide simplification, and for consumers it's all about the experience. Amex can now deliver to consumers deals, content and experiences based on their Facebook likes and interests, as well as the likes and interests of their friends. It can also tie in Facebook Places for location based offers. The deals can be shared across your social graph, adding in a viral component as well. Lastly payment is simple for card members and you get the benefit of complete tracking on your monthly statement.
It will be interesting to see if Amex can pull off adding additional platforms to its offering in the coming months, but I'd say the current offering is very compelling for both business owners and consumers.