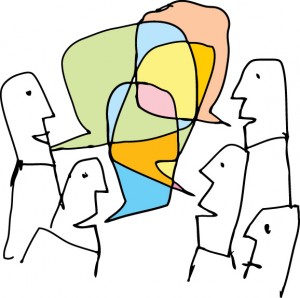 A couple of years ago while analyzing the ways SaaS business applications could evolve we started thinking about the social web's impact on business processes.  At the time, Facebook's success was accelerating while Twitter and Zynga were emerging. We know that consumer-oriented companies want to engage their customers and prospects in the places they frequent, i.e., the social web.  We also started seeing early signs of consumer-oriented technology adoption by corporations. These realizations made us hypothesize that the social web will figure prominently in the next generation of business applications and that these applications will be built on top of new platforms that have the social web at their core.  To date we have invested in three social application companies: Extole, a company that provides a social marketing application, 8thbridge, a company that provides a social shopping and commerce application, and Jobvite, a company that provides a social recruiting application.
As we examine the characteristics of our three investments as well as those of other relevant companies we have considered investing, we have concluded that the applications developed by such companies:
Are delivered over the cloud.
Automate businesses processes that target individuals (consumers or employees), e.g., marketing, shopping, recruiting, customer experience management, collaboration.  For example, Starbucks' 13M Facebook fans or Coke's 11M Facebook fans do nothing for these brands unless they can somehow demonstrate their engagement with each brand. A couple of weeks ago 8thbridge, working with Paramount Pictures, created the Facebook store for the recent Transformers movie.  In the first two days the store went up in resulted in 900K new fans that, most importantly, generated 77K content interactions and also led to many ticket sales.  As consumers increase their participation in social media, business executives continue to create programs to engage with them. In fact, 70% of interactive marketers are currently piloting processes to drive word-of-mouth marketing through their most vocal consumers, 58% have launched systems encouraging consumers to spread company messages; and 47% have launched social tools that allow consumers to support each other, e.g., forums.
Are implemented on new platforms with social networking structures, e.g., enable access and operations on a social graph, and capabilities, e.g., capitalize on the social graph to enable viral distribution, at their core.  In addition, these platforms have global reach, support large partner ecosystems, are device agnostic, support online and mobile communications, advertising and commerce.  Facebook has emerged as the strongest platform with these characteristics, in the same way that Google a few years earlier emerged as a platform for applications that had search at their core.  However, we expect that Google, Microsoft and Apple will soon augment their own web platforms with such features as well.
Are data-centric, in that they generate and operate on big data, and use analytics to provide a variety of insights pertinent to the business.  Insights on how a fan uses his social graph to spread a message about a brand, how to improve user engagement around a brand, identify which customers must be nurtured because they are brand influencers or can attract talent to a particular company, which customers or brand fans must be rewarded because they can address product problems, and which consumers shall be offered a reward, e.g., more frequent flier miles, because they can drive a particular group-buying behavior, e.g., organizing a vacation with a group of their Facebook friends and purchasing plane tickets, identify customers that are ready to defect because they are dissatisfied with a company's service quality.
Require significant consulting services as corporations are in the very early stages of trying to determine how to take advantage of the social web and appropriately adjust their business processes and practices.  In general, we are seeing that as much as 50% of these companies' revenue could come from consulting services.  Unfortunately, the established professional services organizations are not yet able to field the right solutions.  As a result, the social application companies end up offering the services themselves.
We continue to look for additional investment opportunities in early and expansion stage companies whose applications use the social web to address important business processes in unique and valuable ways.  Some application categories are becoming overcrowded with companies that have little differentiation and overfunded by investors.  We, however, are looking for the companies that have developed social applications whose value will not become obvious for another couple of years.