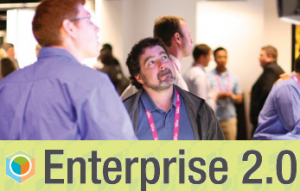 The conversation on the social web about whether "Enterprise 2.0" still has relevance has been ongoing for a long while.  Nearly everyone has weighed in on it who follows the space.
Within my role here at the Dachis Group as Executive Director for the Social Business Council, I've often wondered whether it was time for us to retire "Enterprise 2.0″ as well.   After much deliberation, I've concluded that we shouldn't.  The market is still evolving.  It's still early in the grand awakening that is taking place around the world regarding working socially and collaboratively – most especially for the largest organizations in the world.  Enterprise 2.0 is changing in its scope and refining its mission, but it hasn't really evolved much.  Of course, when I talk about Enterprise 2.0, I mean the practice of introducing and adopting new ways of working that involve the use of liberating social technologies.  Of course, in order to "do" Enterprise 2.0, you need a massive education, and re-learning that leads to organizational change and to some degree, disruption.  But the root foundation of Enterprise 2.0 is still sound.  It's a meme that is widely understood and embraced by passionate community of friends and fans who've invested career capital in its growth. And that's not just the Andrew McAfee's of the world, but every brave soul who's stared down glaring faces in a conference room or auditorium using foreign Enterprise 2.0 concepts and ideology.
So.  What then about Social Business?  Social Business is the macro change that's taking place worldwide — touching every business and organization worldwide regardless of size, industry, or business model.  It flows from the consumer or corporate buyer to behind the firewall, back out to the suppliers and within and without everything that transacts and moves in the global economy.   There isn't a conference big enough that could hold the exploding growth in Social Business and cover all its facets with authority and relevance.  Social Business is becoming all business.  When the Dachis Group hosts its worldwide Social Business Summits, we strive to bring some of the best leading thinkers to bear on this changing landscape.  It's an ambitious undertaking and ever-changing.  Jeff (Dachis) describes our events as the TED of Social.  Dachis Group provides these events as a service to our customers and the industry at large.
I'm writing this post on a flight from  Minneapolis to Austin where the Council just held its first Social Business Symposium on site at one of our F100 members' corporate headquarters, 3M.  We have an eclectic mix of attendees who signed up for the event.  The range of professionals who attended spanned from global digital strategists to knowledge management pros to information architects.  When Peter Kim, who gave our opening keynote, asked me if I had any input to his talk, I told him, "This is probably the first time we'll see such a unique audience of large enterprise customers sitting side by side who hail from every corner of the Social Business spectrum.  Try to give them an understanding of why they're sitting next to each other."
In essence, Enterprise 2.0 is a subset (albeit a critical one) of the Social Business phenomenon.
At the end of the day, everything social that lives and breathes must turn back inward to the Enterprise to create value.  The trouble, as I see it, is there is still a planet of Enterprise 1.0 filled with attached documents, modules, silos, email inboxes, business process, Six Sigma, dogma, and fear.  The time to move beyond Enterprise 2.0 is not today.  We've barely made a dent. The shared core beliefs that the Enterprise 2.0 community espouse and continue to drive into the social consciousness of the growing social business community are essential.  Without rich, fertile, open green fields behind the firewall, properly tilled and seeded, the great strides in social media, social CRM, social analytics, social intelligence will never take root and produce the outcomes that will fulfill the promise of social reinvention.
As I often do I'll fall back on religious parallels to drive home my point.  Just like Ruth, I am loyal to E20.  I will go where Enterprise 2.0 goes. The heritage of the movement and its ideals are still highly relevant (perhaps even moreso), and I will go where it takes me.  This may be to new platforms, new technologies, new organizational change models, new leadership mantras– I welcome it all.   Unlike the popular technology, leadership, and organizational models of the last decade, E20 stands to humanize, rather than dehumanize us.
A final thought. There are superficial changes that are taking place as a result of the socialization of society and commerce, and there are substantive ones.  Both of these will occur, but within the confines of industry, the work that is going inside the enterprise is 100% substantive.  I take great satisfaction being a part of that history-making reincarnation.