Despite the macro trends that continue to be challenging for the US economy, concerns about Europe and Greece's impact on the continent's economy, and the continued impasse for an agreement that will raise the US debt ceiling, SaaS companies have been reporting strong performance results for 2Q11.  I got a good feeling for the quarter when our SaaS portfolio company CEOs started to report preliminary positive results before the end of June.  We typically have to send messages asking them to update us on the quarter's performance.  During 1Q11 only 40% of our SaaS companies achieved their numbers.  It was a different story during 2Q11 when 90% of our SaaS portfolio companies made or exceeded their financial targets.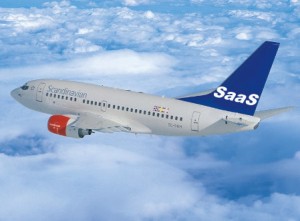 The public SaaS companies that have already reported quarterly results (Rightnow, Concur, Netsuite, SPS Commerce, Vocus, AthenaHealth) demonstrated strong performance, meeting or beating expectations.  Salesforce and SuccessFactors will be reporting in the next few days but are expected to turn up strong results.  During the quarter we didn't see the M&A activity that was exhibited during 1Q11, but there were plenty of private company financings (both initial and follow-on rounds) indicating the continued strong investment interest in the sector.  Most of these rounds commanded valuations that depending on how you see it either defy reason or point to investor bullishness on the strength of the SaaS model; but that's another story.  Based on the data provided to Trident by the private SaaS companies that sought financing during the quarter we saw strong performance during 2Q11.
There were several elements of our SaaS portfolio's performance we liked:
Increasing demand for SaaS applications particularly by the larger enterprises where business application updates remain one of the top priorities.  We are seeing similar upmarket movement by several of the public SaaS vendors.
The percent of multiyear contracts is growing, with more of the larger customers opting for 3-year contracts.  These customers are prepaying at least the first year which greatly helps SaaS companies with their cash flow needs.
As the demand for SaaS applications increases, more systems integrators are starting to support the model and are seeking partnerships with the right application vendors, including private companies.  Our portfolio companies signed more partnership deals during this quarter than ever before.
Contract renewals met targets and several customers not only renewed but expanded their usage.  This is the result of continued strong ROI that customers are seeing through the use of our portfolio's SaaS applications.
Interest from international clients, particularly from Europe, continues to increase and several US customers are expanding the use of SaaS applications to their international operations and subsidiaries.
While still early for definite conclusions, sales pipelines for 3Q and 4Q are growing generating optimism for strong results during these quarters, assuming the US economy does not stall.
The performance elements we didn't like include:
Higher discounting and more deals signed at the end of the quarter.  The larger customers, particularly those signing multi-year contracts, have continued to hold off until the end of the quarter before they commit.  We have seen a few percentage points increase in the amount of discounting necessary in order to close several of these larger deals, compared to 1Q11.  In addition to the discounting, as can be expected, signing a contract at the end of the quarter had a negative impact on the target MRR for these companies.  However, backlogs grew as expected.
Increasing sales and marketing costs.  The move upmarket by several of our SaaS companies, as well as many of the public ones by the way, necessitates a different and more expensive sales and marketing approach.  Several of our companies are establishing additional field sales teams to adequately address customer expectations. This move is negatively impacting margins and challenges the high-leverage SaaS sales model that, at least at Trident as long term investors of this software area, we have come to expect.
Some of the larger companies looking to adopt SaaS applications expect hybrid cloud implementations primarily because they want to keep their data behind their firewall.  Thus far private SaaS companies have been resisting this requirement because it will necessitate R&D investments to create hybrid cloud versions of their applications.  It is not clear whether our companies will ultimately be successful in convincing customers, particularly in industries such as financial services, telco and health care, about the adequacy of the public cloud for their application needs.
We hope that the lackluster performance of 1Q11 was this year's exception and that our SaaS companies during 3Q and 4Q will continue demonstrating the strong performance they exhibited during 2Q11.