That's the title of a report by the  Public Administration Select Committee (PASC) of the UK House of Commons.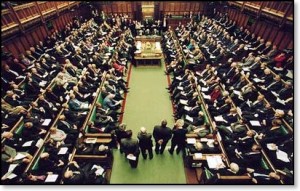 It says "The Government's over-reliance on large contractors for its IT needs combined with a lack of in-house skills is a "recipe for rip-offs". The committee found that as a result IT procurement too often resulted in late, over budget IT systems that are not fit for purpose"
As you read the report it sounds like a post-mortem for an accident which happened years ago.  My reactions:
a) They are just now waking up to the poor technology economics and project overruns?
b) They are using PC TCO benchmarks even as Apple and Google are talking of a post-PC world?
c) I wonder if they benchmarked printer ink, storage costs, roaming charges, consultant travel and so many other IT "empty calories" I have written about.
d) They have terms like "oligopoly" and "cartel".  No, the UK government does not have a bullseye painted on its back. It affects technology buyers around the world . As I wrote in The New Polymath:
"The top 25 global technology vendors, such as HP and AT & T, now make up more than 50 percent of the volume of the IT amount spent externally. The top 25 global technology buyers (dominated by large banks and government entities), however, barely make up 5 percent of the total spend"
The solution is more cooperative benchmarking (not just within the UK agencies) and often going with less "safe choices" when it comes to technology decisions.
e) The report does suggest using smaller vendors more – in the spirit of less "safe choices". I am all for that but good, solid competitive bidding between larger vendors also works. Try pitting HP against Cisco when it comes to networking, Microsoft against Google and IBM when it comes to mail, groupware, EMC versus amazon when it comes to storage, Accenture versus TCS when it comes to services and on and on.
f) It gets into agile versus waterfall methodologies. That can certainly affect application implementation costs, but I wonder if they looked at the long tail – data center costs of applications, application management costs, annual software maintenance costs and the alternative economics of SaaS.
Maybe I am being harsh, but I think they only looked at the tip of the iceberg. The good news is they know it is there and need to find ways to melt the iceberg or avoid it going forward.