Business Insider reminds us that today is the 30th birthday of the original IBM PC: the computer's brain was a 4.77Mhz Intel 8088 processor (for my younger readers, it's Mega not Giga) and it had a grand total of 256K RAM (again, it's not 256 GB, not even MB, but Kilobytes).  Yet it was a revolution – computing moved out of humongous data centers onto our desks.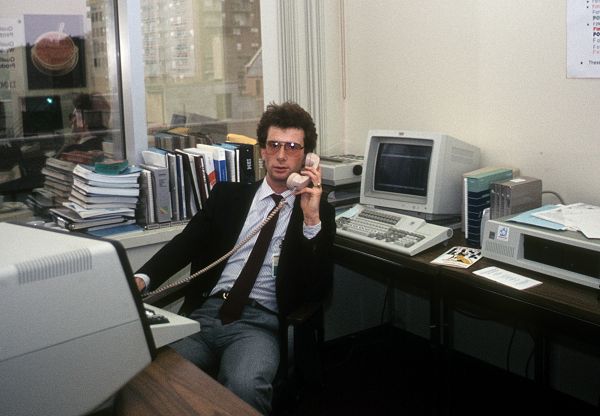 The youngster on the above image is yours truly, circa 1985 – in front of me an IBM 3270 mainframe terminal, but the machine behind me is a first-generation IBM AT, that doubled the processing speed of the original PC. No hard-disk,  you had to be a manager to "earn" the privilege of  a whopping 10MB. (Yes, Mega, not Giga).  These computers ran PC-DOS, not MS-DOS, and I recall many water-cooler conversations at IBM on how the company would soon crush little rebel Microsoft…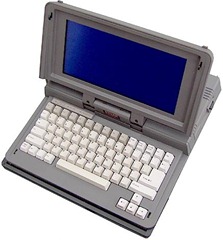 A little later I purchased my first laptop, a Spark by Datavue, which had the same processor speed, 640K memory (huge at the time) and came with 2 floppy drives, 3.5" instead of the 5.25, which, at one's own risk could be formatted in dual density, reaching a whopping 720KB storage each (yes, Kilo, not Mega). Still no hard disk, but it came with Microsoft Works, a perfectly working and lightweight integrated office suite, at a time when Word, Excel and Powerpoint were part of a suite only in name, but moving data between them was a major pain. Too bad Micorosoft later downplayed this for the sake of high-margin bloated Offfice.
In the years to come computers have become faster, more powerful – hey, whatever happened to "there is a world market for maybe five computers"?

, but how we interact with them remained fundamentally unchanged.
Fast forward 25 years – the introduction of the iPhone, later the iPad is turning computing upside-down. All of a sudden mobile computing has arrived, we touch, feel, talk to our devices instead of interacting with clunky devices.  We used to go to a computer, now it comes to us. With us.  In our pocket, purse, soon on our clothes.  The "personal computer" as we had known it is dead.   And I predict more death.
First, mobile computing.  Now you think I am crazy, we're just warming up to mobile computing… well, calling it mobile will make little sense in a few years, when all everyday computing will be just that – mobile.  Ditto for Cloud Computing.  In fact "computing" will be an obsolete term for most of us.  We don't compute.. we just live our life, consume information, make decisions based on data always available to us – hey, that's not computing, just life in the 21st Century

.
Happy Birthday, PC.  It was nice to know you. Now, rest in peace.
P.S. You really should read How Apple (unintentionally) revolutionized corporate IT @ Forbes.  It's written by Aaron Levie, a kid who, given his age would be a trainee at the 1980's IBM.  But this is 2011, and Aaron  runs Box, a company that accelerates our move to the future of (non)-computing.

(Cross-posted @ CloudAve.)
Related articles