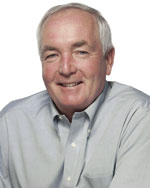 Former AMR Research executive Bruce Richardson, one of the most pragmatic, fun and approachable personalities in the supply chain business, made a big splash when he went to Infor to take an executive strategy role less than two years ago. He's recently left, surprisingly fast given the time he spent building his last firm. More important, Bruce really was the original blogger in the enterprise applications market, pioneering the art in a weekly column he shared with AMR subscribers for what felt like at least a decade. When I set out in 2004 to write a blog and ultimately create a persona around a niche area, I modeled our plan on what Bruce had done at AMR — have fun, be both approachable (at the bar or otherwise) and expert (or, at least, be perceived to be seen as an expert), write like a columnist, not an academic idiot who really can't argue in the real world, etc.
And above all, it was in my plan to stay focused as much on the big picture as anything to create the most influence, but to maintain the ability to dive down low in certain areas. This is the persona that Bruce created at AMR Research and what ultimately led to the firm building a great caché and list of all-star analysts under him. Flash forward to today, and many of us hold a huge debt of gratitude to Bruce for paving the way for analyst 2.0 (or whatever you want to call it). AMR, unlike many of the other tech analyst research shops, not only had a lively personality that combined expertise, insight and focus, but also a list of analysts who weren't androids or cogs in a massive gear box (or the tools that kept the beast moving forward). Nearly all had big personalities and personal opinions, following in the footsteps of their boss and transcending simply a big corporate research brand.
Some of this spirit lives on at Gartner in the AMR analysts who are left. Mickey North Rizza, the top analyst in this space in my humble view, is very much included. But Infor is now left with a void — not only with Bruce, but also when it comes to one of the faster growing applications markets in the enterprise sector: procurement and sourcing. I previously wrote in a postthat "it's shocking to me that the ERP/business application roll-up [Infor] does not take procurement more seriously given the growth in the broader sourcing and supply management market (which by our rough estimates, has easily realized double-digit CAGR recently in most key areas including P2P, spend analysis, sourcing, supplier management, and contract management)."
In that post, we suggest a number of reasons that make the procurement and sourcing sector a good fit for Infor. But the vendor continues to run the plug and chug roll-up numbers without considering the positive synergy such organic development or acquisitions could bring to its shareholders. Without Bruce, I suspect that procurement will have even lesser mind-share at the solution strategy table at Infor. Too bad for its investors — not to mention the installed base who are missing out on a critical modular hole in the Infor solution suite.