Device ubiquity across home and work is the new item on the CIO's to do list.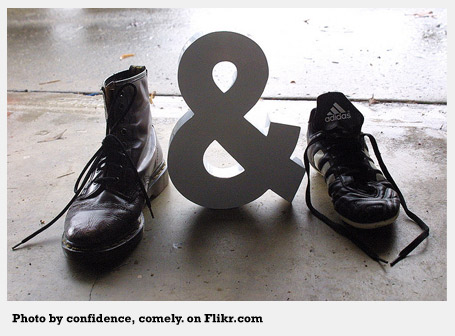 Interesting stat in The Telegraph about how employees are more productive if they use their own gadgets:
According to a YouGov survey, businesses who let employees use their own technology see productivity increases of up to 30 per cent.

That makes it more important than ever that technology is as good for the home as it is for the office – with 45 per cent of businesses already allowing employees to use their own computer equipment, the number of reasons to put up with poor kit are diminishing. […] in 50 per cent of cases, a personal device offers greater functionality or flexibility than the one provided by the employer.
Single-purpose devices are looking a lot less attractive. In the consumer space:
iPads for educational games are more practical than say a LeapFrog device.
Tablets serve as dual purpose in-car entertainment consoles.
Less proven but iPad Kindle app vs. the Kindle itself. Personally, I wont carry 2 devices and would 'deal' with the sub optimal experience for convenience sake.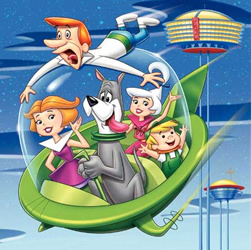 It's important to baseline todays consumer experience that we've all come to expect. Think Amazon's mobile barcode scanner for a price check when you're in a retail store. Or Evernote's voice transcriber. Or using your iPhone as a tile rack when you play Scrabble on an iPad. Or Plants vs. Zombies, the tablet game my kid is hooked on to (damn you, thank you Josh Moore).  The Jetsons have in fact arrived.
On to the Enterprise….
Single purpose devices for work vs. play are starting to make less sense as well.  But for CIOs, deciding whether to relinquish control of devices has more to it than just ignoring Dell or Apple's sales call.
Beyond governance (see Maribel Lopez' post) and structural/economic issues (see Dennis Howlett's post) with the enterprise mobile subset, we risk tripping over the following two cinderblocks:
Klunk
Consumer device proliferation has far exceeded the pace of enterprise software design for the most part and so, expect the opposite problem where its our software that can't handle our hardware. Using our personal hardware is really going to expose how terrible our interfaces are in the enterprise. Just think about the devices you use in your personal lives and imagine double clicking on the iPad button to toggle between say Evernote and your kludgy ERP Expense Workflow. The contrast is blinding.   And because the presentation layer is still so deeply hard wired into the back end with limited OR nonexistent access to a presentation layer APIs (think Twitter.com vs. Seesmic or Hootsuite), I shudder to think of trying to maneuver most ERP financials or even a tangled SharePoint web part on a 2011 era device.
Getting Work Done
This is far more critical. Historically, enterprise software has focused on a) Executive benefit and b) Manager benefit. This translated to: Get the right input forms and workflows in place with a database at the backend so you can control execution and monitor progress.
But we've ignored a third wheel and that's helping employees, customers and partners get-work-done, by focusing on their needs.
No doubt there's newer, approachable technology being built these days, often powered by cloud computing. But we're getting somewhat hypnotized by this elegantly designed enterprise software just because it looks and feels warmer than the klunkware we've been subjected to over the years.  And there's a good chance were forgetting to consider whether the same degree of end user utility we've come to expect from our consumer software is in fact available in our work software.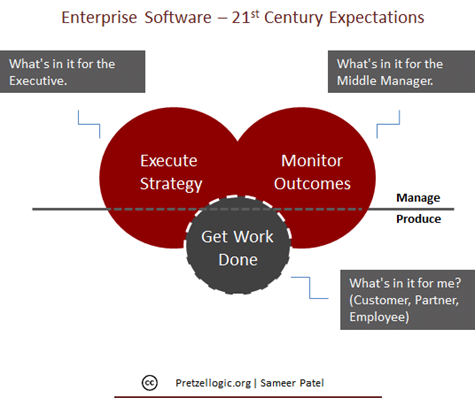 As you look deeper, its pretty easy to spot enterprise software that has gone so far as to provide compelling interfaces but only far enough to get you to do more of what traditional software did – fill form based screens for executives and middle managers. Contrast that with those who truly re-think the business activity instead of, say, just force fitting a web app to a mobile browser. In many cases, the get-work-done factor for employee/customer/partner hasn't really been addressed in a meaningful way. That comes from a) re-thinking the process or activity from the end users perspective, b) a more balanced approach to catering to the needs of managers, executives and end users and c) leveraging state of the art hardware and software design innovation to make it happen.
The business of collaboration and at a meta level, "the future of work", often puts us squarely in the midst of these discussions as collaboration and systems of engagement are often seen as but one important way to deliver technology and working environments that account for the "get work done" factor for end users. But consider the broader innovation kitchen sink that impacts people centric software design: device capabilities, open APIs, app stores, in-memory processing, location awareness and browser technology advancements.  Get-work-done capabilities emanates from carefully combining these advancements for the benefit of the end user. In the enterprise context, that's the employee, the customer and the partner. All in an effort to do more and with better accuracy and at faster throughput.
We often take it for granted but it is this culminated magic that we experience when we fire up our personal devices and use software designed for them. And that's a high bar to keep front and center, as we start to use work software on our own devices.
A great example of get-work-done software is Expensify, an app that ties mobile photos of receipts to line items on your credit card statement to generate expense reports in minutes (H/T Jeff Nolan). Echosign for speedy contract execution is yet another. And DoubleDutch is coming at the mobile enterprise with a suite of get-work-done' offerings. And on and on.
I spend a considerable amount of my time dealing with the business planning and execution end of things but shortlisting and selecting technology is a natural extension of the work. And I can tell you that increasingly, customers expect get-work-done facilities not only from stand alone social software vendors or start ups. But because the benefit comes from so much more than just collaboration or 'social', customers expect to see it from their CRM and HR and even ERP vendors.
The technology vendor summit season kicks off in a few weeks and around this time of the year, I have software on my mind. I've already had the chance to see how Oracle and many of the social software vendors are treating this. More such opportunities to come in the next few weeks, starting with Workday and Salesforce.com.  I'll follow up on this post with what I've learnt in early September.
This third wheel in the enterprise software stack that delivers on the get-work-done promise is going to be the most compelling benefit that your organizations realize as you democratize the value of your technology investments beyond just the bean counters, LOB heads and line managers, and on to the do-ers.  Re-balancing the value of enterprise software amongst all three constituencies will not only improve uptake of your purchased technology (a chronic problem in many organizations ) but will also significantly improve accuracy of numbers reported upstream.  And so I'll reluctantly extend my least favorite phrase in the world and call this a 'win/win/win' for all stakeholders concerned.