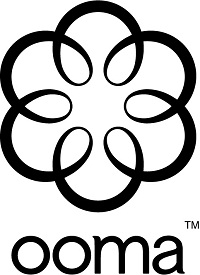 The one thing a phone service can't do is to simply disappear.  And it is normally those times we realize how much of a lifeline it still is.  Like I did, expecting a call from my Dad's cardiologist re. his hospitalization. Waiting, waiting, I was getting p***d with the poor doc, when I noticed the flashing red light on the Ooma box.
Reboot time.  Nothing.  Ouch.  Check the Ooma website.  First it was still up, but lethally slow, not allowing me to log in and check status, then it completely disappeared.  No status updates, either.
Oh, well, let' check Twitter. Lots of Ooma references – all commercial junk, referrel links in the hope of a commission. To a dead service.  Ooma actually has a support account, last updated almost a month ago. Way to go!
Internet search brings nothing, calls to the company' support line go unanswered.  Hey, we're just a phone company, call us in business hours

Finally, on a hunch, checking Facebook.  Wow.  Very lively thread, users from various states reporting problems, this is clearly nationwide. When did Facebook take over from Twitter?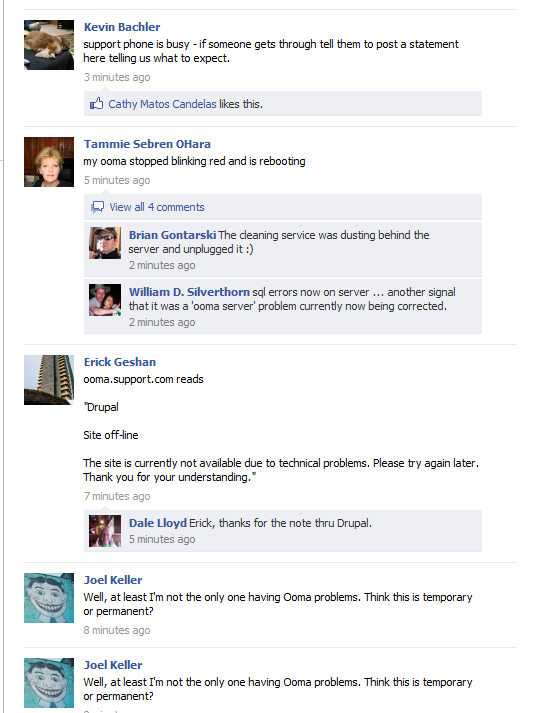 No reaction from Ooma yet.  Perhaps they might study Amazon, Salesforce.com and many others on how to respond to outages.  This is simply unacceptable. Phone service is still to crucial for everyday life.
Update: Twitter is waking up – the company still sleeps. And wow, Wikipedia already has an entry on today's outage (no, it was not me):
On August 17, 2011 another outage affected all of Ooma's customer. Phone services as well as the Ooma web site were down. The Facebook and Twitter accounts for Ooma are abuzz with angry customers. It seems that the customer frustration has far more to do with the lack of communication from Ooma than from the outage itself. Over 2 hours into the outage, there has been no communication from Ooma. Many have begun to speculate that Ooma has gone under.
Hello!  Oooma! Anybody home? 🙁
Update:  Ooma service appears to be coming back now in some places, still down for many.
(Cross-posted @ CloudAve)