Sitting here in the audience at the annual Dreamforce conference of Salesforce.com, a couple of quick impressions come to mind. This post is mid-stream during the first keynote speech, so there will be more later.
A few observations:
Salesforce.com is indeed a force to be reckoned with. One of the largest software vendors in the world, with an annualized run rate of $1.3 billion in revenue, no one can deny the inroads that cloud computing has made in the enterprise. 19,000 people registered for this conference, an obvious indicator that something serious is going on.
The company has developed a vibrant ecosystem. Wandering through the expo hall to see the vendors and partners showing their wares, I was struck by diversity. Notably, I spoke with a system integrator implementing large (over 1000 seats) Salesforce projects. At that scale, there's real complexity, especially around business process redesign and integration with existing systems. I intend to explore this topic further.
CEO Marc Benioff emphasized "trust" as key theme. In a slide showing aspect of the Saleforce's infrastructure, trust was right at the center. Here's a photo: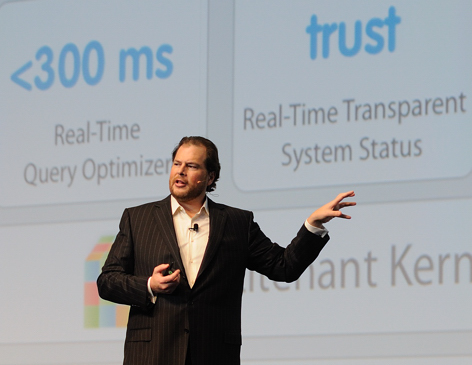 The trust issue is big and there's no surprise Benioff positioned it front and center of his first slide on product strategy. Trust, confidence, and reliability are among the key matters of concern to large enterprise buyers.
This post comes while the keynote is in-progress. More soon…
[Photo by Michael Krigsman.]