PwC (PriceWaterhouseCoopers just released its quarterly forecast that's 68 pages of collaboration goodness. The report is edited and produced by Bo Barker, Vinod Baya and Alan Morrison.
The document covers three broad themes:
The collaboration paradox: More social information helps the workforce find what it's looking for. First we had communication silos inside organizations. Now with e-mail and the Web, we're all dealing with communications chaos. Paradoxically, the metadata—the context around the communications which new social technologies are now surfacing—offers the secret to eliminating communications chaos, moving enterprises closer to fully shared knowledge. Analytics that take advantage of this metadata are the first step.
Enterprise success with emerging social technology: Innovators are learning to build graphs to help users find the information they need—and each other. One thing enterprise have learned is that siloed, standalone consumer Web-style microblogging or social networking tools rarely work well inside an enterprise. Social technology that's embedded in the enterprise application environment to offer collaborative support to specific business processes, or explicitly targeted at unifying all communications and collaboration, can be much more useful.
The CIO's role in social enterprise strategy: Transforming collaboration demands an evolutionary approach. Before trying to add to the mix, take stock of how your workforce is collaborating to begin with. What's the appropriate rationale for adopting a new tool in this case? By formulating an adoption process with goal setting and incentives appropriate to the business, CIOs can help business units position themselves for the collaboration and filtering potential of emerging social networking platforms.
If you've read this blog before, you can appreciate why this strand of all things enterprise social instantly appeals to me. Cut right over here to the report if you like.
Tom DeGarmo, Principal and Technology Partner at PwC sums up both the opportunity and problem well, using great analogies to living in Carmel-by-the-sea, saying:
The reality today is that we receive far more invitations to interact in the
electronic domain than we ever did in the world of physical mail. Most of us
already ignore many of them, leaving unread—and even unseen—vast
numbers of electronic communications directed at us. But our approaches are inefficient and inaccurate—we often miss important messages while deleting low-value ones. We're like the poor express mail delivery people trying to figure out which house a package should go to in Carmel.
A number of in depth interviews were conducted as well, including:
Education: Building a new learning environment – Tony O'Driscoll, Duke University.
Adding Social Networking to Business flow – Tim Young, Ex-CEO of Socialcast, now VP at VMWare.
Harnessing the power of the graph – Keith Griffen, Cisco Systems.
Why collaboration hasn't changed much, yet – Sheldon Laube, PwC.
I was privileged to chat with the PwC team on the topic of How Identity and Context become Productivity Drivers, inhibitors to successful uptake and the forces of social software proliferation that I break out into camps: Pure play, ERP, HR and UC.
Couple of my favorite pieces from the repot:
1. I recently wrote a post about "Why Exception Handling should be the rule." So, I was especially happy to see this report have good commentary on the topic.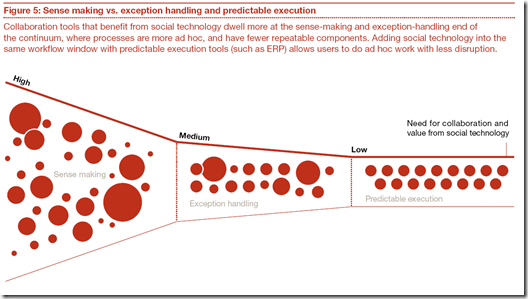 2. Vendor diagrams are always subjective and can sometimes be of limited value when we try to force such horizontal technology offering into seemingly easy to consume grids/quadrants/tidal waves,etc. Coming from the execution consulting side of the house, I'm partial to analysis that does no more that provide a simple capability run down. Proper technology shortlisting can only come from really understanding process redesign by balancing traditional and social ways of work. This report doesn't attempt to do any more than what's reasonably practical to illustrate without access to each buyers market, business and process realities.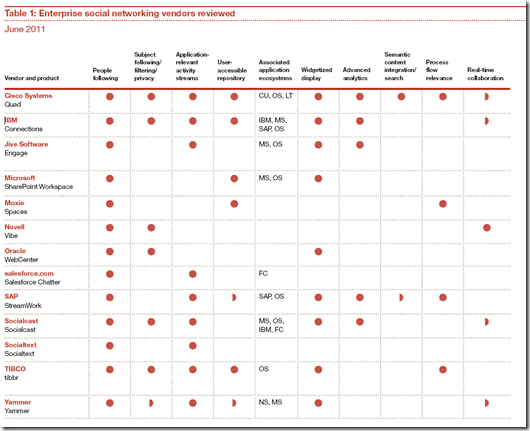 3. Tim Young, VP at VMWare and most recently, CEO at Socialcast prior to the VMWare purchase provides meaningful insight about the benefit to executives:
From an executive level, I think many companies don't understand what is going on all the way down to the individual contributor level, and it's because there just haven't been tools that allow them to do that, especially qualitative tools. You can do surveys and polls, but you don't get the ability for consistent real-time feedback from everyone in the organization—and that feedback is necessary to harness the collective human capital of the organization.
4. I love how Bill Hopkins at EZI (Egon Zehnder International), a well known executive search firm, simplifies the problem:
Bill Hopkins, EZI's director of operations, discerned a gap between
the two main processes that needed to be filled with something less structured than a database, more structured than a huddle, and not as overwhelming as e-mail. And something over which users would take ownership. "I wanted to eliminate IT as the middleman so the content would be the responsibility of the user community," Hopkins says.
Finally, a far cry from all things social business muddy-yet-shiny, the report addresses how CIOs can start to approach 21st century collaboration in a performance centric way from the get go, and as they move from the inspiration to the perspiration phase of execution: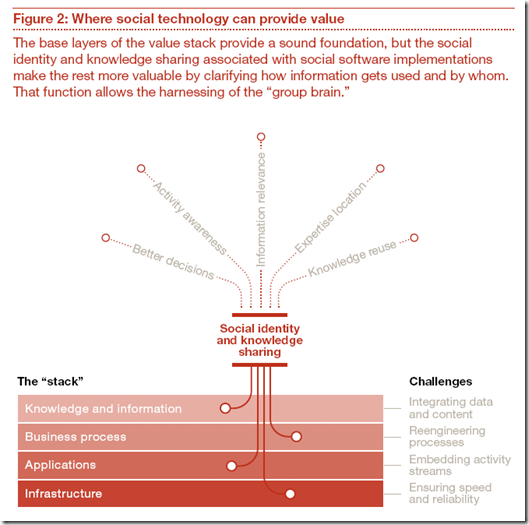 All up, it's extremely refreshing to see analysis from the lens of an established consulting firm that needs to appeal to the broadest, most skeptical and most prestigious set of end customers out there who don't quickly get inebriated on hype.
And the timing couldn't be better: At this time, every Fortune 2000 CXO has been pitched by at least 3 social software vendors or has sanctioned/unsanctioned initiatives well under way at their organizations. The report also doesn't try to jam jargon-y stuff down the readers throat (social business, enterprise 2.0 etc.) nor does it attempt to backfill social use cases into the business environment (in other words, the solution looking for a problem syndrome).
I really think it's going to offer a palatable, marketing-free approach to many seasoned leaders genuinely looking to understand the value proposition of collaboration, 2011 style.
Sincere thanks to PwC for reaching out to me for comment. A link to the report, here.