For whatever reasons, the hospitality and travel industries are amazing for providing an endless fount of stories. These stories could almost be called, in a strategic sense, individually customized services discussions – but that resonate with other people. Of course, while it does feel like these are stories of things that happened to
YOU
– and you only, truth be told, they really are easy to understand.Travel experiences (hotels, airplanes, trains) are built around what is a very emotional set of events. There are expectations that are pretty redundant from event to event, occurrence to occurrence. The expected quality of the service or event is about the same from venue to venue. In the case of a hotel it would typically be:
Easy check in
Recognition of elite status if you have it
courtesy regardless of status including things like eye contact
working room keys
clean rooms
working appliances in the rooms
efficient room service
Many other things
customer friendly design
Easy checkout
Needless to say, I can go on and on. But, its these things that as more than a sum total, that make up components of a customer's experience at a hotel. What the hotel chooses to do at these impact points can make or break how a customer thinks about the hotel, or more importantly feels about the hotel. If the bad is not just coincidental but is perceived as either a company policy or bad conscious choice, then there is a higher premium placed on the impact of the experience for the customer.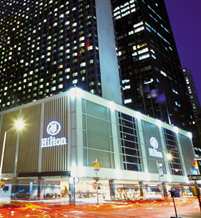 I'm going to skewer the Hilton Hotel in midtown Manhattan – use them as an example of exactly that – bad choice that seems to be either conscious policy or poor on the spot decisionmaking. Unlike the Ritz Carleton, or much of the Marriott chain, The Hilton, at least to me, has no more than a generic customer experience strategy. Walking in to the Hilton, my overall expectation was that it would satisfy my needs, not exceed them, because that is minimum standard that all hotels operate on, and I can expect faithfully when I check in the note. But this particular Hilton, made some small bad choices that led to a horrible experience, which because it was repeated with others in one fashion or another, had a bad business outcome.
Why Was I at the Hilton in NY?
Simple. It was for the CRM Evolution conference for 2011, which for the first time was at the Hilton on Avenue of the Americas, which, incidentally, is called 6th Ave, by any proper New Yorker. The conference, which lasted from August 8-11, pulled together a broad spectrum of very high powered influentials in CRM and smattering of social influencers, a significant number of vendors, the largest group of practitioners in the conference history. The unofficial number of attendees for the conference, which I heard from one of the principals was 500 in total. I chair the conference annually,and as long as the good burghers from Infotoday ask me back, I will be back. On a sidenote: They did ask me back for 2012, which I happily accepted. I really like chairing this conference).
To put everything in a nutshell: The conference was a significant success, the Hilton Hotel wasn't.
The Hilton was this year's venue and the reason for it was that both Internet connectivity and the treatment of meals was supposed to be a step up from the Marriott Marquis – site of the last several conferences. Let's just say it was and it wasn't.
The story….
My wife and I blew into town a couple of days early to catch Wicked at the George Gershwin Theater on 51st St where it has been running for eight years. I'll digress for a second and tell you this: outside of an iconic performance of "Man of LaMancha" which is seared into my soul for all eternity, this may have been the best musical that I've ever seen with only "Billy Elliott" competing and I've seen dozens of musicals.
Okay, back from the commercial. In any case, this was a first for me, staying at this particular Hilton in NY. I've stayed at Hiltons and some I've liked and some have left little impression on me, but none has really gotten me p.oed before.
Until now.
What Happened?
I'm going to number this sequentially.
As the conference chair, my hotel stay was placed on the conference master account. When I checked in with my wife, as I've done with literally every other hotel I ever have stayed at in the last 3 years or so, I gave my rewards program (Hilton Honors) number. They said to me, "Oh, well, because you're on the master account, you can't have the points." I found this a little puzzling, since I've literally NEVER run into that at any hotel I've stayed at including Hiltons and any Marriotts, nor has it been a problem on airlines. So I asked about it. He said, corporate" and let it go and didn't really want to talk about it. Bad start to a stay.
My wife and I then went to go to our rooms and I couldn't find the elevator for a minute so we went and asked a desk that seemed to be a bell captains or something like that but, like every other desk in the lobby where there was no real place to sit (except for the bar and its extension), the desks were unlabeled. A young guy there told us where the elevator was, asked for our room, offered 500 points. That seemed odd since I didn't tell him that we hadn't been given the points – until he hit us up for a resort properties seminar in the hotel the next day. Eventually, we managed to escape to the elevator.
When we arrived at the room, imagine our surprise that we had two double beds! Let's just say that we were obviously a married couple at the front desk. Even if they couldn't tell that we were married, they called us Mr. and Mrs. Greenberg, so you have to assume they knew that. They didn't give us a choice, nor did they say, "I'm sorry but the only room available had two double beds, is that okay?" Nada was said at all.
We decided to roll with the punches, and put on the lights in the room, which seemed unnaturally dark, probably due to the buildings outside blocking light, but hell, this is NY, what would we expect? Except that one of the lamps didn't work – the bulb kept fritzing out and then back on and out again. So we called customer service, which picked up after about 3 minutes. They sent someone up 10 minutes later and he checked and said, "the lamp has to be replaced." About 30 minutes later, there was a message flashing on the phone that I listened to which said, "sorry about the lamp. Someone will be up tonight or no later than tomorrow morning to replace it." Well, I guess the morning extends to about 2pm in Hilton time, because it wasn't replaced when we got back the following day from a traipse around the city to get ready to go to Wicked – and only because I called customer service again and told them it better be replaced by the time it got dark.
In parallel with all this, I needed to get Internet connectivity and, since I'm not elite at the Hilton, I realized that I would have to pay something. Well, imagine my surprise when I found out that if I wanted wireless connectivity it had three levels with actual high speed, which is typically what I need going for a stellar $18.99 a day. But the other two choices which racketed down to $13.99 by their own standard were considerably lower, making me think that what should have been one choice – high speed, for whatever price they want it to be – since its their prerogative – was a much smarter idea than the way they presented their Internet options. Though not a biggie.
That first night, we decided to order in because we were tired and went with room service as an option. After 5 minutes, room service picked up and promised our order in 30 minutes "or less." Forty-five minutes later, I called and said, "where's the order?" They promised it in ten minutes. Twenty-five minutes later it showed up. Food wasn't bad though.
Next day, I got ready to take a shower and I couldn't pull the handle out. After a futile call to customer service since we were trying to leave within the hour, I found the problem. Someone (I presume a kid) had jammed a stick underneath the handle blocking it from being pulled fully out. I broke the stick and it was fine. I would have thought they'd have checked the shower and used the water to wash the shower floor before we got there but I guess not.
Without giving you too much detail, lets just say it took them SEVEN HOURS to solve an important problem in the bathroom in addition to the one I solved with the shower. Yah. Seven hours after they promised they'd be right up. We left came back 6 hours later. It hadn't been taken care of, even though I had called them prior to leaving. It still took 2 more customer service calls to get them to solve it an hour after we got back.
We asked the person who cleaned our room to not do something. She agreed easily. Ten minutes later, when we returned to the room, it had been done. Ten minutes after we asked her to not do it.
The elevators closed really fast on people trying to get in and out. Sometimes by the time people got out, it was already closing. Seems to be a minor annoyance, yes? It would have been.
When we checked out, no one asked how our stay was – which might have been a good thing under the circumstances. It was a no eye contact, room number, see ya kind of checkout. Again, minor? Not by that time.
One additional factoid – David Myron, the jefe of CRM Magazine and sponsor of this conference told me that he's had more complaints about this hotel than in the three years preceding when the conference was at the Marriott Marquis, which was no great shakes either.
So, now, you have the chain of events. Let's look at what this means for thinking about customer experience – how it works in the minds of those that are customers – especially in emotional industries – like hospitality.
Choice, Circumstance, Context: The Concept
Customer experience is something that has been at the core of CRM since day one of its existence. Even though CRM had a decidedly left-brained bent and was based on a company's operational activities, at least its stated purpose was to improve the experience of the customer in his or her dealings with the company. It often failed at its stated purpose and instead, became identified with the use of technology to automate processes that would support the operationalization of sales, marketing or customer service. But its fundamental purpose never went away. Even disgruntled former CRM supporters admit that much these days.877u7y
So when someone like me tries to place the Hilton experience in a CRM context, its always based on a simple reality. As an individual and as a CRM practitioner, what did Hilton do that p.oed me with the individual hat and how would I go about fixing it with my practitioner hat.
What I've come to understand over the last several years, and like all of us, have probably always known, is that a few poor choices can enhance the negative feeling around what would be circumstantial instances because of the context that they were in when they occurred. To put it in terms that the GunningXXXX Index would probably prefer:
When companies make consciously stupid decisions on how they are going to treat customers – when they have a choice – the negative impact of the bad things that happen that they didn't have any choice is amplified greatly. Why? Because they occur in a framework of dissatisfaction to begin with.
That is simply what we mean by choice, circumstance and context.
Do wrong with the things you have control over, and the bad things you don't have control over will bite you in the butt that much harder, because of the ill will you've generally fostered.
Think about it this way. What if:
The Hilton had given me the points, which I had come to expect because of my experiences with other chains and even other Hiltons
They had asked me and my wife about their decision to give us two double beds, which is ordinary courtesy
The guy had just directed us to the elevator without trying to pitch us.
Three choices that the Hilton made in the early part of the checkin experience.
Think about it. If you had a benign or good early experience, how would you have felt about a lamp that was out when you got there? If you weren't already irritated, would you have even paid attention to and thought about the ridiculous pricing tiers for Internet connectivity? The lamp wouldn't have been a source of irritation, it would have been a service request. The 3 tiers might not even have come to your attention beyond making a choice. It wouldn't have meant much at all.
Now, the room service was a problem. Choice? No. Circumstance? More than that. But because of the three little irritations at the beginning setting the context, the room service lateness became a major irritation. What's interesting here is how they might have remedied it – and didn't.
Another story.
I was at the Marriott Marquis in San Francisco for salesforce's Dreamforce 2011 conference last week. I was in the bar with Accenture CRM practice leaders and ordered some food. It took more than 30 minutes. When I talked to the bar attendant about it, she went and found out what was wrong, took care of it, had the food out in 5 minutes, and without any expectation on my part of anything else said, "I'm not charging you for it."
Wow. Thank you. I like this place. Contrast that to the Hilton, who should have offered something. Free dessert, no charge, a free drink from the menu or something as an apology rather than the "I'm sorry" that they offered the first time it was late and the second "I'm sorry" the second time it was late. But they didn't. So rather than rectify a situation, they exacerbated the irritation that had been building due to the lateness of the food twice and in the context of a bad initial experience that day.
Remember, the effects of small bad experiences in emotional industries like hospitality tend to be cumulative, not singular.
The Business Outcome of Bad Experience
So now you say, meh, what was that all about? All that explanation for so little a result?
Let me tell you the business impact. As a result of an experience like this repeated multiple times in different forms (ask Ray Wang about his experience at the bar), CRM Evolution is no longer going to be at the Hilton. For the next three years, CRM Evolution is going to be back at the Marriott Marquis.
Customer experience is, and always was, the foundation of CRM – and the business outcomes that are what makes it something that we've always thought important. But there is only so much of the customer's individual experience that is controllable by the choices that the company makes. But making those small choices and being sure that they are made as repeatable ones and at the same time, providing the environment to support the smart decisions so that the employees are making the right decisions by nature. Then other circumstantial things become less problematic because the contesxt is good.
And then, maybe CRM Evolution stays at the Hilton.
Ray, bartender story