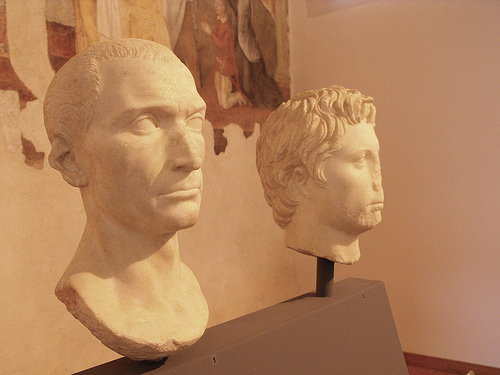 July and August Enterprise Software and Solutions news. Headlines and excerpts follow below, but here are some of the highlights of the months of July and August:
Apple became the world's most valuable company, but Steve Jobs resigned due to health issues. Meanwhile, Google bought Motorola's cell phone business.

Salesforce.com promoted its message of Cloud, mobile, and social ("the social enterprise") at its Dreamforce conference in San Francisco – now the largest enterprise software/solutions conference in the world.

The consumerization of IT goes mainstream, with advances like Salesforce.com Chatter and iPad support becoming widespread.

Forbes names Salesforce.com the world's most innovative company, ahead of Amazon.com (#2), Apple (#5), and Google (#7). SAP, Oracle, and Microsoft trailed behind, but were still in the top 100. The list is made somewhat questionable by the appearance of CA at #98 …

Microsoft delivered another great financial performance for its most recent fiscal year, but the rise of smart phones and tablets lead many people to declare, like Steve Jobs, that the world has entered the "post PC era." Perhaps this will be more credible than the "post partisan era" declared by the US partisan in chief …

Informatica delivered another stellar quarter. It turns out that people still need to integrate their data, even (especially?) when it moves into the Cloud …

Oracle continued its legal assaults and battles, with victories and setbacks versus Google, HP, and its employees.

HP launched and killed its tablet business, and announced it was spinning off its PC business – but maybe not …

… meanwhile, Mozilla killed its enterprise business with a bizarre and incomprehensible strategy of launching a new version of its browser every three months, ensuring it can never be tested or adopted by any large customer. Google Chrome is the primary beneficiary …

Yahoo! spun off its Hadoop-related efforts into a separate corporate entity called "Horton Works." Imagine if Sun had done the same with Java!

The head guy said that he inherited a mess from his predecessors, and that any turnaround is a long-term project. Everyone else seems to know that he made it much worse since assuming his office., and that the guy appears to be in WAY over his head, not surprising given his lack of relevant experience and previous results. Am I describing HP's Leo Apotheker or the US's Barack Obama? (Hint: "All of the above" is an acceptable answer.)

Microsoft added Java support to Windows Azure, but no one noticed. It seems like Azure could be a good solution for a lot of corporate IT folks – does anyone see any real adoption out there? Even on Dice.com and Monster.com there are very few Azure jobs posted relative to Force.com or Amazon AWS.

Workday continued to grow sales and adoption rapidly, in a run-up to a highly anticipated IPO.

Infor completed its acquisition of Lawson.

SAP extended the contracts of its co-CEOs, but its first female board member quit in a controversial departure. SAP continued its recent string of solid financial results, though there are questions about how SAP will capitalize on its long-announced but not widely-deployed HANA and ByDesign products. SAP appointed Kevin Nix to replace John Wookey running its on-demand business (other than ByDesign), names Jonathan Bechar formally the company's CMO, and names Sanjay Poonen a corporate officer. SAP had a victory of sorts in its lawsuit with Oracle, when a judge ruled the $1.3B jury award was excessive.

BigData continued to gain momentum as a category, as did mobile and Cloud.

IT jobs had been in recovery recently, but new data shows that job growth has stalled, and pay has declined almost across the board in the US IT category.