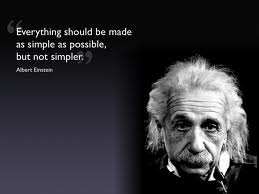 Einstein said "everything must be made as simple as possible, but not one bit simpler". That concept, often tied to Occam's Razor, is very powerful when looking at new theories and models. I decided to apply this process to social business and in so doing something emerged that I believe is very useful in understanding social in the enterprise. In a document that we published last year called
The Social Business Framework,
we explored the two key levers that can be applied to socialize business, content and community. A year later and after quite a bit of research on social business, I now believe that there was a missing element beyond content and community that is critical for building a complete enterprise social strategy. This third element is collaboration.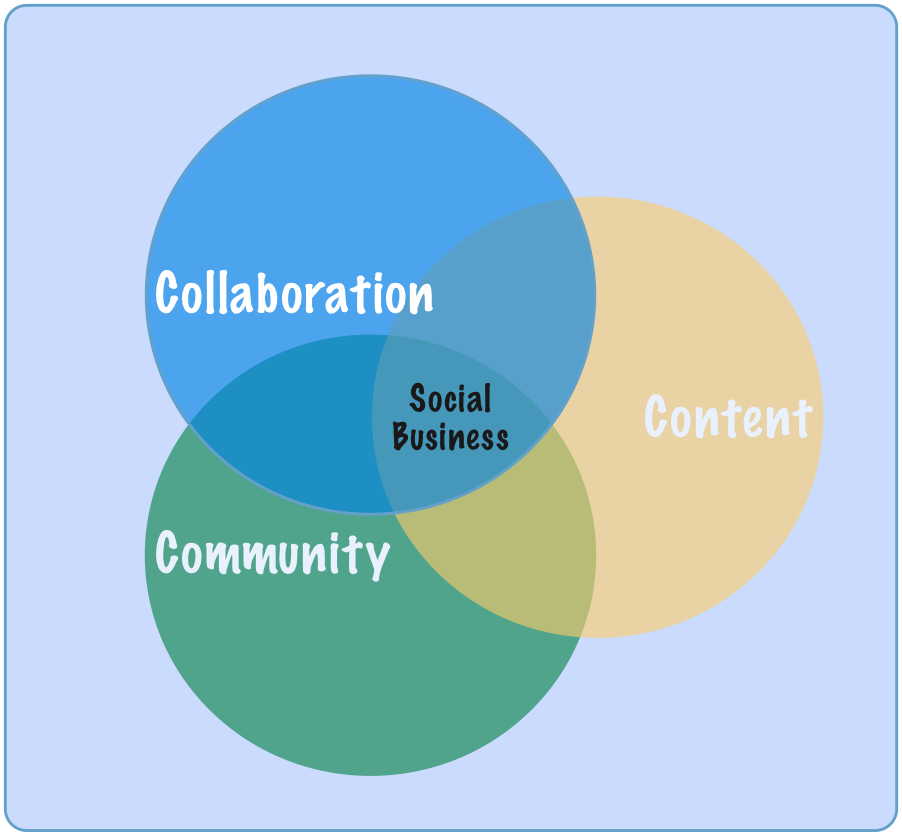 The overall diagram represents the social business, but each of the intersections has some interesting implications on various parts of the business. First thought, let's define each area:
Collaboration:
Collaboration is people or organizations working together to accomplish shared tasks / goals, facilitated by the effective combination of communication, tools and processes. Collaboration can occur between individuals and organizations (although you could argue that organizational collaboration is still really individual). Tools designed to support the collaborative process must be focused on connecting people first, then providing access and availability to required content, data and information. Unlike some of the "collaboration" tools of the past that were designed to control content / files, true social collaboration tools are people-centric, with content sharing and communication as a secondary function.
Content:
Content in the social context is most often social media, although it can take other forms as well. Social media is a mechanism designed for sharing through social interaction and using the Internet as a highly scalable and highly accessible platform for distribution. The socialization of media democratizes content creation, and broadly distributes content curation, and information access. Because social media is distributed over the Internet, information, news, and content can become available in near real time or even real time and on any device that has connectivity. Content creation and consumption have become highly available on any device and at any time. Forms of social media include user-generated content (wikis, discussion forums, blogs) and rich media (video, photos).
Community:
Community most often manifests itself as a social network. Social networks are a group of individuals or organizations, either public or private, that are connected to each other through some common thread and share information with one another on topics of interest. Social networks are not new or unique to the Internet, but the nature of the relationship created is somewhat altered in an online setting. In the past relationships were generally defined by proximity and length of exposure, which was fundamental in establishing a trust bond between the individuals or groups involved. In an online setting, relationships tend to be defined by interaction and connectivity, which can make value and trust very fragile. Often because of the unique online environment, trust is aided by the network effect, making trust relationships transferable 1:1:1 through trust filtering.
Collaboration, content and community are the building blocks of the social business. Each of these elements can be combined to create functions that support some social process. Here are a few examples:
Collaboration – Community:
Peer to Peer Customer Support Communities
Partner communities
Crowdsourcing product / service feedback
Collaboration – Content:
Crowdsourcing contact data
Crowdsourced (employee) product documentation
Crowdsourced training material (employee sourced)
Community – Content:
Product / service issue resolution and support documentation that is the output of a peer to peer support community and is harvested by the business as an addition to its corporate knowledge base.
Customer loyalty programs
Collaboration – Content – Community:
Co-innovation on product / service development (could be partner – company, customer – company, supplier – company, etc.)
Supplier networks
Partner selling / lead management
These are only a few examples of the many use cases that can be defined using the three C's. How is your company using content, collaboration and community?