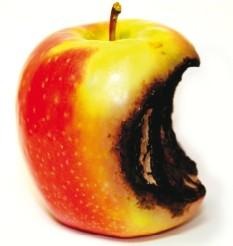 Here at Spend Matters, we're huge Apple enthusiasts: MacBooks and iPhones abound. However, the more we learn about Apple's behind-the-scenes supply chain practices, the more we believe that this is one organization that has only been playing by the local rules where its products are manufactured and assembled. Yet Apple is selling its products on the world stage. While Apple might be able to wash its hands by distancing itself from supply chain transgressions such as labor violations, environmental damage, etc. what they've done is effectively violated the spirit of what it means to operate as a multinational leader today.
Apple's latest transgressions are highlighted in a study that Forbes recently profiled in piece that does a Cliff Notes-style job at capturing both current and past supply chain violations. Regarding Apple's recent questionable practices, Forbesnotes that "the latest criticism comes from a group of Chinese NGOs (Friends of Nature, Institute of Public and Environmental Affairs, Green Beagle, Envirofriends, Green Stone Environmental Action Network) that claims to have found evidence of 'severe damage to the environment' at five Apple suppliers in the country…according to the Chinese NGOs, [Apple's] commitments aren't making their way from the company's website to its on-the-ground operations."
The accusations seem to suggest that Apple has pushed aside their own standards and codes of conduct they have signed up to time and time again. Consider the following accusations of environmental violations: "water contamination from a suspected PCB supplier to the company, the emission of toxic gases from a metal surfacing company with suspected ties to Apple, and dumping of hazardous materials such as copper, nickel and cyanide, by companies thought to be Apple suppliers." Given the many labor violations that Apple has also recently been accused of, perhaps it's not surprising that the company appears to taking too lax an approach to supplier environmental practices as well.
In the second part of this post, we'll offer up our own recommendations to Apple (and firms like Apple) for better addressing these types of supplier management issues through more proactive approaches that require cultural, technology and related shifts in practice and thinking. Sound difficult? It is. After all, no one said transplanting a new core into an Apple growing rapidly on a tree would be easy.