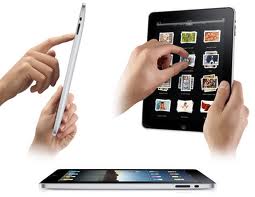 Mobile is fast becoming one of the key ways that many employees choose to do work. Tablet computing devices are proving to be very flexible and functional for mobile workers and open up a much broader set of capabilities that could be accessed on the larger form factor. The limiting factor, at least from the enterprise use of mobile, is the software. Apps designed for smartphones have in many cases been severely limited in functionality, mostly because enterprise vendors were skeptical that the limited smartphone form factor could be used for the broader list of tasks that mobile workers wanted to accomplish. Smartphones are excellent for communication activities like email, IM, social networks, activity streams, etc., light web browsing and for some simple data entry / processing / approval activities like filing / approving time and expense records, but when it comes to "real" work, the screen size is very troublesome. Some great productivity tools are available like Evernote and iWork, but accessing true enterprise functionality on any mobile device, for the most part, isn't possible. The notable exception has been access enterprise resources through a virtualized mobile client like
Citrix Receiver.
This trend is starting to reverse as more vendors build and launch mobile apps that allow full, or near full, enterprise capabilities utilizing the tablet form factor. To accomplish this we're seeing two distinct approaches, the native mobile app and the web based mobile app.  In my recent Dreamforce
recap
I talked about Salesforce.com's new web based mobile app
touch.salesforce.com
, a full function HTML5 based app optimized for tablets. Web apps were tried early on for the iPhone version one but quickly gave way to native apps. Two factors seem to have converged to make web apps much more interesting than the 1st generation, increased fast connectivity (3G and 4G) that makes performance more acceptable and the move to HTML5, which provides a much richer experience and greater flexibility in supporting multiple devices.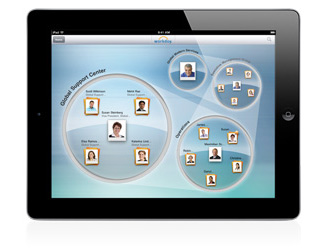 Taking the native app route, Workday recently launched an iPad app and updated its iPhone app. I had a chance to take a look at the iPad app (disclosure, Workday provided iPads preloaded with the app for evaluation) at the recent Workday analyst tech summit just prior to Dreamforce. The new app includes:
"Organizational Swirl" – lets users navigate organizational hierarchies and drill into employee profiles to view job info, talent info, job history and compensation history.
"Workfeed" – Workday's version of an activity stream that includes alerts and approvals
"Real time business intelligence" – real time reports and analytics that support workforce planning, compensation management, financial management and talent management including drill down capabilities.
Google maps integration that provides employee work locations
The app makes good use of the rich visual interface of the iPad, particularly in it's drill down capabilities. In the updated iPhone app Workday added the ability to capture receipts with the iPhone camera. For all mobile apps Workday extended its SAML framework which makes authentication consistent across all Workday clients.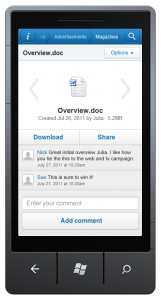 Box.net is taking a hybrid approach to enterprise mobile with both some native device support and web apps.  In August Box added a native Android  app optimized for tablets, an app for RIM's Playbook and a HTML5 mobile web app, m.box.net. These solutions add to already released iPad, iPhone and TouchPad apps, and provide a mobile portfolio that covers all existing mobile OS's.
Overall these three vendors are providing mobile access to a much broader set of functionality than ever before. In the case of Salesforce.com it is a significant improvement over its existing iPhone, Android and Blackberry apps, which have a very limited feature set. If vendors want to get wide enterprise use they have to find an approach that provides most laptop functionality optimized for the specific mobile experience. More and more workers want to have the ability to use and access enterprise resources from a diverse set of mobile devices. The tablets are particularly good at displaying and interacting with data, so are proving to be in high demand among executives as full information systems. This of course is dependent on more and more robust real time business analytics, optimized for the tablet experience. Expect to see more vendors taking advantage of those unique display and analysis capabilities as well as increasing features and functions to match much of the full client experience.