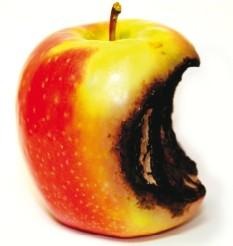 In the first part of this post, we considered some of the accusations that a number of NGOs have recently leveled against Apple when it comes to supplier environmental practices. These accusations come on top of the many labor practice violations we've heard about in recent quarters, from a pattern of employee suicides at Foxconn to improper workplace training, injuries and death that were no doubt preventable at other suppliers. Ironically, despite these accusations and consistent patterns of violation, Apple has maintained a significant lead over others in winning the annual Gartner/AMR supply chain award for the best supply chain.
Given this odd juxtaposition of supply chain market leadership on the one hand and a consistent track record of brushing aside supplier practices on the other, the question we must ask here is whether true "best-in-class companies" such as Apple when it comes to supply chain programs are measuring themselves — not to mention holding themselves accountable — against the right set of metrics. It's Spend Matters' view that companies such as Apple should begin to look at measuring the effectiveness of supply chain programs by changing their supplier management, operations and procurement orientation from one focused primarily on cost and working capital to one where these two areas compliment emerging requirements and expectations.
These new areas may include calculations based multi-tier traceability and suppliers practices, an emphasis on turning category managers and owners into supplier managers that live more closely onsite with key partners and redefining general supply chain KPIs to include metrics that impact the societal and customer balance sheet as much as the financial one. WIP, demand-driven forecasting, inventory turns, unit costs, order cycle time and related metrics no doubt will always have their place in measuring supply chain performance at Apple and beyond. But to fix what are clearly becoming new "core" problems at Apple and other companies completely dependent on global sourcing and manufacturing when it comes to policing supplier practices, we must introduce a new set of additional metrics of accountability.
Such a change must come soon. After all, if Apple's peers are consistently resolved to worshiping what has clearly amounted to a rotten supply chain after factoring in a history of supplier management failures. If we don't act soon, we'll see scores of other companies following Apple's lead, turning their backs on supply chain transgressions in favor of managing immediate P&L and balance sheet supply chain metrics.