Last year, I had the opportunity to spend a day in Monterey, California with CHROs and HR executives from some of the largest organizations in the world.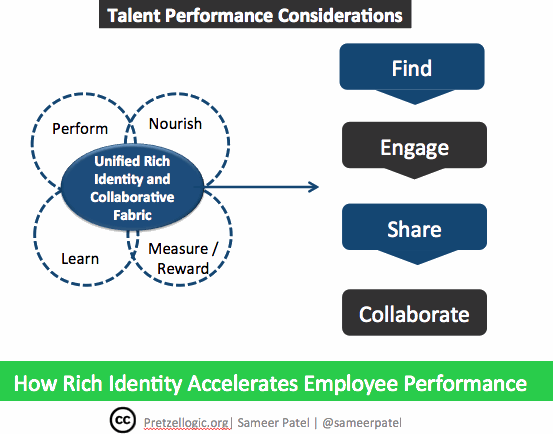 My charter was to suggest a practical pathway for how HR can become a critical weapon in the arsenal of 'compete to win in the 21st century' planning and how the connected enterprise will play a role. As we got to the 'great,-now-lets-talk-execution" part of this conversation, one of the issues we tackled together was what tomorrow's Employee System of Record needs to look like if HR wants to become a meaningful player at the strategy table. In the past year, the business need for this is becoming clearer to executives, and the strategic know-how and enabling technology have made much progress. So I thought I'd abstract that discussion and bring it here.
"I'm much more than what HR thinks of me, today".
The foundational ingredient to craft highly connected enterprises properly is two fold:
The collaborative context that warrants a huddle in the first place, and
Who the right players are to get the job done.
I've written a lot about the need for collaborative context over the last 2 years. This post is about the players.
The single most important nut we need to crack first is the efficient 'findability ' of people. If we don't know who to engage with, we can't well…engage effectively. And if we cant engage with the right people, we can't share or socialize our day to day exceptions (or calls for help) effectively. And ultimately, we can't collaborate effectively to impact performance.
Intelligence on who to reach out to is arguably the most powerful yet decrepit utility inside organizations today. At worst, its fragmented across multiple, difficult to use systems. Even for those organizations that are fortunate to not have multiple systems of employee records, the information regarding where the best minds hide and what they know is woefully incomplete, overtly guarded and not available at the point in time or location of decision making.
For organizations to collaborate effectively, assessing the real value of 'Me' in the organization needs to be characterized by 4 dimensions that cover not just what HR estimates of me, but also be based directly on the merits of my work.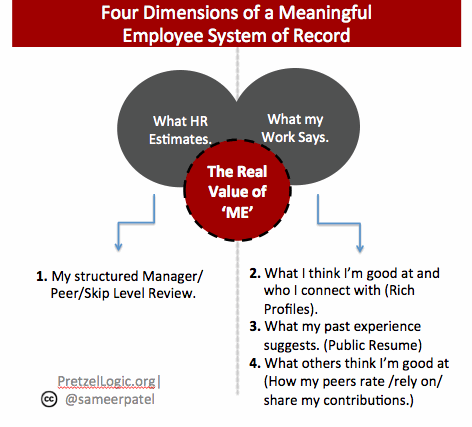 The way to get to #'s (2), (3) and (4) is to ensure that you have a 2011 model Identity capability that's coupled well with your collaboration and HR system of record. That not only lets you explicitly illustrate (2) and (3) but also lets you implicitly capture (4) in near real-time and without middleman interpretation. In sum, this gives managers and peers a true sense of an employee capabilities.
The value of this highly enriched data set on real employee value may well belong to HR as it always has, but the opportunity is much much larger than general purpose human capital insight. It's now highly tuned to empower in-the-flow talent brokering as dynamic teams of employees, customers, partners and even suppliers huddle together to solve problems and ship products at the speed and quality that today's highly informed customer expects. That's infinitely more powerful than a general purpose resource management profile that's visited primarily at the time of hiring, re-allocation, (sub-optimal) performance review and firing/retrenchment.  If you stop to think about it, the real performing happens between these events. That's when employee insight is needed the most.
The Performance Benefits.
Each of these are complete posts in and of themselves that I will do at some point but the immediate value, as I see it, can be characterized in critical areas, listed below. I'm drawing on snippets I've written previously, but I also want to add a fourth, and that's Financial Performance.
——————————
HR Performance
You now have the opportunity to fold in important behavioral data such as degree of sharing, helping, engaging, contribution and involvement, giving HR a broader set of data points about the employees allegiance to the firm and dare I say, employee lifetime (with the company at least) value. These important data points complement traditional performance metrics giving you a sense of how critical each employee might be to a business unit, a product line, a geographic territory and ultimately to the company as a whole.
Line of Business Performance
Todays customer is expecting us to break through organization silos and rally around their questions and other needs. In terms of business objectives alignment, measuring and dynamically optimizing how different functions come together to support say, field marketing, product launches, customer pitches or support inquiries now becomes much more efficient. There's crucial lessons to be learned here in terms of not only identifying who the rock stars were, but also how to institutionalize well performing processes and interaction models going forward, based on who did what, and how.
Financial Performance
CFOs mostly learn about failing investments after the fact. In the flow analytics gleaned from collaboration also gives managers distinct insight into how projects are performing as they happen, if the resource mix is right, and again, who to keep, re-place, or remove, before its too late. That's a really powerful outcome from amalgamating traditional knowledge from HR, and what our collaborative programs can supplement.
——————————
But Will the Technology Play Nice?
All of this resonated well with the CHROs and Executives at the retreat. But it's all theory until a) the right strategic know-how is leveraged to come close to this, and b) the enabling technology plays nice. Ever since 1999, this whole blog has been about (a). But for the technology to play nice it takes three elements:
1. The ability for HR to collaborate as a team to make this a reality.
2. A back to the drawing board design on how such information is collected, visualized, mobilized and acted upon.
3. A fluid connectivity architecture and ISV partnership model that enables the connectivity between structured HR and collaborative infrastructure in the context of your business execution needs.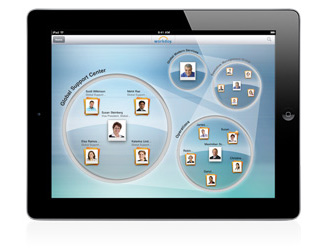 Process and tech innovation in the HR space is on a tear at the moment. Earlier this month, I spent day at WorkDay's Technology Summit and you sense that they are intently focused on this reality. Decisive device-first design that accounts for how and where we need to consume people insight so we can act; internal feed based streams for HR collaboration, yet necessary ISV integration and extensibility to connect with collaborative systems (where this employee intelligence lies). And most important, the federation of this intelligence to managers and employees alike, so they can perform better by leveraging it. As much as I'm advocating a love fest between HR and Collaboration systems, each of these require very different functional sets to get right from a participation and uptake stand point. And so there's certainly merit in letting expert purveyors build each system and have them talk to each other. Between what's here and the roadmap they shared, Workday seems to be doing just this. (More from Mike Fauscette on what we learned that day.)
Oracle has also given Rich Profiles and Unified Communications pole position in its design across its Fusion Applications to enable both finding and engaging, and has its own suite of content and collaboration tools. SAP is taking mobile very seriously and from what I just heard, SAP Career OnDemand has HR collaboration front and center and I'll be seeing more, soon. Others such as Saba and SuccessFactors have elected to sport their own collaborative systems.
Closing Thoughts….
The race for market leadership via a new connected and people centered way of work is well underway at many global organizations. Whilst we in the blogosphere bloviate about Social Business this and Enterprise 2.0 that, remember, this is all first and foremost about the smart identity access and leverage. That then opens the door to efficient resourcing, then better co-creation and problem solving, and ultimately, business performance. Get identity wrong, and you've handicapped your odds of success, no matter how shiny your social tools or how big your budget.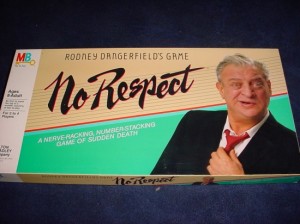 Bill Kutik of HRTech fame aptly characterized HR as the 'Rodney Dangerfield' of the Executive Suite. I couldn't have said it better. As I discussed with the esteemed group of CHROs and executives at the retreat, in my estimation, HR as a function has been beaten down (emotionally) to a pulp over the last decade. This function has had the ugly pleasure of, one one hand, getting near zero credit for those very rock stars they sourced who were responsible for blazing performance in good times, but yet were handed the dirty job of laying off thousands in bad times.  Now is their time to design for and to transition into the ultimate brokers of real people intelligence. And to then trade on that indispensable currency as the rest of the leadership sizes up what effectively competing and winning in the 21st century will entail.
Comments rolling in on Google Plus, here.