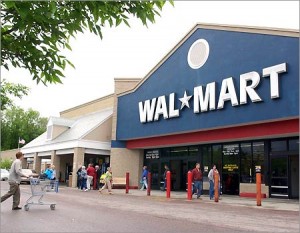 When supplier diversity becomes simply a whisper down the lane, reporting exercise built around a check-the-box mentality for Federal reporting, it's pretty clear what the ultimate outcome of such programs will become. Namely, an internal bureaucratic compliance function, along the lines of financial/investment compliance, reporting in an investment bank or auditing firm. Which is to say, not exactly a strategic initiative. Yet when supplier diversity transcends bureaucratic reporting and becomes a means to reach new market segments (or appease other ones) it takes on a more strategic revenue role in the business. Moreover, if we expand the definition of diversity, taking into account smaller suppliers on a global basis, it can allow us to tap an innovation set that may be lacking with larger suppliers.
In the case of Walmart, supplier diversity has recently taken on an expanded role as the organization invests in the area for another reason. In this case, what some are suggesting is potential gender bias suits.Specific to this supplier diversity initiative, Walmart "plans to boost the amount of business it does with women-owned companies as well as encourage the training and hiring of women." The program has financial teeth considering that "over the next five years, Wal-Mart plans to spend $20 billion in the U.S. on women-owned businesses, vs. $2.5 billion last year." In addition, "it plans to double its sourcing from women-run suppliers internationally as well."
Frugality wardrobe jokes aside — Walmart sourcing teams have been known to nitpick how nice a suppliers' car is, how fancy a lobby is and how well coifed management/owners are. One wonders if they'll carry over this scrutiny to the cost of female wardrobes and handbags at women-owned suppliers — it's clear Walmart has embarked on a program with real financial goals behind it.
On the surface, it might seem like the firm embarked on the program because of what are likely baseless — but potentially costly — discrimination suits (come on everyone, Walmart treats everyone equally horribly: women, suppliers and customers included). Yet Walmart also knows that a very significant percentage — a majority in certain markets and stores — of shoppers are women. And advertising the fact that they're seeking out and developing women-owned suppliers certainly won't hurt the revenue side of things, now will it?
And that, my friends, in addition to the innovation small suppliers can provide, is the real reason to invest in supplier diversity: building programs that stick over the long-term.