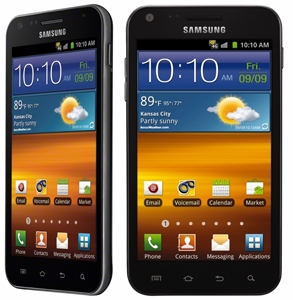 A little over a year ago I turned off my iPhone 3 and fired up a new HTC Evo Android handset, the initial experience I wrote about here. I recently upgraded my handset from the Evo to the just released Samsung Epic Touch and wanted to share some thoughts about Android after having lived with it for a full year.
As you might surmise given that I just upgraded my handset, I'm pretty happy with Android but first let's get some of the negative comments out of the way. Power management is a huge issue with all of these handsets, especially the ones with 4.3″ displays and lot's of network options. Apple has done a remarkably good job of reconciling hardware and software power issues, Google needs to do better on power management in the platform and providing reference material to hardware providers in order to maximize the consumer experience in this area.
The Android UI is one which only an engineer can truly love… lot's of icons, buttons, menus, and gestures. I know that this has been an area of focus for the Android team and they have brought on board some significant talent to lead the way to a new and improved user experience. While the current UX is not bad or in any way impairs my usage, improvements can't come fast enough.
The Android marketplace is very noisy, a function of the explosion of applications that have become available but also a result of an interaction model that favors the carrier's desire to feature apps of their choosing. It's time to revamp the Android market(s) by moving away from the category navigation model to a strong search function where someone can use the search facility to find apps by stacking up metadata strings (e.g. category, keyword, rating, free/paid, etc.).
That's really the sum total of complaints and shortcomings I would point out. Android is, today, a remarkably mature mobile platform and ecosystem and benefits greatly from hardware innovation and a highly extensible core operating system. The HTC Evo I had was one of the best phones I have ever owned and the Samsung Epic Touch is quickly proving itself as one of the best handsets on the market.
Despite being really large the handset is also very thin and light, which is probably a function of the highly evolved AMOLED display which fuses the glass and the display components together in a compact package. It's also worth pointing out that the display is manufactured by Samsung so they clearly benefit from having a degree of verticalization in their design and manufacturing operations, something few other hardware manufacturers could boast of.
Battery life on the Epic Touch is far better than the Evo, even when the bluetooth, GPS, and wifi networks are spun up. This is a large battery at 1800 mAh, which gives a reported 10 hours of talk time, but time will tell because new batteries always perform admirably… it's when you have been using it for 6 months that a true representation of battery life emerges.
The display quality is nothing short of fantastic, and when coupled with a very crisp 8 megapixel camera makes for pleasing experiences while taking images and video. I also noticed that the camera is very speedy in terms of reducing latency and lag, a welcome addition.
I could go on about the hardware but this isn't intended to be a hardware review so let me close by simply saying that the Epic Touch is a significant achievement in hardware design. One of the reasons why I went with Android in the first place is that I didn't want to be limited exclusively to what Apple decided I should have for hardware and software… Google has done a commendable job of recruiting great hardware partners and the array of handsets that are available meet a wide range of consumer requirements.
On the software side the portfolio of Android apps is deep and broad, the only application that I would like to have which is not available is Instagram. I like the ability to have additional items in my share menu, which was always a pain point for me on the iPhone and the integration of Google Apps is rich, as would be expected.
All things considered, I am glad I switched over to Android and look forward to getting a tablet later in the year when new devices are expected.