For those outside SAP, TechEd has always been a bit impenetrable. Being first and foremost a community event, SAP TechEd is the highlight of the SAP conference circuit for those whose idea of a racy night in Vegas is watching fellow coders face off for glory at Demo Jam, even as the contest itself is subjected to a fierce debate after the fact, a discussion that shows the continuing tension between SAP's commercial agendas and its fascinating ability to cultivate a grassroots community around its software, a community that is often the first to call SAP out on its own contradictions.
Now that all of our twenty one JD-OD TechEd video shoots are live, I'll give you my take on the big picture issues at stake for SAP and share a few of the videos that brought those issues home for me.
Press members who head to TechEd in search of buzzworthy headlines often return without an obvious story to file. This year was no exception, prompting the expected "there was very little new news" notes after the event. The frustration didn't take a plane ride home to gell – I received a Twitter Direct Message right after Executive Board Member Vishal Sikka's keynote asking me, "was there any real news?" Sikka would argue otherwise, as he did at the end of this JD-OD.com video we shot with him after the keynote, but however you slice it, the SAP TechEd news stories were undeniably more subtle than the splashier announcements analysts were treated to at Dreamforce a few weeks prior.
1. The Real News Story: "Old SAP" Versus "New SAP"
But for those willing to dig, there were plenty of clues to SAP's future at TechEd Las Vegas. The  story to watch puts SAP at a crossroads with two different futures ahead, one a brilliant enterprise re-invention, the other a legacy fade to Nokia-like irrelevance. To follow this storyline, you have to move beyond the familiar comparisons between SAP and Oracle.
Despite their legal entanglements, when it comes to enterprise apps, SAP and Oracle face a similar problem: the danger of addiction to massive maintenance revenues, stoking a restless customer base eager for more innovation on dollars spent. In SAP's case, their customers want to hear more than "Solution Manager" when they ask cost of ownership questions. SAP's real hazard? That the comfort of the legacy revenue stream will dilute the urgency needed to transform the platform before the next generation hits.
The biggest drag on the "new SAP" is in fact the "old SAP", a dynamic that many SAP executives, including Sanjay Poonen, are keenly aware of (Poonen spoke about culture change at SAP openly during our shoot).  But as Poonen would concede, awareness is the easy part: retrofitting culture is a monstrous project. A lengthy list of departed executives who seemed to have a "new SAP openness" implies – to me anyway – that SAP still has work to do here, though SAP will point out (rightly) that many talented executives with an open style are thriving at SAP as well (Steve Lucas and Jonathan Becher, to name two, as well as Sikka and his team).
The competition that should keep SAP up at night comes from upstarts that built a lighter weight, SaaS-based business model from the ground up. Yes, it takes some imagination to see vendors like Workday and Salesforce.com beating SAP at the large enterprise ERP game. But for those who try to see around a few enterprise corners, these are the stakes. Despite the manic "social revolution" overdose at Dreamforce 2011, Salesforce.com is quietly putting together a full ERP solution in the cloud, including manufacturing ERP from Kenandy,  and even integration with Workday itself. Though the Force.com development platform is not getting rave reviews from all corners, more than 1,000 Force.com apps makes SAP's 20 or so HANA apps and 20 or so SUP 2.0 mobile apps seem small time (and only a few of those 40 apps have been released yet).
If you subscribe to this view of the enterprise future, you judge vendors by this verdict: "whoever has the most apps wins." Which translates to: build an apps platform that programmers love. For SAP, this requires the audacity to strive towards an enterprise version of Apple, with a thriving developer community built around its mobile, in-memory, and on-demand solutions. Though Workday only has a fraction of SAP's customers, it's built from the ground up where SAP needs to go: with a next generation platform (including in-memory technology), with a next generation business model (funded by subscription-based revenues), and a sales force that knows no other model and isn't chasing the big ticket sales that still drives much of SAP's sales culture, even in the "era of HANA."
SAP's challenge is to transition its business into that model before it loses ground when cloud ERP models move up market. For the first time ever, SAP can't build everything it needs internally and hope to win. It's ecosystem or bust.
For some, this argument is way too futuristic. But "Where are the apps?" is hardly futuristic; it's a refrain I heard plenty of from SAP's own customers at TechEd, who want to consume new functionality on SAP platforms out of the box – without expensive custom solutions.
2. The Downside of HANA and "Big Ticket Sales Culture"
So what about HANA? Isn't HANA intended to spark exactly the kind of re-invention we are talking about? To a point, yes. But SAP has to be careful about framing HANA as the center of all things, precisely because big ticket HANA sales are not disruptive to SAP's existing culture (except for those SAP employees working on non-HANA projects who feel squeezed out of the limelight). Here's the kicker: HANA is also going to need an apps ecosystem to succeed. The biggest complaint of existing HANA customers I've heard is that HANA isn't nearly "plug and play" enough, requiring way too much elbow grease for something called an "appliance."A deep HANA apps store would solve a big part of that complaint, so from that angle, even HANA is not immune from SAP's ecosystem obstacles.
As some of us feared, Vishal Sikka's Las Vegas keynote turned out to be "all HANA, all the time." Yes, there were some big nods to mobility, but Sikka emphasized HANA as the innovation that would tie together everything SAP did from here on out. There's nothing wrong with the idea that HANA could play a major role in SAP's economic future – clearly in-memory will be a key factor across SAP's entire product line (including its SME products) going forward. But based on the reports I get from early HANA projects, I believe SAP is pushing HANA too aggressively.
I'm not knocking the potential of HANA, just how the "game changing" rhetoric has blurred the focus on practical use cases. Current HANA use cases are too limited to qualify as "game changing" in my book, especially when you consider the custom heavy lifting that is often involved. This is no insult to SAP, which deserves full credit for getting HANA out the door in record time. There is every indication SAP is totally committed to making HANA all it can be, and that should be reassuring to any customers kicking tires on HANA's capabilities.
Yes, we've all seen SAP co-CEO Bill McDermott making the media rounds in his inimitable fashion, (yes, I mean that as a compliment), citing the HANA pipeline as the fastest growing in SAP's history, with close to a half billion US dollars in the sales pipeline now. But those I trust don't believe it's ready to deliver on that kind of volume – yet. "To reach those kinds of numbers, HANA needs apps; it needs to be much more out of the box," one HANA expert told me. "BW on HANA in the fourth quarter is a major next step, but I think we're still two years out from HANA as a significant revenue stream for SAP."
He went on to add: "HANA will gain that kind of traction only in two cases: 1. killer apps, 2. HANA under ECC (the ERP 6.0 core)." There were two live HANA customers with good stories to tell at TechEd Vegas, and that's a start, but with the intense effort that is going into these early projects (both from SAP and its SI partners), it's going to take a while for those HANA numbers to scale.
Sikka credits HANA for "an ongoing renewal" at SAP, and SAP is clearly at its best when its "thought leader mojo" is working. HANA puts SAP closer to "industry thought leader" and further from dismissal as a "legacy ERP vendor," but the all-out push to make "big ticket HANA sales" a reality might distract SAP from delivering on an even more important revenue stream: high volume/low ticket sales based on the proliferation of enterprise apps. This means a shift as profound as anything the company has ever gone through, far more difficult than the move from R/2 legacy to R/3 client-server, which did not ask SAP to look beyond its own developers for the solutions it would need to prosper.
Nor can SAP acquire to solve these dilemmas, though given the  and mobility convergence, the BusinessObjects and Sybase acquisitions both look brilliant in retrospect. With HANA, SAP can renew its intellectual pride, but it also runs the risk of too much premature chest thumping in a world where you don't win by coding the best app but by creating the best apps platform.
3. Mobility Should Have Been the Vegas Entrée, HANA the Side Dish
Should SAP have focused its TechEd Vegas message around the creation of a new developer ecosystem – and, hopefully, new apps store – rather than HANA? No, and for this reason: SAP isn't ready to talk about developers and apps stores in bold detail yet. I do hope to hear more about this by the time we hit SAPPHIRE Now/TechEd Madrid, but it would be unfair to expect SAP to make claims about their developer plans that are not solidified.
So what should this year's TechEd messaging have been about? It should have been about mobility, with a big helping of analytics and a side of HANA for enabling mobile and analytics solutions, where the need for HANA speed truly is critical. The difference between mobility and HANA is that the need for enterprise mobility is customer-driven and immediate. While HANA has struck a chord with customers weary of sluggish report processing, mobility demand is  the constant, driven by business users who are not going to wait long for IT to deliver before taking devices into their own hands.
During this JD-OD customer case study I did with Dave Ploch of  Novus International, Ploch provided a vivid example of a customer issue I heard plenty of in Las Vegas: business executives pressing IT for better mobility solutions, while IT pushes to enable and secure the mobility platform:
Though Ploch's team is further down the Sybase Unwired Platform (SUP) path than most SAP customers, the mobility challenges his team is addressing are common place. To be fair to SAP, there was plenty of mobility content at TechEd, starting with teams incorporating mobile use cases into their pre-conference Innojam projects (a weekend I attended). Pre-conference mobility deep dives, including a premier customer event I also attended, not to mention the co-located Sybase TechWave, ensured that mobility was a frequent theme. But ask most industry observers what they took from the show and the word you'll get back is "HANA." I think SAP missed a chance to put itself in the front  of the enterprise mobility storyline. Is there an enterprise mobility platform further along than the Sybase Unwired Platform?
SAP would probably argue that mobility isn't ready for a keynote focus, with the Gateway capabilities of the SUP 2.1 release not yet available. Its true that by the end of the year, SAP will have a more powerful mobility story, with some 20 apps running on the new SUP platform and improvements in device management (including the pesky ability to manage the multitude of Android devices). But as John Appleby of Bluefin Solutions said to me after the show, SUP is mature enough to build mobile applications on now. There's no need to wait on pre-built apps."
So there was plenty to say about mobility in Vegas, enough to justify center stage, and a mobility message would have felt less like a sales pitch than HANA because customers are already pre-sold on mobility and fueling the demand themselves. Ironically, BI 4.0, which we have been waiting on for months due to poorly communicated but very justifiable delays, was as announced into GA on Friday of TechEd week while we were all on the plane ride home, just shy of the keynote attention the delayed-but-significant BI release probably deserved (see Steve Lucas' JD-OD interview for more on BI 4.0 and HANA) .
SAP will have an opportunity to shift the message in November at SAPPHIRE Now Madrid, pulling in the BI 4.0 analytics piece that is a big mobile and HANA use case, and talking HANA in practical "BW on HANA" terms that should be compelling to 15,000 BW customers.  For now, the unresolved question is: does SAP buy into the "future of SAP rides with the developer community" message I am propagating here, and if so, what are they going to do about it?
4. How Can SAP Win the Hearts and Minds of Developers?
Many SAP executives get the "developer problem" we are talking about here. Through the blogger relations program run by Mike Prosceno and Stacey Fish, we have had frank talks about these dilemmas at recent shows. As Dennis Howlett documented, SAP took these edgy sessions to a whole new level in Vegas by literally picking up cell phones and taking action on problems before we even left the room. Forthright executives included Nick Brown, SAP's SVP of Mobility Solutions, who told us that ecosystem readiness was SAP's biggest mobility obstacle.
So if there is some level of consensus on developer engagement, what are the remaining obstacles?
SAP faces four challenges to its apps store future, in ascending order of difficulty:
1. Build a viable cloud development platform that encompasses ABAP and Java, while also supporting Line of Business On-Demand, Business ByDesign, and HANA apps.
2. Build a vibrant apps store across mobility, HANA, and on-demand.
3. Nail down the pricing models for the apps store by adopting a shared revenue model and figuring out how to largely "give away the platform" to developers.
The third challenge is the doozy, because that's where the vexing legal, cultural, and business model pitfalls come to a head.
Some might think that SAP is far away even from point number one (building the viable platform), but I'm not so sure. SAP did not talk much about its cloud development platform, unofficially referred to as NetWeaver OnDemand, much at all in Vegas, but I suspect we'll be hearing a lot more about it in Madrid. My off-the-record conversations with SAP Mentor Matthias Steiner, as well as an on-the-record video with Jeff Stiles, have convinced me that SAP is well on the way to figuring the developer platform issue out, while downplaying the confusing "core" and "edge" distinctions that raised more questions than they answered (example: why is StreamWork an "edge" app when its real value will be contextual integration with core applications?). There's still questions about how well integrated the ByDesign and LOB  OnDemand SDKs and apps will be, but those questions are within SAP's scope to handle.
Number 2, building the apps store, is something SAP is also capable of. I have made fun of SAP's chaotic apps store offerings in the past, but there is clearly internal movement to correct this and come up with a fantastic apps store that is the right enterprise balance between plug-and-play and quality control.
Number 3, the pricing hairball, is the tricky one. Apps pricing becomes a problem because SAP tends to get hung up on charging developers too much money for platform access (SUP for example), rather than giving away the platform and pursuing a revenue-sharing model for the finished apps.
In this JD-OD video, Dennis Howlett hears a strong argument for why SAP needs to change its apps model from Australian SAP Mentor and highly respected programmer Graham Robbo:
Dennis fortified that shoot with another one with SAP Mentor Daniel Graverson which further detailed the costs that are keeping developers like Graverson from aggressively building SAP apps. In both cases, Graverson and Robbo indicate that a revenue sharing model would resolve most of the existing barriers. When Dennis talks about "four years and no progress" on this issue, he's venting backwash from the legal and cultural hurdles that have made this difficult not only for SAP, but for those who would like to see such an "apps community" succeed.
Conclusion
Until SAP stops trying to monetize every step in the programmers' "journey to the apps store," the smaller development shops vital to SAP's ultimate renewal will be locked out. As recently as two years ago, I spoke with an SAP executive who admitted empowering individual developers has never been a priority for SAP. I believe it fell to lower status because the limited revenue from such developers didn't seem worth the legal headaches. But the prevailing idea back then was monetizing the developers themselves, not sharing the wealth from their apps. Ironically, it's that same overlooked developer community, right at SAP's fingertips in its own Developer's Network, that is now the vital ingredient in SAP's potential re-invention. Of course, some fresh thinking will be needed outside the ABAP world as well. If SAP loses a new generation of developers to consumer tech companies, its future doesn't look nearly as bright.
So yes, SAP can pursue the dream of putting HANA under the Business Suite someday, and maybe it will have a dramatic impact on cost of ownership and change the analytics game in the process. But as businesses of all sizes look to quickly expand in fierce markets without altering their SAP code base, that familiar refrain is going to come: "Where are the apps?" SAP's core Business Suite functionality is not shockingly different from what it was ten years ago.
The business world outside, however, is categorically different. Thousands of enterprise-grade apps will help to close that gap. When SAP reaches the day when it can live without $12 billion in annual maintenance revenues, that will mark its transformation from whatever it once was to whatever it needs to become. I look at it as a struggle between the culture of urgency and the culture of entitlement. I know which side I'm rooting for because I have waged the same battle within myself.
Note: SAP covered my travel and accommodations to this event.
For more on SAP TechEd, I recommend the blogs of John Appleby, Vijay Vijayankar, Dennis Howlett, and Matthias Steiner, all of whom provided important context for this piece. If any of you were waiting on my SAPPHIRE Now Part Two post after reading part one, that second unpublished part turned into this post. Dennis and I also recorded a video TechEd Vegas wrap. This piece was written exclusively for the Enteprise Irregulars.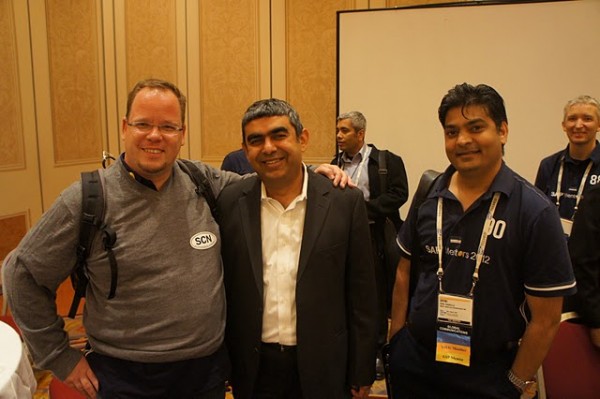 Vishal Sikka with SAP SAP Mentors Thorsten Franz and Srini Tanikella after an SAP Mentor session. This photo and the featured DemoJam photo both taken by SAP Mentor Wolfpack co-herder Aslan Noghre-kar.