I spent fifteen minutes with Oracle's President, Mark Hurd, along with Sudhir Chowdhary from the Financial Express yesterday at Oracle OpenWorld 2011.  These were the big take aways from our conversation:
1. Collaboration Moving Front and Center
Oracle seems to have rationalized its' investments in the areas of content and collaboration technology and has come to terms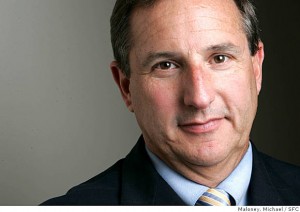 with the idea that collaboration needs to be front and center in its' portfolio offering. I asked Mark how he rationalized not catering to the other 80 odd percent of the average employees' daily time that isn't spent in one of Oracles' ERP/CRM and other process apps in any integrated way. At a previous meeting with Oracle's executive team earlier this year, it was clear that customers do have collaboration on their minds. And earlier yesterday, Anthony Lye, SVP, CRM, also confirmed that the subject of activity streams will be broached during the CRM keynotes. Mark responded with "I absolutely agree and stay tuned – there's an announcement coming over the next 48 hours on collaboration". Across these conversations what's clear to me is this: Oracle will be declaring its intentions in both traditional collaboration and also some of the newer flavors characterized by enterprise social networking and activity streams.
We'r seeing a growing need for this in the market as collaboration needs mature and become more sophisticated beyond general purpose sharing. And so I have high hopes for a fitting response to collaboration that's cognizant of process. Oracle is also one of the few companies that can, in principle, get this right. Given what I saw of Fusion's Rich Identity features last year, it doesn't seem like a stretch to expect that Oracle will infuse findability and collaboration into its overall business systems offering. So consider this a heads up for you fellow Enterprise 2.0 and Social Business gear heads out there. Fingers crossed that it isn't just silo'd collaboration that ignores the needed context hidden inside the various business systems it offers.
2. Catering to the Exa-customer's Cloud vs On-premise Needs.
Exalogic, Exadata, Exalytics. It's all about the mammoth and gynormous here. Mark's assessment is that Oracles' primary customer base will look for a staged move to the cloud, if at all. In the way that it was described by Mark, the logic was this: large companies expanding to new regional markets may choose to go cloud and leave the mother ship on-premise. They may change that configuration at a later time and go all cloud, or extend cloud solutions to front end back end installations.   Oracle proposes to offer the needed flexibility using one code base as customers move to all cloud or partial cloud…or never cloud.
The message was that from a customer stand point, Oracle is ready if and when the customer is. An alternate interpretation of this would be the following: stretch out the license and maintenance revenue model of on-premise software for as long as the customer is willing / needs to keep an on premise foot print. Be ready with a plan B if the customer decides to shop its technology needs and considers cloud based systems a viable option.
3. On the new crop of Competition:
It seems as if Oracle finally has a game plan to play both offense and defense with cloud based providers. To be clear, no names were named but its easy to connect the dots and see that companies such as Workday and Salesforce.com were reference points. The market view presented by Mark was this:
Newer cloud based offerings already have an older code base compared to Oracles' 

OnDemand

line.
They don't currently have the vertical specialty that Oracle's customers look for.
They don't have the safe pair of hands /maturity of Oracle.
They don't have the integrated suite of all ERP applications.
And finally, Oracle has the kind of scale of operations that's needed to carpet bomb the large company buyer landscape with an

OnDemand

value proposition.
Looked at in totality, this a very different message from the previous points of view that went from the cloud isn't new to the cloud exists but it's best in a box. Clearly there was a recognition that Oracle's market is in fact considering alternate solutions that don't only come from the likes of SAP. And so it's game on, from Oracle's stand-point.
So there you go. I'm looking forward to seeing how this all comes to fruition over the next couple of days….
Comments rolling in on Google Plus, here.
Image Credit: Mike Maloney