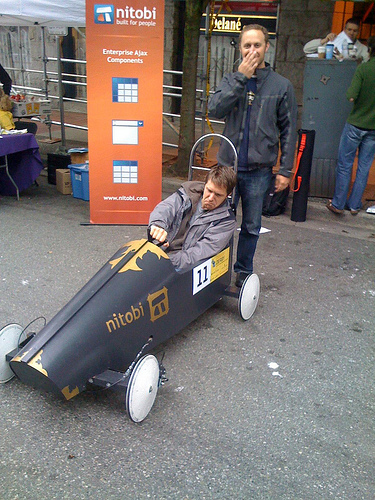 Yesterday Adobe announced its plan to acquire Nitobi, the Vancouver-based software company behind the PhoneGap mobile development framework, founded by friends of RedMonk Andre Charland and Dave Johnson.
The team will all be moving to SF from Vancouver, thus my headline aping this sky is falling piece about Canadian innovation in the Globe and Mail. The deal is not just a talent acquisition however – PhoneGap looks pretty fundamental to Adobe's emerging dual platform strategy supporting both Flash and HTML5 in its tool chains.
PhoneGap allows developers to build web apps – CSS, HTML and Javascript – that make native system calls, effectively supporting all the things on mobile devices that HTML doesn't – cameras, accelerometers and so on, which can then be packaged for distribution through app stores, withoutneeding to screw around with the native phone SDKs, packaging and so on.
Write Once, compile, run anywhere- as PhoneGap puts it.
One noteworthy aspect of the deal is that it happened just after Nitobi announced it is going to hand over PhoneGap to the Apache Software Foundation as an incubator project under the name CallBack.
The Apache move was crucial to PhoneGap's future for a number of reasons- not least because IBM is the major committer to PhoneGap – it has contributed more code to the project than Nitobi over the last year. Of course IBM is more than comfortable with permissive Apache-licensed software – see WebSphere as exhibit A.
Adobe is also doing its best to keep grassroots developer onside. As my colleague Stephen pointed out it was a nice touch to see Adobe directly address questions about the acquisition on Hacker News (Well done Kenneth Berger)
Adobe was already working with Nitobi on DreamWeaver integration, but there is plenty more to come. Thus for example, PhoneGap Build, Nitobi's cloud hosted compiler and packager will now be offered as part of Adobe's new Creative Cloud platform. That means GIT integration, and the ability to pull packages directly down from Github, which is great from a Developer Experience Point of View…