There's a sense of profound change in the air in the large companies I speak to these days. The rapidly changing consumer technology world, along with a huge helping hand from the Web, is fundamentally changing how business gets done.
Most of us have either witnessed this or have read it the press. We see this change all around us in the highly innovative new mobile devices and their ecosystems upending the world of personal computing. For its part, the cloud is rapidly becoming the way we deliver and receive virtually every meaningful service today, from music, TV, applications, news, phone calls, social media, etc. Even our data centers are beginning to move out of our organizations. This year I hear story after story from large company CIOs partially — or even in some cases almost completely, moving their IT outside the firewall, something almost unthinkable even a year or two ago. If these changes were all that was happening it would be a major challenge for any organization.
Compounding the mobile and cloud story is the consumerization of information technology — another one of the major drivers of change today — and something I'm calling CoIT for short. The world of CoIT is moving and innovating far faster than the business technology world. Along the way, it's been making highly sophisticated and powerful technologies extremely easy to obtain and use, while also dramatically changing the buy side economics of technology with advances such as app stores and software as a service. Right behind this is the big data movement, which is making sense of and creating real value out of the deepening streams of information pouring forth from our applications, devices, and connected social ecosystems. While big data is the least developed of these changes, all of these represent major global trends.
Taking all these together, we have a closely grouped set of serial disruptions of the technology world and associated business landscape that are happening almost at the same time. As a number of my readers have pointed out, these trends are also intertwined and co-related. However, it is the social media revolution that may go down as the biggest revolution of all of these, and as applied to our organizations, is often called social business. Transformative social technologies in the form of public social networks like Facebook and Twitter, or the rapidly emerging platforms of Social CRM (soon to be a $1 billion new industry), and the steady proliferation of social collaboration in the enterprise, are all just data points of a larger social megatrend.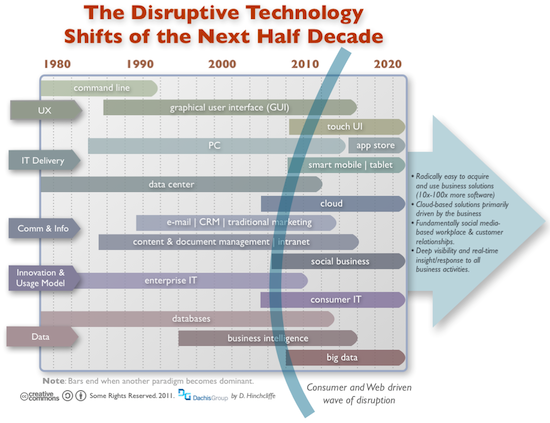 Social media is leading to, just like the Cluetrain Manifesto predicted, fundamentally better, highly open, community-based, and effective new ways to structure what we formerly called our products and services. As we'll see in the examples below, the best and most innovative new businesses are more and more often comprised primarily out the participation of their customers and partners.
The lesson of our era is this: Collectively, the marketplace and our customers far exceed our own capacity and creativity as businesses. The future lies in tapping directly into this fact.
In this way, our new product development, marketing, sales, support, and operating processes are becoming carefully calibrated and tuned architectures of participation. The magic is in design of these and how we connect them to our business ecosystems. Thus, it's social architectures and the way we construct them into useful and highly valuable (and profitable) new partnerships with the marketplace that will ultimately define the success of organizations going forward.
High-Impact Social Business Stories
I should emphasize that this is no longer theory. We can now perceive how this is happening and there are increasingly powerful and compelling examples of social business transformation. Just a few of the new stories I am tracking currently are:
As I said, these are but a handful example out of dozens of similar new stories and case studies I'm tracking and it's hard to keep up (for example, I just added the excellent new example from Lowe's that Susan Scrupski just posted.) Social business, because it's inversion of the engagement process, is going to be one of the most transformative to our organizations. But it's intertwined with mobile, cloud, and the others in meaningful ways. I explored all of these disruptive shifts in detail on ZDNet this week, making the case for how they are either well on the way, or will be soon. Finding our path through these shifts is going to be the signature challenge of the 21st century. But it's also where the opportunity lies.