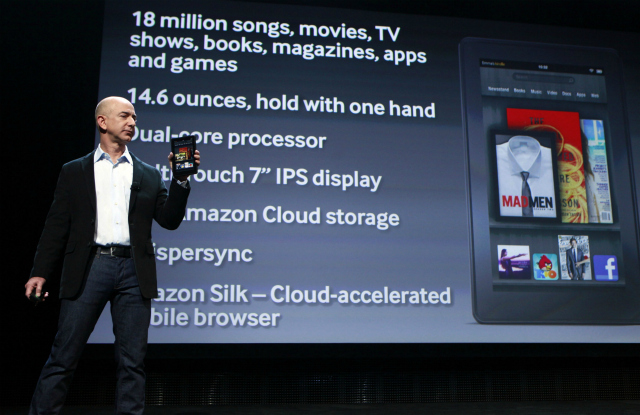 In his book The Origin of Species, Charles Darwin called divergence the driving force that creates a new species.  Last week
Amazon enhanced their Kindle range
of e-readers, but also applied some divergence to the tablet market by extending in to a new sub-category of mobile tablet devices with the
Kindle Fire
.  I think it's going to be huge and spell a lot of trouble for Android tablets from the likes of
Motorola
, HTC and
Samsung
, and probably
BlackBerry's PlayBook
too.  Up to now these "me too" devices haven't put much of a dent in the Apple iPad's market leading dominance.  This particular step by Amazon is a flanking move on Apple, but in itself it won't harm iPad sales much.  Amazon is going to take a very strong position at the bottom end of the tablet market, and whatever their next step is things are getting interesting.  Let me explain a little.
Al and Laura Ries
applied Darwin to marketing to explain how product categories diverge with their excellent 2004 book
The Origin of Brands
.  In a
follow on article for AdAge
, Al wrote:
"In Darwin's words, "nature favors the extremes." The "sweet spot" of a market is an illusion that soon gives way to multiple sweet spots. So which spot do you want your brand to occupy?"
Up to Amazon's move none of the challengers to Apple's iPad seem to have worked out what spot they want to occupy.  Sony and Samsung might have the best looking tablet products in terms of hardware and presentation, but all of these iPad wannabe's seem to be quoting features and technical specifications rather than saying what their products actually do for you.  Their only attempt at differentiation appears to be "we do Flash".  To add to their dilemma, they all seem to have come in at or close to the same price point as the "premium" iPad range.  Apple have used the strength of their own retail distribution network combined with the muscle of their sourcing and procurement approach to create a superb product at a great price.  Then they came out with the new improved iPad 2 at the same time most of the competitors were getting their first tablet attempt to market.  If you are going to compete with Apple, you need to pick where to fight.
I watched the hour long announcement of the new Kindles by Jeff Bezos, Amazon's founder, chairman and CEO, and was struck by how much he was trying to emulate Steve Jobs and Apple.  His whole approach, from the style of the slides, to the clothes he wore, to the way he introduced and demonstrated the new Kindles on stage was straight out of Steve's Apple play book.   The key thing that Apple does is focus on and show what their devices can do for you, with hardly any mention of technical specifications.  Jeff introduced 3 new Kindle e-readers and then the Kindle Fire.  He got through the whole presentation without even mentioning Android, the operating system that the Fire runs on.  He did explain how Kindle Fire will make use of the whole Amazon ecosystem – Kindle book store, MP3 store, Instant Video, Prime, Appstore and Web Services.  All of your content is backed up in their cloud, and they have even created their own browser, called Silk, powered by Amazon Web Services.  The browser deploys a split architecture with some functions running on the mobile device and others using the power of the cloud.  Each time you load a web page, Silk makes a dynamic decision about what runs locally and what will execute remotely – they say it will make browsing faster, and get faster as it learns your browsing habits.  It is completely logical that the company to really challenge Apple in the tablet market is one that combines a global distribution channel, leading edge technology, and an existing ecosystem for content.   Jeff's not as charismatic a presenter as  Steve Jobs, and one of the big differences was the audience.  An Apple announcement would have plenty of fans there to applaud and whoop in the right places.  The Amazon audience of journalists and analysts felt quite flat, even when he announced the incredibly low prices there was no reaction.
Kindle Fire is a 7 inch, WiFi only tablet with a great looking colour touch screen, weighing only 14.6 ounces and with around 8 hours of battery life.  It doesn't have a camera or a microphone or slots for expandable storage.  It's designed for you to consume books, full colour magazines, movies (with access to 100,000 movies in the US), music (with access to 17,000,000 songs from the store), documents that are sent to you, as well as giving you the ability to do your email, browse the web, and use apps from the Amazon store – all for just $199 PLUS all your content is backed up in the Cloud for free.  Jeff calls this premium products at non-premium prices.   Pricing for the UK has yet to be announced, but on past Kindle experience I would guess it will be in the range £175-190.  At under half the price of an entry level iPad this will create a lot of new demand and effectively starts a low cost, no frills tablet sub-category.  There is still a place for e-readers with paper style E ink screens that allow you to read in bright sunlight outside.  Some people who might have spent around £100 on an e-reader will sacrifice that ability, live with the glare of a colour screen and spend a little more to move up to a Kindle Fire to do more than just books.
The announcement also covered a new low cost, WiFi only Kindle at $79 and two touch screen versions – all without the keyboard of the Kindle 3 (still on sale but now renamed Kindle Keyboard).  Only the low cost version is available for pre-order in the UK so far, and priced at £89.  The low US price is supported by adverts, but in the UK the entry level Kindle is ad free, and so costs a little more.  The pricing makes these Kindle products very significant for the e-book market, but they were overshadowed by the Fire.
It's difficult to believe that the Apple iPad only shipped back in April 2010 and created a whole "post PC" revolution.  Apple sold 300,000 units on the first day of pre-orders.  Amazon took 90,000 orders for Kindle Fire on day one last week (and remember these numbers are real sales to consumers and not shipments to distributors).  Not quite as dramatic as iPad's first day, but still an indication of how strongly this product is going to sell.  I can't see the Fire impacting the iPad, but I do think it will steal market share form the lower cost Android based devices and the likes of the smaller Galaxy Tab or BlackBerry's Playbook.  Amazon can afford to build a very strong bridgehead at one end of the tablet market before they think of the next step, leaving Apple to consolidate their position at the other.  If you take the tablet market as a whole, it's just become a two horse race, but in reality those two horses are running on different tracks.