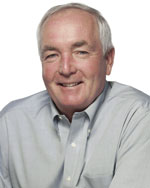 Perhaps the best-known analyst in ERP and supply chain history, Bruce Richardson, is finally independent again after a stint at Infor. Only a couple of months into this newfound freedom, he's launched a new blog that, well, sounds like the same old Bruce — and that's a good thing. Bruce offers up a few ideas that we can learn from in the sales and CRM world when it comes to social business connectivity. In Get Ready for "Social Supply Chains"he suggests that Marc Benioff (SalesForce.com's gregarious CEO) should have included suppliers in his view of the social enterprise (rather than just "employees, customers and products").
Bruce wonders whether something like the now popular SalesForce.com social Chatter tool"could be deployed as the preferred collaboration medium between brand owners and their top suppliers. After all, it would seem that you would want to capture most or all of the back and forth discussions on forecasts, purchase orders, engineering changes, shortages, and other factors versus using email, IM, fax, etc. In this case, Chatter could be used as a knowledge management system, too." Of course then the cynical Bruce comes out in describing CPOs as "deadly serious people" who might likely scream "not in my lifetime!" in embracing a social supply chain world.
I'll save the social scenario Bruce outlines next for Part 2 in this series to try to make us believers in the vision (it's almost more supply chain-centric than procurement-centric, but that's OK). More important, I would argue that we're beginning to see the social supply chain enter procurement in more ways than you might think. These include new sites like MySourcingTeam.com which are driving category collaboration (for MRO, initially) between peer companies in sharing best practice templates, supplier lists, vendor experiences, etc. (full disclosure: I'm a part-owner of the site). And they also include tools like SAP Supplier InfoNet that are driving new transparency and information sharing at multiple tiers of the supply chain to share performance benchmarks and reduce vendor risks. And let's not forget BravoSolution's Education Network (BEN)for the UK public sector, a long-standing peer-to-peer online community that shares tips amongst practitioners with common interests and needs.
The social supply chain world is more alive than you might think, Bruce. Sure, we might not be tweeting our POs our collaborating via Chatter to share demand schedules and haggle over commodity price escalation amongst supply chain partners yet. But we're further ahead than it might appear. Selfishly, I might also add that a humble blog rather than an established magazine or paper has also become the largest mouthpiece of the industry (and has expanded to four sites because the value of niche and micro analysis for smaller communities of interest). Not bad for less than a decade of social tools!