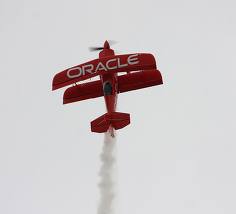 This morning Oracle announced its intent to acquire RightNow Technologies, a SaaS customer service / CRM application vendor for ~$1.5B. The acquisition is positioned to expand Oracle's recently announced Public Cloud offering and signals a shift in focus for Oracle's acquisition strategy. Oracle's Public Cloud offering, up to this announcement, was presumed to be composed of existing Oracle products including Fusion Applications but clearly now, Oracle plans a more aggressive move into the SaaS apps space. This is consistent with Oracle's strategy which has, for the last 6+ years been based on an aggressive acquisition strategy, first in horizontal apps and lately in deep vertical apps, all aimed at building out the broadest set of capabilities in its apps portfolio. With the shift to a focus on cloud, validating the overall momentum that cloud apps have garnered in the enterprise over the last few years, it seems that Oracle will attempt to repeat its successful strategy in the cloud. According to the press release "Oracle is moving aggressively to offer customers a full range of Cloud Solutions including sales force automation, human resources, talent management, social networking, databases and Java as part of the Oracle Public Cloud," said Thomas Kurian, Executive Vice President, Oracle Development. "RightNow's leading customer service cloud is a very important addition to Oracle's Public Cloud." Contained in a briefing deck for RightNow customers and partners the following graphic shows the current Oracle Public Cloud including RightNow: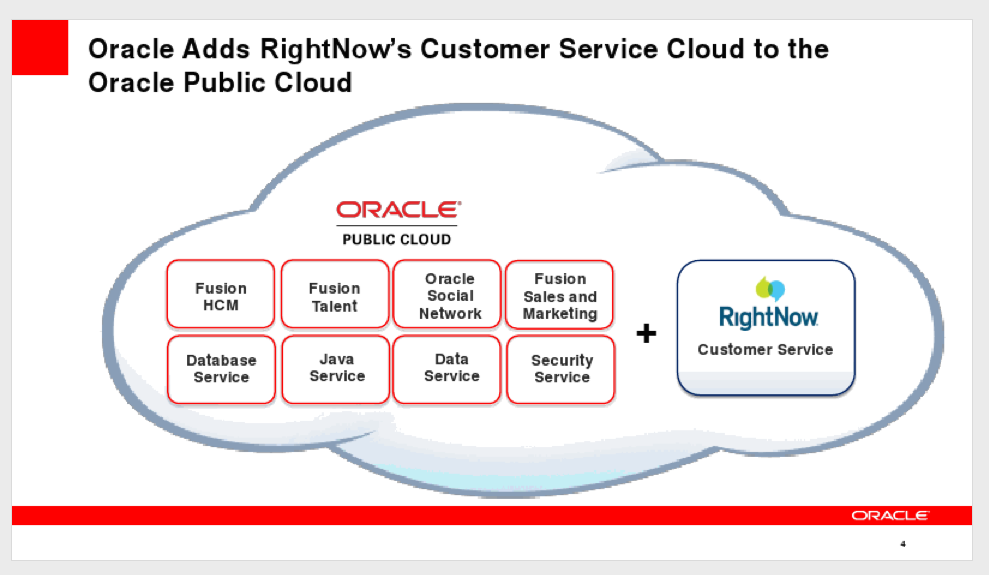 The addition of RightNow is clearly targeted at Salesforce.com's Service Cloud offering and is an escalation in an already heated competition between the two companies. RightNow, which acquired some social capabilities last year by buying HiveLive, also adds to Oracle's growing investment in social business software and is, again, a counter to the Social Enterprise messaging that Salesforce.com launched at this years Dreamforce conference. Here's a simple diagram of the RightNow offering: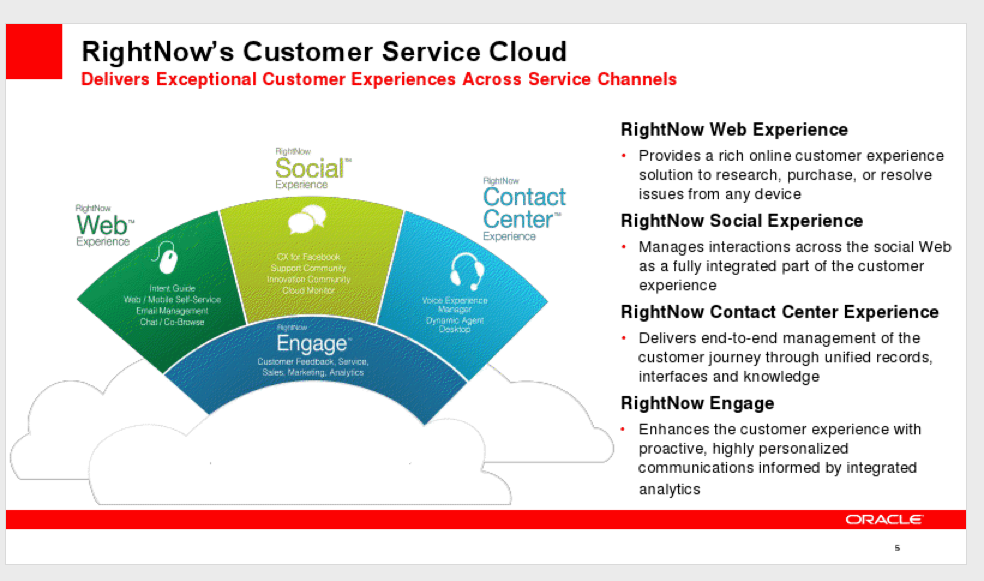 So where does Oracle's acquisition engine turn from here? While some might speculate that Oracle might finally bring Netsuite into the fold (Oracle CEO Larry Ellison owns a sizable share of the company already), I don't believe that this is the case. Oracle Fusion Applications are all multi-tenant capable, and it would seem more likely that the rest of that suite would make up the ERP part of the Public Cloud offering, but I guess we'll have to wait on see on that one. Other areas that seem more interesting include broadening it's social business product portfolio, which today is fairly sparse. Collaboration, in particular, could be an interesting market, especially since it is usually the #1 app when we survey companies for what goes in the cloud. Oracle could pick up one of the smaller remaining web conferencing vendors like Vyew or Glance for example. Slideshare also has good momentum and could be a good target. While Oracle has a solid on prem content management solution maybe it would be interested in picking up a SaaS content sharing / file sync / storage vendor like Dropbox, Box.net or SugarSync. The Oracle HCM and Talent Management offerings are already available in the cloud so presumably there would be no reason to look there, although there are some strong players in that market, including Taleo and SuccessFactors. Travel and expense management SaaS vendor Concur could also prove an interesting target. Supply chain is in general under served in the cloud today, and might provide some opportunity. Oracle could also move into cloud based vertical apps. It's all conjecture at this point of course, so we'll have to wait and see what Oracle's next move will be, but I'd bet on more cloud acquisitions in the near future.