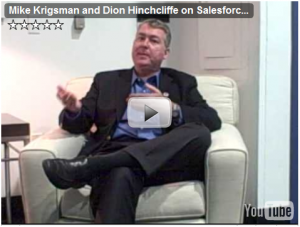 Salesforce.com's new product, Chatter, raises a variety of questions about what happens when social computing hits the enterprise. In some organizations, the openness of social computing creates tension with established corporate cultures in which resistance to information sharing is a real fact.
This video, filmed by Forrester CRM and customer service analyst, Natalie Petouhoff covers key organizational issues associated with enterprise social networking. The video records a conversation on these issues between Natalie, fellow ZDNet blogger Dion Hinchcliffe, and me.
Although our focus point was Chatter, the topics and challenges we discuss are applicable to any Enterprise 2.0 project involving business or organizational transformation.