I'd like you to think about something. The Big 4 of CRM are considered the following:
Oracle
SAP
Microsoft
Salesforce.com
Salesforce has at best 1/15th the revenue of the smallest revenue of the other three.  At best.
By no standard imaginable – except one – does salesforce.com belong in this list – especially IF size matters.
But that one factor is the combination of their continuing ability to at least be the leading market edge when it comes to recognizing trends and at best be the innovator and the creator of those trends.  Plus the incredible energy and charisma of Marc Benioff doesn't hurt either.  'Cuz if it were sheer numbers that determined the leadership – not just the shareholder value – there is only a big three – and little slightly more than a billion dollar salesforce.com wouldn't be on that list.
But larger than (business) life they are – as Yoda told me just the other day.
So where are they with the release of what Marc called the "4th Cloud"  Salesforce Chatter yesterday along with the other three – SalesCloud 2, ServiceCloud 2 and CustomCloud?
I'd say, at least if choosing my body of options, they aren't creating the trends or innovating here. What they are doing is nailing what the trends are and being on the leading edge of those trends.  That's going to be the suit they wear in the post-Dreamforce 2009 world that we will all be inhabiting after this week.
Marc and salesforce.com have always had an uncanny ability to see the business world in its sexy glory. Marc put it well several times when he said that creating the company and the initial sales app/service were inspired by Amazon and the current incarnation of salesforce with its products etc was inspired by Facebook, Twitter and what pretty much amounts to the social web.
My take has always been that consumer thinking has penetrated the enterprise – been saying this since I was a young whippersnapper back in 2003. But salesforce.com has had a vision for years and been following through on that vision with an extraordinary rigor.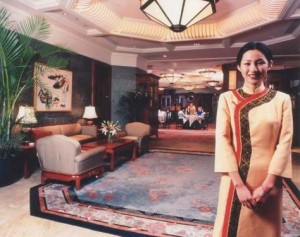 What is that vision, you ask? Well hop onto the Wayback Machine, Sherman and let's go to 2003.
The scene is a hotel restaurant in Shanghai with men and women of mystery eating their breakfasts, talking to "someone", murmuring under their breathes about important things.  I'm sitting at a table with Tien Tzuo, the then CMO of salesforce.com, now CEO of the very successful SaaS billing and payment systems vendor Zuora.  Know what he's telling me?