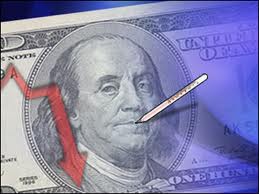 We just completed another re-forecasting exercise at IDC, as uncertainty  increases over the health of the global economy. This time in particular, I was pressured to lower the enterprise applications forecast for next year and adjust the 5 years forward to account for the new and lower 2012 numbers. I have remained fairly optimistic for apps though, despite the overall economic conditions. It's a question that I answer several times a week…"what's the applications market doing and why?" If you look at the numbers over the last couple of years, especially since the "bottom" year of 2009, you'll see a market that is very healthy. Even so, I find a lot of skeptics when I talk about this health continuing.
Generally there is a predictable pattern to the tech markets and how they respond to economic pressures. We've documented this several times historically and in the most recent crisis, 2008/2009, the pattern held true for the most part. The cycle usually is something like this: 1. hardware spend drops dramatically just after the crisis hits, 2. software lags hardware by 2-3 quarters (the buying cycles are longer and it takes longer to shut down) and 3. services lag the others by another 3-6 quarters (projects are in progress and aren't cancelled, instead the future pipeline dries up and the work flushes out). The recovery usually happens in the reverse, although the lag times are much less. This time though, the cycle coming out, while following the order, has bounced back much more aggressively for software. In fact, in a lot of ways the software apps recovery has been counterintuitive. As we came out of the crisis we talked about what we called the "new normal" and our belief that there have been some fundamental changes in business that are starting to change the software industry.
Look at some recent earnings highlights from leading software companies:
Oracle – for Q1 2012, which ended August 31, it reported 17% year over year software new license growth. This included growth of applications in EMEA of a phenomenal 55%. In fact, Oracle has seen strong, steady application new license growth for at least 9 straight quarters. Even during the worst of the recession, Oracle remained relatively flat.
SAP – for Q3 2011, which ended September 30, it reported applications year over year growth of 28%. While SAP saw some rough quarters during the worst of the recession, it has posted 7 consecutive quarters of double-digit applications growth.
IBM – for Q3 2011, which ended September 30, it reported software growth of 13% year over year. The previous quarter was 17% y/y growth for applications.
Salesforce.com – for Q2 2012, which ended July 31, it reported 38% year over year growth in subscription and support revenues. For the previous quarter subscription and support grew 35% y/y and for the previous year 28% y/y.
These are only four examples out of many.
What I'm saying is that I think that business is undergoing some long lasting changes and that technology, which is tied to some, if not all of the overall changes, is seeing the impact come out as stronger growth for many software markets above what would "normally" be expected. In fact I think that software will hold up even if the economy worsens significantly. Here are some of the reasons I believe this:
Companies are investing in automation instead of new jobs. For the period since the end of the recession in June of 2009 payroll spending has been flat, software spend up about 26%. Automation has moved from the shop floor and into the previous bellwether people-centric jobs in the services sector. Technology moves forward exponentially and is now doing things that no one would have believed possible this quickly. Think of IBM's Watson winning Jeopardy or Apple's new Siri voice driven assistant for two high profile examples. With Google's self-driving cars we are seeing that technology can stretch way beyond the limits that we previously put on it; 7 test cars having logged over 1000 miles of unassisted driving and 140,000 miles with only limited human intervention.
The social customer is forcing companies to invest in new ways to engage and service them, or they're defecting to competitors. These investments are mostly in software to help the companies build customers communities, engage and interact more in the sales process, individualize marketing and offer support "when, where and how" the customer wants across a breadth of public social channels. For most companies the question isn't whether to do social CRM, but a question of when (and the answer better be fast).
The need to increase productivity, that is, get more from the employees you kept, added to employees insisting on new, collaborative ways of working, is forcing investment in a variety of internal social tools. Our research at IDC shows that social tools can increase productivity by as much as 11-30%.
Some emerging countries are finally at a development level where automation is cheaper than labor, at least in some industries. While this has not been the case in many emerging countries like India and China, the situation is changing as labor costs increase and technology becomes more available. There is a cross over point where it's less expansive to automate than to just throw more labor at the job. The cross over has the potential to fund growth for many years.
Customers are starting to expect that companies will provide new and innovative ways for social and mobile commerce and this shift is driving spend for infrastructure all the way out to customer engagement solutions. Commerce, or digital commerce as we call it at IDC, is hot. We're seeing a convergence of mobile, social and on and off line that will drive businesses to invest in a new, converged commerce architecture. The trend is already impacting spend and will increase rapidly for many years as businesses replace and build out the new infrastructure required to provide this new customer experience.
Companies are continuing to spend for traditional CRM systems, as many were under-invested in some key areas AND they have realized that you can't effectively do social CRM without a solid CRM foundation.
Companies have come to the realization that technology, particularly software,  can be a competitive advantage and serve to level playing fields between large, medium and small companies. Through technology companies can significantly increase productivity, lower costs, engage new markets, innovate on business models and products, etc.
These aren't the only things driving the strong applications growth, but they are key to keeping the growth consistent going forward. Have I missed any other drivers of growth?
Tags: software, growth, technology, innovation, productivity, SCRM, socbiz, digital commerce, customer experience, CRM