Short Tale Award 2012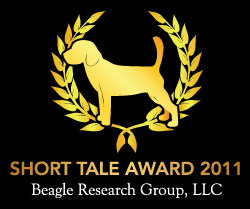 Last year we introduced the Short Tale Award as a way to give companies a chance to showcase the videos they were making for front office business operations — sales, marketing and service.
Well, that was pretty cool. We received many entries and posted the best, along with our award on the home page. You can see it all at the Short Tale tab.
It was so cool that we're doing it again. Between now and the end of the year you can send us links only to your best video efforts for consideration. Here are some easy rules.
The video must be about some aspect of sales, marketing or service.

It must have been produced in 2011 to be considered.

It must be short — not longer than 5 minutes.
Do not send the video, just a link, please!
You can submit by sending a link to Denis@BeagleResearch.com
Take a look at last year's full report to see the different categories we're judging. You don't need to submit for any category, though. We'll make our awards based on what we see and think.
Questions? Call 781-297-0066