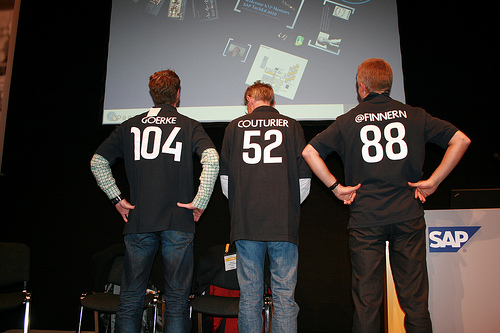 Its always nice to see others building on your ideas, so it was cool to see some folks from the SAP Mentor community take up the gauntlet. At RedMonk we like to say developers are the new kingmakers, because of the increasing influence they wield on business innovation, from the bottom up. Of course some are quite skeptical of the idea that developers are influential, often because they see the IT world through the lens of the product purchaser.
In a post today for his SAP Community Network blog Owen Pettiford said (Good SAP Savvy) Developers are the new Kingmakers asks why more people haven't got the memo about developer innovation yet.
"To answer this we need to look back to see how developers were viewed about 10 years ago. Many organisations took a look at their IT developers (geeks) and decided that IT development was a commodity that could be given to a 3rd party provider and so IT was outsourced across the globe. Most of these outsourced deals focused on driving down the cost of IT (it was viewed as a commodity after all).

What this often also drove out of the deal was any wiggle room for Developer Innovation. 10 years on this means that many organisations and IT outsource providers have all but forgotten how to innovate – SLAs and Margins are king. In effect organisations have thrown out the baby with the bath water."
As he explains:
"This doesn't mean that the traditional skills required to configure the SAP business systems are not important it is more that to make your SAP system stand out from the crowd (and do stuff your competion can't) you need developers to build (hopefully cool) stuff on top of it."
SAP and JQuery, SAP and in-memory database, SAP and RESTful development, that kind of thing.
The Mentors are a great group of people, which has been explicitly fostered by SAP management to allow for innovation across what Hugh MacLeod calls the porous membrane. The pied piper of the Mentors is a guy called Mark Finnern. Not coincidentally the SAP Mentors are big MacLeod fans…