It's been a few years now since Enterprise 2.0 first arrived on the scene as a concept, back in 2006. At the time — and even now — the premise was compelling: As social media became a primary means of communication in the consumer world, a similar transformation would inevitably happen in the workforce. The associated benefits, such as more shared and open work processes, the accumulation of actionable collective intelligence, improved expertise location, and much more were expected. It would be a challenge for some organizations, as social media is largely a consumer-driven phenomenon, but it would happen.
Given that Enterprise 2.0 is now just over 5 years old, we should have a much clearer picture on how it all turned out, right? Intranets should be far more social and consist of a grand narration of worker activity, vital information should be far easier to locate in internal channels of social media, experts should be rapidly locatable with rich user profiles and reputation systems, and so on. Fortunately, the evidence for benefits is now much clearer, but I find that it's still fragmented and poorly understood. It's also very much a work in progress in most organizations. Below is an attempt to summarize what we now know.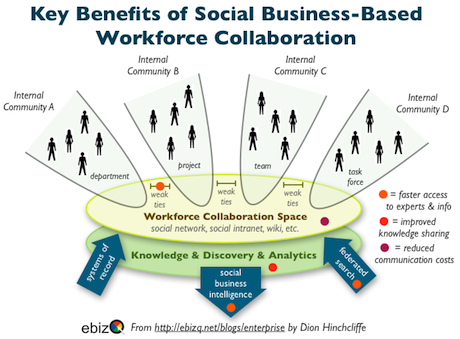 Far from fixing something that wasn't broken, there was certainly significant room for improvement on the old IT solutions for communication and collaboration back in 2006. That much was clear from the outset: E-mail isoften a costly time-waster and is far too closed off, trapping critical business information behind an inbox silo that's also increasingly considered a legal liability by many companies. Knowledge workers still spend up to a day a week looking for information to do their jobs. I would note that both these trends are currently the case. The links in this paragraph point to recent data to support this.
Enterprise 2.0 Adoption Is Widespread, But Spotty
One potentially bright spot, however, is the growing use of social media on corporate intranets, which Toby Ward estimates will have reached an 87% penetration rate in 2011, at least at some level. Earlier this year I synthesized all available data on strategic Enterprise 2.0 adoption at present, and came away with the following:
1) Enterprises are 2-4 years behind the rest of the world in adoption of social software. Yes, there are exceptions to this, but the lag is generally widespread, significant, and sustained, yet it's not currently widening. This means while most people in the developed world use Facebook and Twitter, enterprise social networks and related tools are holding a steady gap, yet may even be catching up.
2) Despite some reports of relatively low levels of adoption (such as the35% Enterprise 2.0 usage rate of Gen-X'ers in Forrester's latest survey), this is exactly where consumer social networking itself was only 3-4 years ago. Frankly, numbers like this actually say that tens of millions of people are using social media in the workplace in North America alone. Such stats are also on the low side, with some numbers as high as 70% (Jane McConnell's survey numbers.) So, in actually adoption of social media is apparently happening both statistically and anecdotally. As we've seen in the Social Business Council, a large percentage of Global 2000 companies are organizing for internal use of what's increasingly being called social business (in lieu of the older term, Enterprise 2.0.)
So businesses are behind yet workers are changing their habits and beginning to incorporate social media in how they work together and accomplish business objectives. If that's the case, can we get a sense of what's being accomplished? The bottom line for some decision makers is if there is a qualitative and/or quantitative difference that can be discerned by using social media to get work done.
Probably the two most authoritative sources I've seen in the last year come from McKinsey and IBM. They conducted surveys that had both breadth and depth across different industries, geographic regions, and business functions. Both of them show a broad perception by those in affected organizations that the move to social business methods can drive real results. The two leading benefits that both survey had in common were better access to local expertise (52% and 84%) and improved sharing of knowledge (77% and 84%), other benefits were reported as well, including lower costs and higher revenue. Jive Software also reported interesting results in its survey last year, though finding that improved access to experts only improved 34%, providing quite the spread on the benefits, though still double digits across the board.
Unfortunately, as compelling as these three sets of data are for the benefits of internal social business, they have to be taken with a grain of salt. McKinsey and IBM both provide consulting services for social business while IBM and Jive also provide social business software. In other words, they have some bias, though I currently believe the data is largely accurate.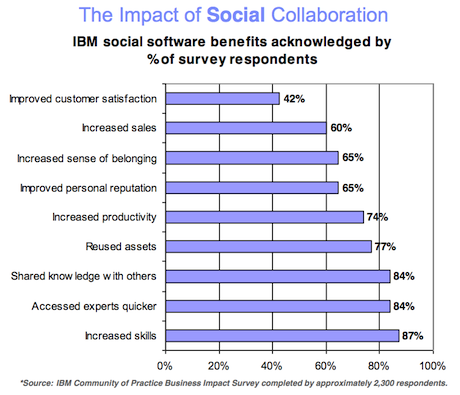 As a checkpoint, can we cross match these figures from other, more impartial sources? For this, I've used the Frost and Sullivan survey data for a while now, but it's getting a little long in the tooth (as are all of these) and the most recent data doesn't show benefits, just executive focus and prioritization, which is putting social media ahead of telepresence, VoIP, shared team spaces, soft phones, and unified communications.
Are Industries Actually Seeing the Benefit?