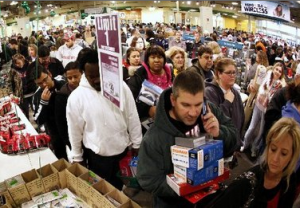 I've never done the Black Friday thing.  Why would any human being subject themselves to that stress and, well, craziness?  Friends of mine tell me they love it.   They're busy scoping out all the best deals, online and offline, well before the big day arrives.  They're like highly skilled commandos when they finally descend upon their chosen retail destinations.  It's sheer nuttiness. But I have to admit, I am envious when they come back home, a little war torn, yet smug in the knowledge that they've killed their holiday shopping list.  They saved a ton of dough, and can glide through the remaining holiday weeks secure in the knowledge they won't be last-minute desperation shopping like, well, some of us who aren't so industrious or aggressive.
For all our high technology, Black Friday frenzied behavior has not made things better for the shopper.  Many would say, it's getting worse.  Even in the throes of a recession, retailers expect and depend on big turnouts at the retail outlets.  Consumer spending this Black Friday is expected to be weaker this year, down about 9% year over year.  If only, we had some reliable predictability about what consumers were interested in buying on Black Friday.  If only we could, ya know, read their minds. That was our holiday wish last year.
This year we can.
Turns out, many (certainly not all, but enough to take it seriously) consumers are talking about what they're buying this year.  They're all over the social and mobile channels telling each other what they're interested in purchasing on Black Friday. Well?  Here at Dachis Group, we are listening.  We're more than listening.  We're willing to take a stab at being predictive with some of the aggregated data we've collected.  It's risky.  Yeah, we get that, but we're pretty sure we're the only data source on the planet that has the gravitas to attempt to make some predictions based on analysis of real time, big social data.
We did a focused study on the leading retailers and parsed what consumers were saying by store and by product.  Some of the results were obvious, but there were some surprises.
The #1 product Walmart shoppers are talking about this year? Electronic Arts' Battlefield 3.  (Hummm. Still time to call my broker…)  How interesting is that datapoint to the EA product manager?  Answer: very.   Here's one that might not seem so obvious:  Walmart shoppers are talking about Fisher-Price's Laugh and Learn Love to Play Puppy.  So, Grandma, better think twice about not taking Walmart up on its early opening at 10pm Thanksgiving night.  (Oh, customers are talking a LOT about that too.)
How about the specialty retailers?  Hey Foot Locker, here's a heads up: you may want to rearrange your end-displays to feature Nike Hyperdunks and Mercurials, and Under Armor's Micro G Supersonics.  Trust us.  It's like having the ghost of Thanksgiving future on your payroll.  😉
This is just a trickle from the rich social data pipeline we've tapped into.  Our algorithms and cluster analysis will only get better and better.  And consumers will be sharing more and more social data.  We foresee the day that retailers will be calling us – forbidding us – to blog nuggets like this a few days before Black Friday.  It's all good.  Customers will still get to go nuts for great deals, but the very least we can do for our part, is make sure the product companies and retailers know ahead of time where the puck is going.  So, no broken bones are made getting there first because there will be ample supply to meet the predicted demand.