Sometimes a picture can tell a thousand words — or a thousand transactions. Electronic transactions, that is. Purchasing Insight's Pete Loughlin has come up with a simple and useful map that explores electronic invoicing's global footprint (see the photo below and also over
on the Purchasing Insight site). In his summary of world activity, Peter notes that "estimates vary, but only about 15% of the world's invoices are transmitted electronically and the level of adoption across the globe varies tremendously." Moreover, as we have explored extensively in our researchas well, Peter suggests that the reasons for adoption are quite different in various locales. To wit, "In some countries, despite the approval of the tax and regulatory authorities, take up by business has been slow while in other parts of the world, it is governments' reluctance to accept e-invoicing that is acting as a blocker."
Peter divides up his world map into four regions:
North America, Europe, Australia and New Zealand
Latin America
Asia Pacific
Middle East and Africa
Here at Spend Matters, we'd probably accuse Peter of being a bit Eurocentric in his view of the world, lumping the US in with Europe and what not, if we were having a bad day in the office. But we'll suspend disbelief for a moment and just agree to disagree on whether or not the US and Europe (not to mention Canada for that matter) should be grouped together. And I agree with Peter that "the detailed rules and regulations that exist in the various regulatory authorities can make the implementation of e-invoicing in a manner that complies with local laws, extremely complex." Which is one of the reasons why there hundreds upon hundreds of local electronic invoicing providers and operators flogging their wares in various markets in Europe and the US, alone.
Stay tuned as our analysis of Purchasing Insight's world map continues.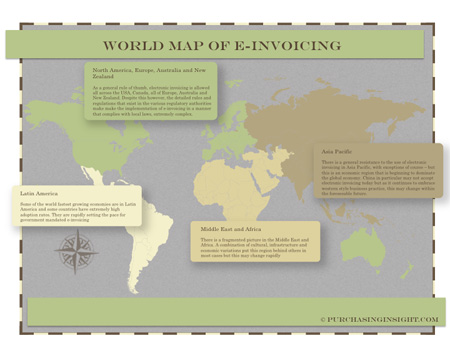 Source: Purchasing Insight