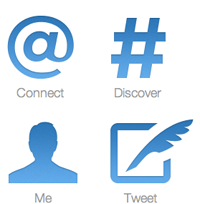 This recent post from Useful Social Media entitled 'Is Twitter the call centre of the future?' illustrates a trend we've seen a great deal of recently while working with various Terametric clients, prospects and speaking at events.
Specifically, that the power of Twitter as a communications vehicle isn't necessarily limited to the Marketing department, and for many organizations some of the most powerful applications can be found within Customer Service. Responding to customers who have issues, complaints and other forms of feedback is the reason your organization should be 'listening' – and while Marketing should be privy to those discussions, it's Customer Service who often most logically would respond.
More importantly, as companies seek to build a link between their 'Social' (new) and 'CRM' (existing) initiatives, these service-related efforts play a very key role. By focusing on simplicity and ubiquity, Twitter is positioning itself well to be the 'least-common-denominator' Social Network. With parents even securing Twitter handles for their newborn children (yes really!) it's not difficult to foresee a future where a Twitter handle is as common as a mobile phone – i.e. everybody has one.
Twitter showed us its plans to become the social network for global communication. The company has decided to focus on scaling back its look and feature set, and wants to hone in on simplicity.

This is a huge turning point for Twitter, as it is now clear that the service is a fierce competitor to Facebook. Facebook is adding more features that could complicate things for the users it already has, while Twitter is focusing on making it simpler to use for "everyone".
If that is the future that emerges, then Twitter becomes a natural vehicle for not just marketing to customers, but for responding to and servicing them as well – and managing the entirety of the customer lifecycle. In other words, it becomes a key enabling technology for communication between enterprises and their customers – and a focal point for the still-vaguely-defined promise of 'Social CRM'.
(Republished from the Terametric blog)