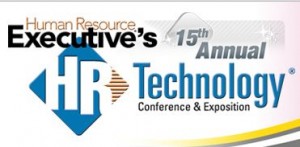 I won't win any awards for timeliness for these posts as I am reporting on conversations I had at the HR Technology Conference 9 weeks ago in Las Vegas. But, I'm doing it as there might be something here a software buyer might want to know (although show impresario Bill Kutik probably will tease me for posting so late!).
First things first, though. TWO of the vendors I met with, SuccessFactors and Jobs2Web, have been acquired in the last few weeks.SuccessFactors bought Jobs2Web and SAP bought SuccessFactors. Both transactions occurred in the last week.
So, let's start with the merged firms:
SuccessFactors – I had a fast conversation with SuccessFactors executives at the show. They were particularly animated about three topics:
1)JAM – JAM's their new learning product. It's not the usual e-Learning thing that's been demo'd to death at other HR Technology shows over the years. The product is built on the assumption that much job learning should be driven by capturing on video how others currently do work. This is particularly relevant for people who need to repair things, transfer knowledge, etc. JAM essentially lets anyone with an inexpensive camera, iPad or cell phone create training products.
2)SuccessFactors has upgraded the user interface of their product. As a result, users will see more analytic data and insights pop up in the product and these may be helpful in developing more thoughtful performance reviews for workers.
3)Mobile support has been enhanced.
SuccessFactors has become one of the bigger players in the HR space over the years and one I need to do a more detailed review on soon. Right now, I'd like to point out that they've cut a partnership with VMWare re: Cloud Foundry. This puts a PaaS (platform as a service) play in the HR space. PaaS has been most actively promoted by NetSuite (via NS-BOS) and Salesforce.com (via Force.com). But, the main HR vendor community has been relatively quiet about PaaS technologies until now.
Finally, SuccessFactors appears to be posting some pretty sizeable revenue gains. All of these are net positives for the firm.
There has been a lot written about the SAP/SuccessFactors deal. I'll be attending the SAP Analyst Summit this week and will doubtlessly hear more of the new SAP cloud strategy. Virtually every analyst, blogger or influencer that covers the SAP or HR ecosystem has opined on the deal. Most of these correctly indicated that this event, along with Oracle's acquisition of RightNow, signals that older on-premise vendors will buy their way into cloud applications. The next comments that many make are that these bigger, older, cash-laden firms will also assemble a collection of cloud apps to quickly create a full ERP suite fast.
I'm not so sure a roll-up play is necessarily a good idea. Why?
The next big evolution wave in cloud solutions will require a PaaS (platform as a service). Currently, there a large number of cloud applications built on custom platform stacks that cannot be easily opened up to third party developers. There are an even larger group of vendors/apps with .Net stacks and no easy way to move to a PaaS. Without a PaaS, these products are one-shot wonders. If a roll-up vendor wants to stitch together a bunch of products together, the cloud architectures will make that happen alright. But, should customers want the ability to extend these apps or make all new, extensible applications, they might be in for a tough slog. The PaaS architectures like Salesforce.com's Force. Com or NetSuite's NS-BOS may be better bets. (Also note, a couple of other major SaaS vendors are rolling out new PaaS capabilities. When the NDA of these lifts, we'll have an even more competitive market.) Whether SAP uses the SuccessFactors new PaaS play or one of their many NetWeaver or other platforms is unknown for now. But, whatever direction SAP goes, they'll need to quickly get to one platform if they want to create a powerful ecosystem around their legacy and/or acquired products.
Jobs2Web –www.jobs2web.com– This firm has a lot of people with a lot of prior HR software company expertise. The CEO is a former Lawson and PeopleClick executive. Others have been with Techies.com and many other firms. The Minneapolis connection is apparent in many of these linkages.
Jobs2Web is a recruiting management firm. They help firms maximize the value derived from all of their recruiting channels. Their client list includes a significant portion of the Fortune 500. Jobs2Web understands that job seekers will use multiple channels to find out about new job openings. The key activity is to quickly move them into a firm's ATS (applicant tracking system) and complete the application process. As a result, Jobs2Web can develop some powerful statistics as to which marketing channels are delivering the best and most qualified candidates. Cost/benefit assessments can be made on specific channels and different promotion methods deployed on each.Think of Jobs2Web as the Marketo of HR software.
ATS technology, in and of itself, is often one of the most common and least used products in HR systems. Few firms use the accumulated resumes/applications within their ATS under the theory that the information quickly becomes out of date. I've never believed that but I'm frequently told it to be so. Jobs2Web (and a couple of other firms) maintains contact with these job seekers to keep their information and job status active.
SAP/SuccessFactors will gain a fair bit of technology with this acquisition. Jobs2Web is a favorite with large firms (or firms that hire large numbers of people). RPO firms like this sort of solution, too.