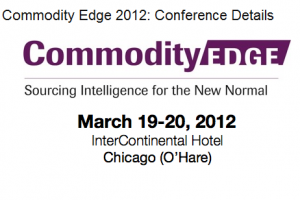 I'd wager that among Spend Matters readers, I've probably attended more procurement and supply chain conferences than most. Yet virtually no events I've been to have had a consistent focus on economic and commodity outlooks specifically tied to the daily sourcing and supplier management decisions that procurement and supply chain professionals need to make. Every year there are good general session keynotes covering general economic trends at certain events, but almost always, the economist or management consultant presenting fails to make the leap to what such trends mean for strategic and tactical procurement decisions. The only event I've been to that did an excellent job of bridging the procurement, commodity and economic divide was the PurchasingSmart Sourcing Summit, although it was cancelled after its inaugural excellent showing when the overall publication folded.
So we at Spend Matters and MetalMiner put our heads together to develop an idealized conference agenda that took elements of what Purchasing introduced at their event, but further refined the content to provide additional depth on commodity analysis, forecasting and strategy development specifically aimed at the procurement and supply chain community. The result of this planning effort is our first US Spend Matters and MetalMiner event for 2012 — Commodity Edge: Sourcing Intelligence for the New Normal. The conference is taking place March 19th and 20th at the Intercontinental Hotel, Chicago (O'Hare).
To set the stage in our planning for the event, it's our view that leading companies across several industries (industrial, automotive, A&D, CPG, food, etc.) are actively looking for ways to better manage commodity volatility — not only through a deeper understanding of underlying market trends but also through analysis of the specific drivers that most closely correlate to price trends. In the current climate, procurement executives and category managers are looking for ways to manage the P&L, create longer forward-price visibility, reduce risk and ensure ongoing continuity of supply. In addition, the political landscape has created additional uncertainty around energy costs, global trade, stimulus programs as well as conflict minerals, suggesting the procurement function must transform into a global intelligence center.
To address the thirst that procurement, finance and supply chain leaders have for insight into commodity markets and broader economic trends, Commodity Edge will offer a range of general sessions and breakouts, including key manufacturing category and macroeconomic outlooks (including break-out forecast sessions on steel, stainless steel, aluminum, energy, base metals, rare earth metals, packaging, transportation, plastics, chemicals/ingredients, and indirect materials). In addition, the conference will offer perspectives on the best technologies, tools, and strategies to manage volatile commodity spend. Commodity Edgewill also provide tactical raw material sourcing strategies as well as a legislative overview of federal and state policies that will impact global sourcing organizations.
While the main event takes place on March 20th, we're also offering executive focus sessions on the afternoon of March 19th that will cover:
Hedging strategies for specific commodities
Advanced sourcing technologies adoption, deployment and integration approaches
Forecasting, statistical modeling and building internal competencies
Public policy impacts on the global sourcing organization
While the event is aimed entirely at practitioner organizations, we are offering a limited number of service/solution provider networking passes. Given the constraints we've placed on the availability of passes to avoid the all-too-typical imbalance at many events between practitioners and vendors, these passes will be granted to just 10% of participants, so if you're a consultant, software provider or BPO in the market thinking about coming to the event, we urge you to plan quickly. Sponsorship packages (inclusive of seats for customers and limited networking passes) are also available.
If you would like to register or learn more about the event, please visit the website: Commodity Edge: Sourcing Intelligence for the New Normal. Or feel free to reach out to the team via the contact details on the site.