It was just over a decade ago that businesses were still wondering why it was necessary to have a Web site. Now it's a foregone conclusion that they are one of the most important touchpoints for any organization to possess. Fast forward to the last few years, and businesses are now — in the same way they did with Web sites — beginning to come to terms with the concept of the open API, and how it is turning out to be just as vital to the long-term success of their business.
That at least is the premise of API expert (and my friend and industry colleague) John Musser, who founded and operates the invaluableProgrammable Web service that tracks the organizations that have opened up their businesses over the Web using APIs. Those that follow my writings know that I've been bullish on APIs over the years as a way of creating business ecosystems that scale like no other method that's been known previously. Back in 2008, when open APIs first reached the 1,000 mark, I finally dubbed them a new core business model for next-generation enterprises.
Yet, while Internet startups these days almost always include an API for their new Web app so that others can build useful new services on top of them (most of Twitter's traffic for example, comes through its API), they have generally failed to capture the imagination of traditional businesses. Until recently, that is.
Related: Strategically leveraging your data like an Internet startup.
Now it finally seems APIs are reached critical mass, and have started doubling in number so rapidly now, such that as of this writing, over 4,600 APIs are now available. A recent presentation by John shows the significant surge in velocity that the API market has recent achieved, with the rate of doubling of the total number of APIs jumping dramatically in recent months: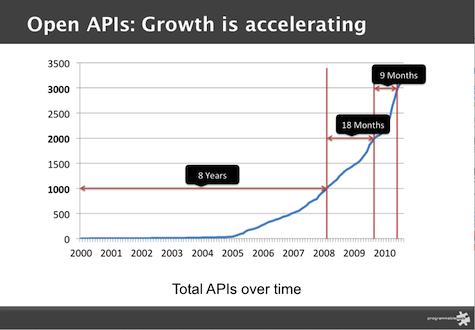 Just as it took a while for the businesses to get the message about interacting with the world via Web pages, it's clearly been a long eight years as APIs have increasingly established a reputation as an powerful way to build an ecosystem of deeply integrated yet easily onboarded business partners. APIs revolutionize the process of integrating the systems of two companies, by designing a well-documented and easily used interoperability point using lightweight services and data formats such as REST and JSON.
For those just now tracking this phenomenon, an API routes around the traditional Web page and allows businesses to directly connect and interact with the live data behind the scenes. It does so in a easily choreographed and controlled manner that protects the company, yet leverages and reuses data assets that are otherwise underutilized. These days it's relatively easy to get started, using services from companies like Masheryand Apigee, to get started and begin cultivating a developer community, business partners, and begin offering a rich array of add-on and third-party services that leverage the investment and innovation of the broader markerplace.
The business proposition is compelling: A company offering APIs will build it just once, and whether 10 or 10,000 companies use it, the level of effort on the API side is roughly the same. This greatly reduces the high costs of traditional custom point-to-point integration between two companies, particularly as API becomes more widely used and successful. On the consumption side, partners like APIs because they're not the first ones using them and support, stability, and shared experience around a standardized connection point is invaluable. In addition, Web pages and people are moved out of the critical path of business activity, enabling systems from each company to talk directly to each other using simple, straightforward Web techniques.
So what's been the hold-up and what are we seeing as the success factors? Several key insights have emerged, some of which John touches on in the presentation referred to above. There are also a few other resulting lessons that I'm seeing as I've worked recently with some large organizations who are starting to open up their supply chains using APIs.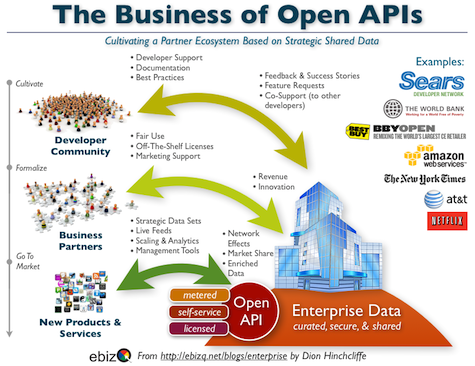 For 2012, I see the following aspects of APIs playing a central role in driving growth, business value, and ROI for organizations that are climbing the Internet maturity ladder by moving beyond user experiences to the higher operating plane of Web APIs: