The Shift From Transaction To Engagement Ushers A New Era For Businesses.
As organizations enter the evolution from transactional systems to engagement systems, a shift is happening in business (see Figure 1).  Engagement requires a different design point and business model for success.  Engagement must account for sense and response, massive social scale, conversation, new user experiences, real-time, multichannel networks, and other factors.
Next generation C-suite leaders not only build for engagement, but also design for the next era of experiential systems which apply context to deliver agility and flexibility.  These shifts have massive impacts on the societal, technological, economical, environmental, and political landscapes.  In fact, these shifts to experiential systems drive the 10 mega business trends to watch for in 2012 and beyond.  Of note, they can also be aligned with Constellation's Business Hierarchy Of Needs prioritization framework (see Figure 2).
Figure 1. Move from Transaction To Engagement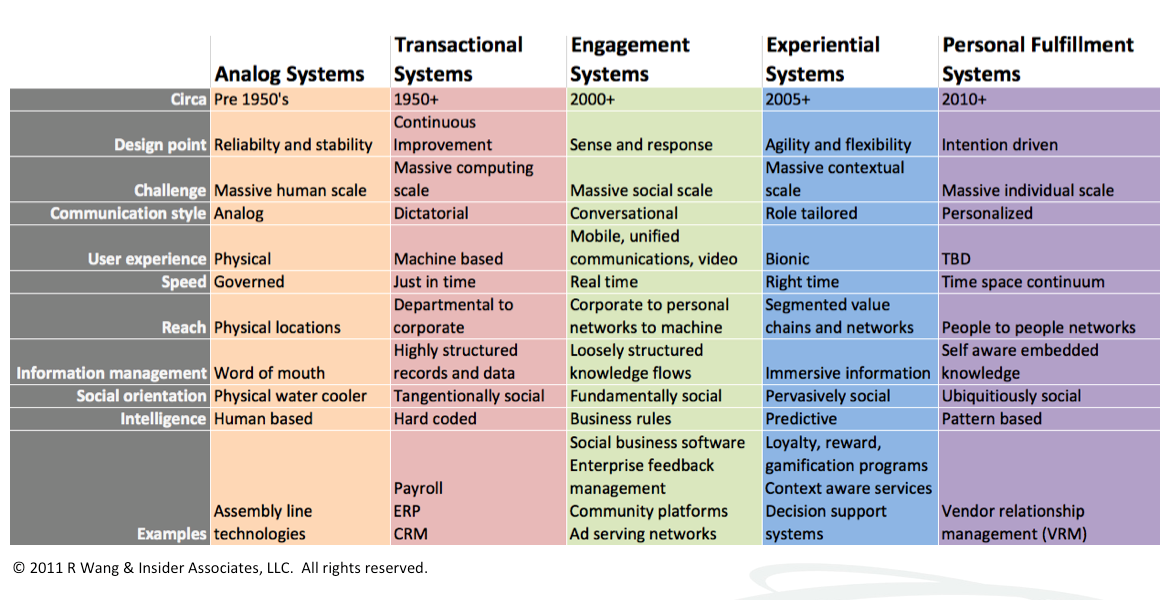 Regulation gets worse and more expensive. Public outrage at a slew of government policy failures, the public sector debt crises, and a global sentiment against big business around the world will drive an increase in regulations.  Despite promises by politicians around the world for less regulation, a barrage of hidden taxes continue to be imposed by government bodies around the world.  In fact, Americans pay up to $1 trillion every year in stealth regulatory taxes.  Regardless of political point of view, global adoption of International Financial Reporting Standards (IFRS) and carbon trading proposals will also drive up costs.  Organizations must prepare for this continued regulatory assault as elected officials hope the passage of more regulations will result in their reelection.
(Level 1: Regulatory Compliance – Business Hierarchy of Needs)
Consumerization of IT must be enterprise class or businesses will fail. The recent Harvard Business Review post titled, "Coming to Terms with the Consumerization of IT" (CoIT), identifies six factors for the basis of balancing enterprise class requirements.  Businesses want IT to be simple, scalable, and sexy.  While the pendulum is definitively shifting towards business, Consumerization of IT requires enterprise class IT to ensure technologies to be safe, secure and sustainable. Success requires a natural equilibrium between business needs and IT requirements for key areas such as social, mobile, cloud, big data, and unified communications.  If IT is too strict, business fails. If business fails to have a level of discipline in technology adoption, IT can not keep up with the lack of standards and scale.
(Level 2: Operational Efficiency – Business Hierarchy of Needs)
Organizations who master data visualization gain the advantage of speed. New data visualization tools will improve internal and external communications.  The convergence of big data, unstructured social and mobile information, and machine to machine data will provide a treasure drove of data for business analytics.  However, the flood of data will result in poor signal to noise ratios.  Unfortunately, more data does not mean more information.  Consequently, data visualization will provide a key tool to efficiently communicate complex information to stakeholders such as employees, customers, partners and suppliers.  The systems change the future of work by allowing users to create, share, collaborate, and broadcast new visualizations models.  In this case, an image is worth an exabyte of data.
(Level 2: Operational Efficiency – Business Hierarchy of Needs)
New growth comes from monetizing the complete ownership life cycle. The low margins and limited barriers of entry for many products and services force organizations to rethink their business models.  In fact, many organizations have painfully discovered that products remain excuses to sell value added services and business model disruption is now a way of life.  Consequently, new business models include value added services such as installations, after market warranties, inclusion in communities, and exclusive experiences.  New business models also take advantage of new disruptive technologies and the shift to cross channel commerce.  For example, profitability at a company such as Best Buy mostly comes from these new value added services, not the product.  Thus, the goal shifts from selling products to winning market share in the overall ownership lifecycle.
(Level 3: Growth – Business Hierarchy of Needs)
Social shifts from B2B/B2C to people to people (P2P) networks. Emergence of extremely viral people to people (P2P) networks forever changes the notion of the customer. Adoption of social media, social networks, and mobility drives the death of B2B and B2C as we know it.  Why? How we interact increasingly depends on context.  For instance, a bad experience at work with a certain brand of laptop bleeds over to the consumer side.  A great experience with consumer products has driven the rise of bring your own device (BYOD) to work and Apple's success in the enterprise.  As a result, context in the form of roles, relationships, location, business process, time, and other factors determine how we engage.  These factors drive the new rules of business based on the rise of people to people (P2P) networks.  Growth will come from how organizations manage these new P2P networks to their advantage. 
(Level 3: Growth – Business Hierarchy of Needs)
Battle for growth must include new global customer bases. Market place competition requires organizations to find the largest base of growing, profitable customers.  Competition for top growth status in stagnant developed markets could result in a strategic mistake.  For example, in the burger wars, Wendy's has gained market share on Burger King in the United States.  At first glance, Burger King may seem to be failing.  However, Burger King's recent efforts focus on rapidly growing markets in Latin America and Asia Pacific. Why? They plan to grow in the 18 to 34 age segment.  More importantly, the US market is a shrinking market while the emerging markets provide a green field alternative for fast food and high level growth.
(Level 3: Growth – Business Hierarchy of Needs)
Strategic differentiation begins with great design. Strategic differentiation provides a desired reputation, creates a defensible competitive advantage, and influences preferential behaviors in the value chain.  In a market of rapid commoditization of products, shrinking product cycle times, and global delivery of services, organizations can barely create and sustain market differentiation.  However, experiential design provides a tool for greater strategic differentiation. Organizations who invest in differentiation and integrated systems thinking can improve their brand value.  Differentiation tools include positioning strategy, design thinking, and innovation program that drive next generation customer experience.
(Level 4: Strategic Differentiation – Business Hierarchy of Needs)
The corporate digital divide only grows larger. The gap in profits, innovation, and market share will continue to widen between the companies who adopt disruptive and emergent technologies and those who choose to stay the course.  In some sense, average is over and organizations who strive for average will fail to survive.  Unlike the Occupy movement, organizations should strive to be in the 1%.  Why? There's only room for the top 3 to 5 in any market segment.  Those in the 99% will crumble under market forces and cease to exist.
(Level 4: Strategic Differentiation – Business Hierarchy of Needs)
Market leaders know how to manage their innovation agenda. Market hype over disruptive technologies such as social, mobile, cloud, big data, and analytics will continue.  However, a good number of early adopters have achieved success.  Therefore, organizations must not only understand when and which technologies to adopt, but also when and which technologies to pass on.  Successful organizations will manage their innovation agenda as a partnership between business, IT, and legal.  Those who establish a governance model for innovation will succeed.  One approach is to adopt the DEEPR disruptive technology adoption framework.  The DEEPR methodology establishes a disruptive technology governance council in the "R" or realization stage.
(Level 4: Strategic Differentiation – Business Hierarchy of Needs)
The brand remains king (or queen). Organizations with strong brands will continue to command greater margins, larger market shares, survive economic downturns, and higher market caps.   Consequently, organizations must redefine, defend, and continue to position their brands. The brand describes a promise to stakeholders. The brand is more than the collection of products or services offered by the company.  The brand encompasses an emotional value, an aspiration, and the public face of a business strategy.  The brand can be viewed as a person, product, organization, and symbol for the company. 
(Level 5: Brand – Business Hierarchy of Needs)
Figure 2. Constellation's Business Hierarchy Of Needs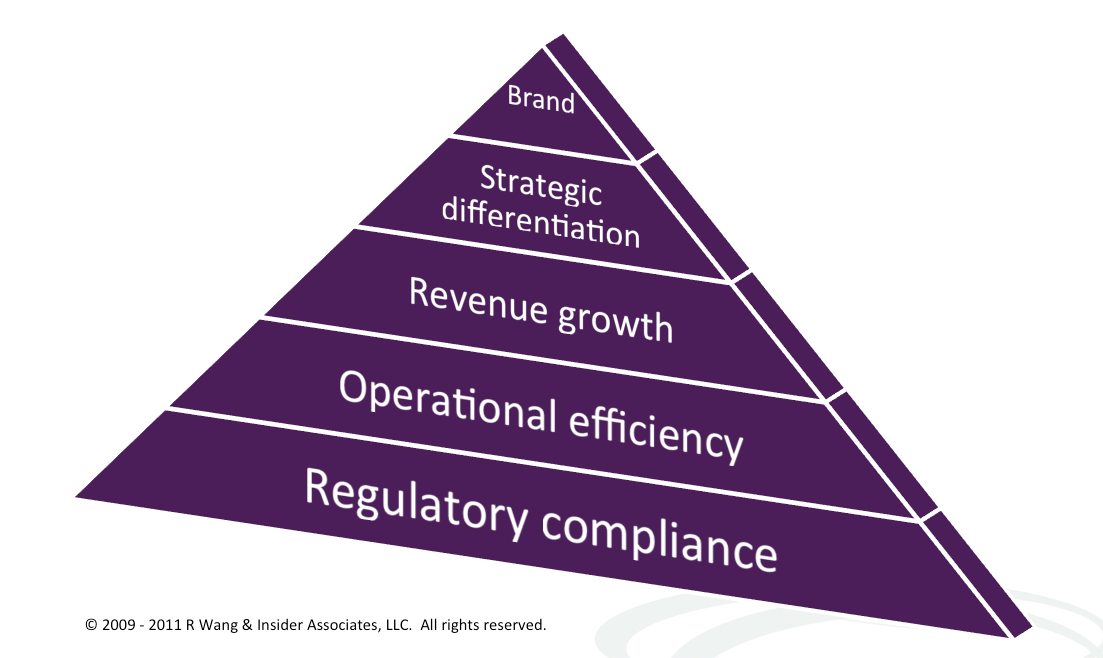 The Bottom Line: Pace Of Change Continues To Accelerate In 2012
In business, the only constant is change.  Unfortunately, the pace of change continues to increase.  Organizations who fail to manage this change will cease to exist.  The 10 mega trends reflect the seismic shift happening in society, technology, environment, economy, and politics.  Business leaders should quickly factor these mega business trends into planning for 2012.  Importantly, organizations should weigh and factor trends based on their business hierarchy of need.
Your POV.
Are you ready for 2012? Which mega business trend appeals to you the most?  Got one we missed?  Add your comments to the blog or reach me via email: R (at) ConstellationRG (dot) com or R (at) SoftwareInsider (dot) com.
Reprints
Reprints can be purchased through Constellation Research, Inc. To request official reprints in PDF format, please contact sales (at) ConstellationRG (dot) com.
Resources and Related Posts
20110303 Harvard Business Review – R "Ray" Wang "The Four Personas Of The Next Gen CIO"
20110713 Harvard Business Review – R "Ray" Wang "Coming to Terms With The Consumerization Of IT"
20111020 Harvard Business Review – R "Ray" Wang "Moving From Transactions To Engagement"
20110822 A Software Insider's Point of View – R "Ray' Wang "Monday's Musings: Balancing The Six S's In Consumerization Of IT"
20101004 A Software Insider's Point of View – R "Ray" Wang "Research Report: How The Five Pillars Of Consumer Tech Influence Enterprise Innovation"
Disclosure
Although we work closely with many technology vendors, we want you to trust us. For the full disclosure policy, stay tuned for the full client list on the Constellation Research website.
Copyright © 2011 R Wang and Insider Associates, LLC All rights reserved.