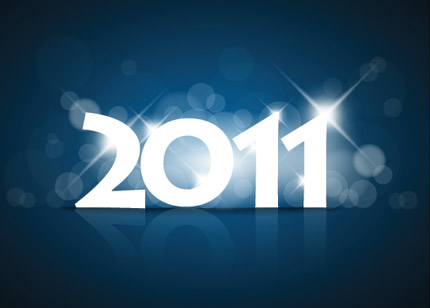 2011 is almost history, but before we start to focus on what will happen in enterprise tech in 2012, let's take a short look back at some of the events that make it a very big / important year in a lot of ways. The tech world continued to go through a settling process that is the fall out of the great recession and the rapid intersection of a few key trends. We have often referred to this as the new normal and I think that we are starting to have a much clearer picture of what that really means for tech, for software and most importantly for businesses. Four key trends, or pillars as my IDC colleagues like to call them, are the underpinnings of change in IT. These four trends are also accompanied by a lot of change in businesses, both operationally and culturally. I've talked about them before, but here they are again for reference:
Social business
Cloud
Mobile
Big data
From a social business perspective, 2011 saw a concept start to grow up. While there's still a lot of resistance to social technologies and processes on a lot of different fronts ranging from misguided analysts to insecure executives, there are enough compelling case studies and use cases to start to overcome some of the resistance. On two fronts, external customer facing initiatives and internal social collaboration and networking, we are seeing strong uptake of the supporting technology but more importantly, businesses changing the way they do business. Part of that change continues to be driven by the constituents, customers who refuse to interact with businesses what don't engagement with them when, where and how the customer chooses, and employees and partners that are insisting on better, people centric collaboration and communication tools, and will work around IT if the corporate tools are not what they need. At the same time, these employees and partners are creating powerful business networks and collaborating in new, more successful ways. From the customer perspective many companies are learning that customer service is in many ways, the new marketing. Anyway, here are the main processes that we now consider as a part of social business: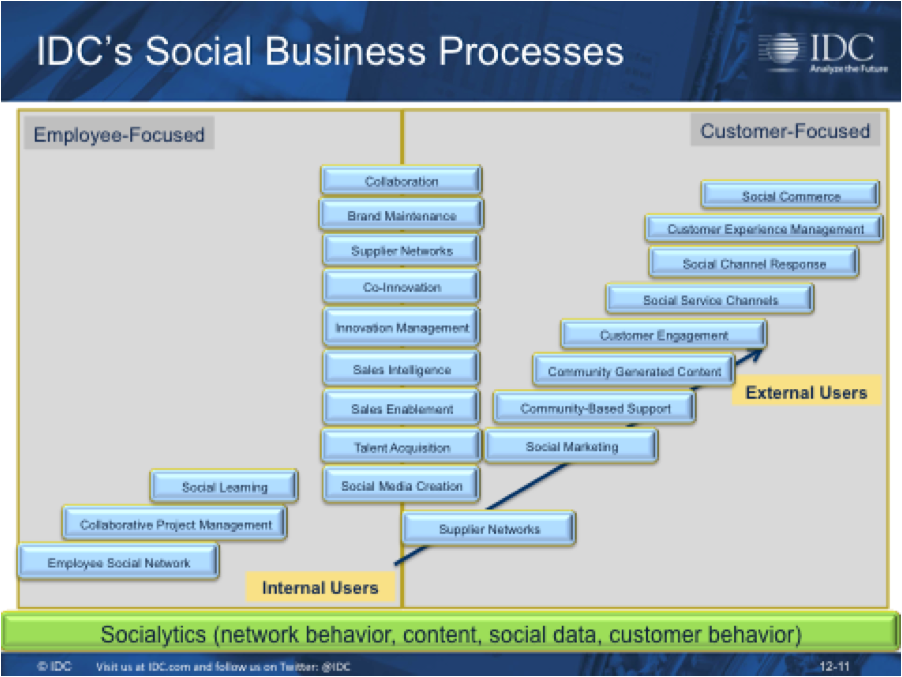 As a trends grows up, there are the expected growing pains and social is no exception. Consolidation, which actually started a couple of years ago, has heated up. The major software vendors, many of them anyway, have seem the rapid growth of the technology and are moving to build strong positions. Salesforce.com is making a bold run at becoming the next generation enterprise platform with its social enterprise focus. IBM's Social Business focus is gaining traction as efforts to provide a consolidated social collaborative experience through its Lotus brand demonstrated growing momentum through the year. Oracle launched the beta of its new Oracle Social Network and is doing some interesting things on the CRM side of the business through its loyalty products and a growing portfolio of acquired products that's likely to accelerate next year. On the stand-a-lone social front, Jive led the way with a successful IPO (the first enterprise social start up to do so) and continues to gain momentum, making it a likely acquisition target over the next 18 months. Other high profile social vendors are healthy and growing including Get Satisfaction, Lithium Technologies, IGLOO, Nimble, Yammer, HearSay Social, Socialware, Attensity, NewsGator, and many, many more.  Other vendors in both social CRM and social collaboration continue to see strong growth including SwordCiboodle, SugarCRM and VMWare.
Of all the emerging use cases for social, the application of behavioral modeling techniques to the growing mountain of social data is proving of great value. Socialytics as a subset of the whole big data analytics area, offers opportunities for businesses to support a wide set of decisions from predictive sales to identifying and managing brand influencers to more effectively leveraging employee skills and competencies. Socialytics as a decision support tool is fairly new, but our surveys show that more and more companies are looking at social as a way to augment the decision making process.
I have noticed and tried to help define a few models this year. Of those the ones that seem to offer the most promise are innovation management (see this post), the concept of the three c's of social business – content, community and collaboration (see this post) and a way to look at our enterprise systems as three tiers: systems of transaction, systems of decisions and systems of relationships.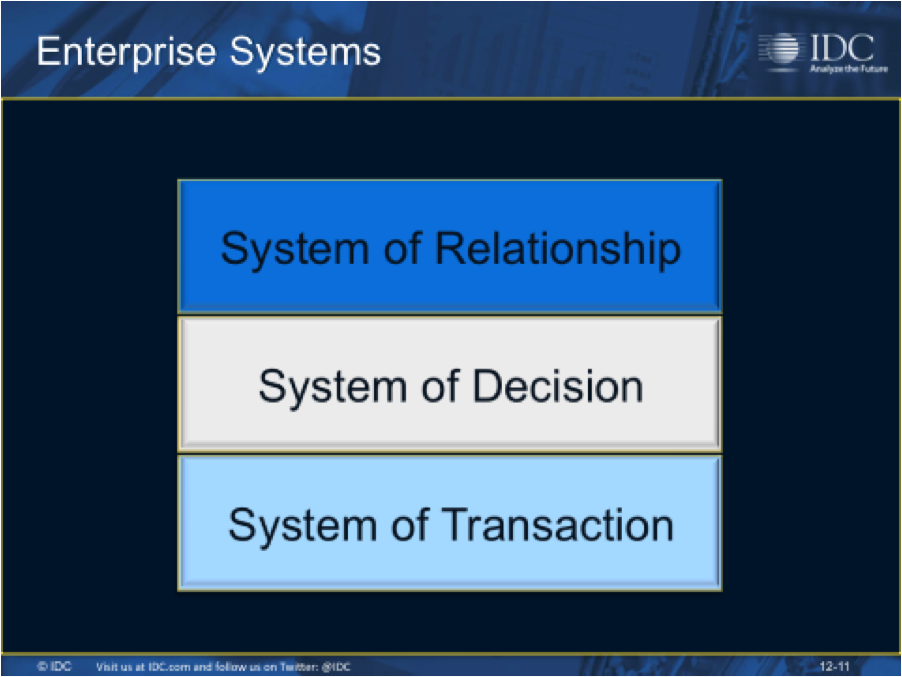 M&A activity was strong throughout 2011 across a wide variety of markets and technologies. Smaller social business vendors continued to acquire to flesh out more complete offerings. Major software vendor acquisitions included social technologies, analytics and socialytics, HCM, CRM, core platform technologies and were particularly focused on cloud capabilities as the year progressed. High profile acquisitions included Oracle – RightNow, SAP – SuccessFactors, VMWare – SocialCast, Microsoft – Skype, Salesforce.com – Radian6, HP – Autonomy and Google – Motorola Mobility. Google once again led the pack in total number of acquisitions, logging 57 by October, up from 48 in 2010.
Cloud computing reached its tipping point, I believe, in 2011, fueled by mainstream acceptance of the model, particularly in software / SaaS but also expanding down the stack to infrastructure, storage and compute power. As a method to consume enterprise software, cloud is relatively mature and there is a wide variety of applications available. The recession and the subsequent capital crunch accelerated the adoption of SaaS, as companies looked for alternate funding models for critical projects, shifting spend from capital to operating budgets. Down the stack, although less mature than the SaaS offerings, infrastructure as a service, or using compute clouds to run specific workloads, has gained wide acceptance with many more production workloads moving over the last year. Platform as a service, the least mature category, is getting some focus and will play out as a part of the coming platform wars, which I'll discuss later in the post. All of the major software vendors are making some strong moves to build and shore up a more complete public cloud portfolio. 2011 saw even the most traditional software vendors embrace the model with the realization that they could not continue to ignore it. The feeding frenzy of acquisition was kicked off over the last few months and should only accelerate as we move into 2012.
Mobile is changing how we work. The increasing power and capabilities of the smart phone, the emergence of tablets as enterprise tools and the growing support of mobile access to enterprise resources have open up the enterprise and helped to create an always connected, always on workforce (of course some may argue this is not necessarily a good thing, but still). Ubiquitous access to the Internet at truly usable speeds along with this growing ability to do "real work" from a mobile device, coupled with the growing number of enterprise assets available on the cloud, has made the mobile device the new desktop for many. IOS and Android devices, in both a smart phone and tablet form factor, are growing at a staggering pace and quickly eclipsing former enterprise leader RIM. As a side note, RIM's story would make a good case study in how once visionary leadership can get so disconnected from its customers and so arrogantly oblivious to changing trends that they squander a massive lead, with a corresponding loss in shareholder value of around 76% in one year, as the NASDAQ composite index remained relatively flat. I guess that's another post for another time though.
Consumer social has continued to be of interest as well. Many of the features and functions of enterprise social tools were vetted first in the consumer space, but beyond that, some of the consumer social sites have signaled that they may well expand outside of their current models. In particular local commerce is a much coveted yet some under served space and many of the larger consumer social players have started to move in that direction. AMEX, with its strong position in the small and medium commerce market,  pulled together a few partnerships this year that have a lot of potential in the local commerce space, including partnerships with Facebook and FourSquare. In general it seems like Facebook wants to and has some potential to become a part of the next generation of commerce platform, providing the important social commerce linkage to more traditional commerce platform vendor offerings. LinkedIn, which went public earlier in the year, continues to expand in recruiting and job search, with some potential to become an enterprise player, although perhaps as a part of a much larger vendor's offerings.
2011 will also be remembered as the time that vendors started to define the next generation enterprise platform and building the foundations of an emerging platform war. I believe that this war will shape up quickly around the new public cloud platforms from the major software vendors. The platforms themselves are not completely defined as of yet, but that definition should proceed quickly. Not to rehash my previous post though, you can hit the link above if it's of interest. 
So that's it for me and for my posts from 2011. It was a fun year and a year of continuing change in the software world. It was also a year of change for business at large, change that will continue for the foreseeable future IMHO. With that I'll just take a minute to wish you all a happy and prosperous new year! Thank you all for your support and feedback…here's to a great 2012.
Tags: trends, 2011, cloud, social, SCRM, socbiz, mobile, big data, 2012