Social Media Explained In 140 Characters (More or Less)
Some time back a tweet went out describing what all the tools were (Figure 1).  I modified this a bit and now use it in alot of presentations to audiences around the world.  More than 80% of the conference organizers usually are fine with this slide.  Take a look and tell me what you think.
Figure 1. Social Media Overview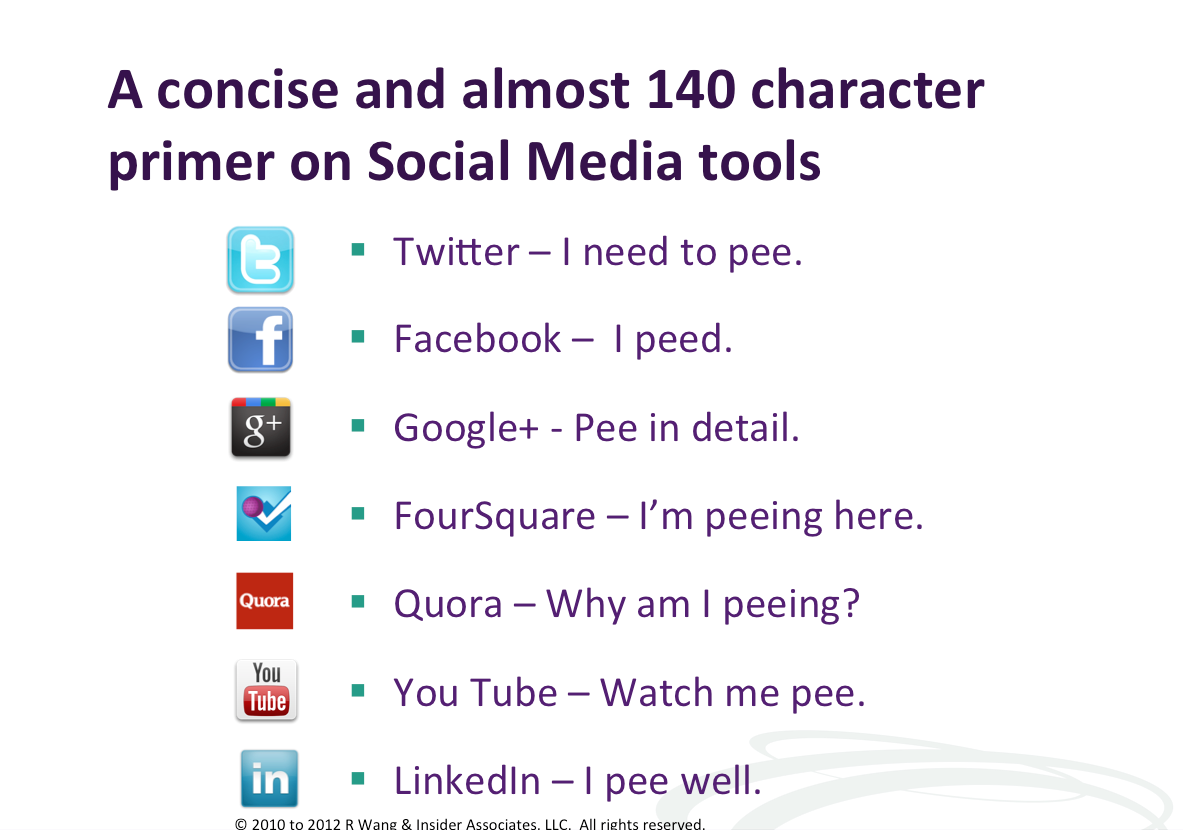 Your POV
So here's the deal, some conference organizers won't let me use this slide because they are worried about being politically correct or appropriate.  I'm curious to see what you think as I crowd source an answer for a current client? Is this appropriate or not?
Add your comments to the blog or reach me via email: R (at) ConstellationRG (dot) com or R (at) SoftwareInsider (dot) com.
Please let us know if you need help with your Social CRM/ Social Business efforts.  Here's how we can assist:
Assessing social business/social CRM readiness
Developing your social business/ social CRM  strategy
Vendor selection
Implementation partner selection
Connecting with other pioneers
Sharing best practices
Designing a next gen apps strategy
Providing contract negotiations and software licensing support
Demystifying software licensing
Related Research
Reprints
Reprints can be purchased through Constellation Research, Inc. To request official reprints in PDF format, please contact sales (at) ConstellationRG (dot) com.
Disclosure
Although we work closely with many mega software vendors, we want you to trust us. For the full disclosure policy, see the full client list on the Constellation Research website.
Copyright © 2012 R Wang and Insider Associates, LLC All rights reserved.