Interesting post by David Strom on ReadWriteWeb this past weekend – Blogging Declines Across the Inc. 500. As stated in the UMass Dartmouth study behind the headline:
Fifty percent of the 2010 Inc. 500 had a corporate blog, up from 45% in 2009 and 39% in 2008. In this new 2011 study, the use of blogging dropped to 37%.
Yet despite the drop in blogging, other Social channels are picking up the slack.
This was the first year that executives were asked if their company plans to increase their investment in social media. While 25% said they would keep their social media budget the same, the other 71% plan to increase their investment and only 1 company (4%) plan to decrease their investment.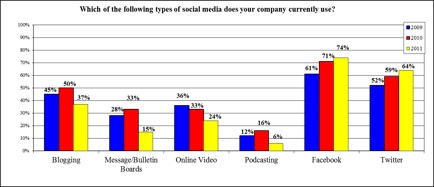 There is clearly a shift going on around the focus of corporate marketing efforts. Personally I believe that the decline in corporate blogging is in part due to so many corporate bloggers having emphasized 'tactics and quantity' over 'content and quality' these past few years. Those organizations that blogged half-heartedly, churning out a multitude of uninspired & uninteresting posts in an effort to 'get something out there', have since discovered that their readers' lack of commitment matched their own. We discussed this during a recent Focus Roundtable and the discussion continued on afterward.
It's gratifying to see how clearly attention is shifting toward Facebook, Twitter and LinkedIn, but in our view these social initiatives should be complementing, not replacing, corporate blogging efforts. There is no better way to promote and drive quality traffic to your blog than an effective social strategy, while at the same time well-written blog posts provide the anchor content for effective social campaigns and engaged customers, communities and audiences.
Content (or as many including our friends at Hubspot like to call it Inbound) Marketing remains highly effective and can and should be a key part of your marketing mix. Integrating your Social initiatives with your blog can enhance the success of both – and that is a strategy we endorse wholeheartedly and enthusiastically.