As per usual, election year brings up the age-old argument about how to combat the "threat" of outsourcing.  However, let's not forget this is nothing new..I recall in 2004 when an HR Outsourcing conference was subjected to a vociferous demonstration by anti-outsourcing protesters  (I mean – seriously  – HRO?  Most of it is onshore in any case).
Today's angry hoards of protesters are (and quite rightly so) expressing anger at the obscene wealth generated by Wall St, and barely even notice the fact that real "American" companies, such as Apple, employs 500,000 people in Chinese factories and that lovely "American" Hanes underwear brand employs thousands of people in Vietnamese sweatshops.
Yes, the argument is boring, flawed and jaded, and while politicians need to be seen to be against it, they do little to prevent it.  However, one major stride of progress that Obama emphasized during his recent State of the Union speech has been how the US automotive industry has been brought back from the the brink:
"This blueprint begins with American manufacturing. On the day I took office, our auto industry was on the verge of collapse. Some even said we should let it die. With a million jobs at stake, I refused to let that happen. In exchange for help, we demanded responsibility. We got workers and automakers to settle their differences. We got the industry to retool and restructure. Today, General Motors is back on top as the world's number one automaker. Chrysler has grown faster in the U.S. than any major car company. Ford is investing billions in U.S. plants and factories. And together, the entire industry added nearly 160,000 jobs.

"We bet on American workers. We bet on American ingenuity. And tonight, the American auto industry is back.

"What's happening in Detroit can happen in other industries. It can happen in Cleveland and Pittsburgh and Raleigh. We can't bring back every job that's left our shores. But right now, it's getting more expensive to do business in places like China. Meanwhile, America is more productive."
Why is the experience of the resurgent US automotive industry significant to resurrecting its flagging IT industry?
Let's not beat around the bush here.  The US onshore IT industry has ceded much of its dominance to India in recent years.  While three-quarters of ERP development work was performed onshore in 2008, the proportion has today decreased to 65%: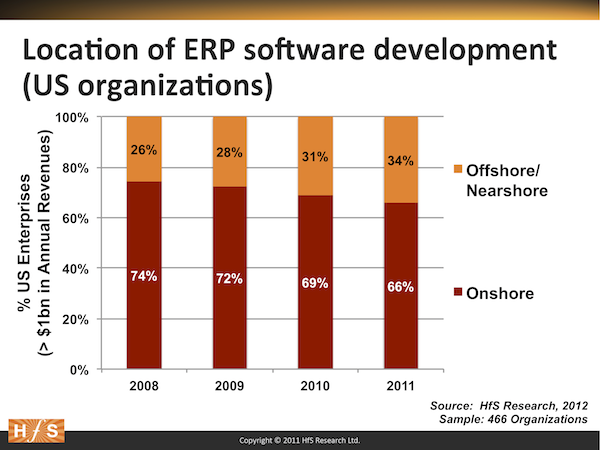 I'm not going to get into the tedium of this latest wave of toothless "protection" acts aimed an creating tax incentives / disincentives, and other various penalties and inconveniences for US organizations which dare to employ foreign labor outside of the country to service their business operations and manufacture their wares.  Simply put, there are already US IT services firms, such as Systems in Motion,  pushing services at US enterprises with wage rates comparable, and often even cheaper, than those of Bangalore – especially those which leverage resources in low-cost onshore locations such as Michigan.  And while some niche onshore providers are findings pocket of business and growth for themselves, you can't ignore the bigger picture that the US onshore IT industry is on the decline.  At HfS, we've even seen enterprises actually declining to use onshore US IT services firms which underbid their Indian competition, because they are so invested in the Indian IT brand.  Today, Many senior IT executives within US organizations actually prefer to invest in their Indian IT relationships than their US ones!
While the US IT services industry is nowhere near the state of distress that the US auto industry found itself during the last Recession, isn't it now clear that the only way for the government to stimulate the success of its onshore industries is to invest in them, to aggressively help them, to encourage them to hire locally with real investment? By investing so heavily in their automotive industry, they also re-branded the entire American automotive business. Nothing's worse than a business in financial decline, and by giving automotive a helping hand, they also improved the perception and credibility of the entire US automotive industry.
The Chinese and Indian governments, as examples, constantly invest in their local business to help them grow and be successful – so why can't the US government do the same for its flagging IT industry, that it did for automotive?
I, for one, would be happy to see my tax dollars being re-invested in stimulating local industries and job creation in growth industries like IT services and Cloud computing, BPO, social media and medical research, so why not follow the example of how the US automotive industry was salvaged and do the same for IT?  Invest in some local companies… train and hire the local workforce to support our organizations' IT systems.  Small measures never work, waste everyone's time and allow our more aggressive foreign counterparts to advance further ahead in industries such as global IT services. Isn't now the time, in an election year, to stop the rhetoric and actually make commitments to growing local industries that have a direct impact?