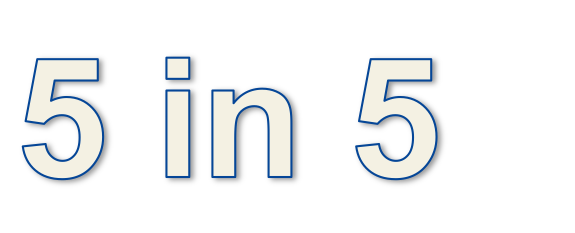 The other day I was pointed to an interesting post on the Software Advice web site called CRM's Next 5 in 5, 5 technologies that will change CRM over the next 5 years. The post was written by CRM analyst Lauren Carlson, and was based on a format that IBM uses for predictions each year. In addition to Lauren's 5 in 5 predictions, she arranged to have a few of my analyst colleagues,  Paul Greenberg, Ray Wang, Brent Leary, Esteban Kolsky, Denis Pombriant and  Brian Solis add their comments.  I like the format and of course I found it hard not to add my opinion as well, so here are a few comments on Lauren's predictions:
1. Context services will provide a clearer picture of customers – Context is an extremely important concept across many areas in software and customer insight is no exception. The customer profile continues to be the center piece of businesses' CRM efforts, and the addition of location data, behavioral data and a view of a customers' social graph can enrich that profile significantly. Context services are a key input to the emerging category of applications we call socialytics as well. The richer the social profile of a customer the greater the insight and the more likely that the profile will yield data that can turn reactive efforts into efforts based on behavioral models and predictive insights. Mobile of course is adding a rich set of context data, particularly when combined with social data and with transaction historical data.
There are also other ways that I see context becoming important, taking more of a work / system view. Applications in general must become context aware. This is particularly true of systems that provide data for decision support. The next generation of software will be process aware and provide the right information at the time of need, including bringing the "right" experts together in the work context. This is one of the key productivity enhancements that I see evolving in the next generation of enterprise applications.
2. Real time customer intelligence becomes a reality – There's a lot of discussion over big data and the rapidly growing mountain of data that's created every year. IDC estimates that 1.8 zettabytes of data were created in 2011 and that data volume doubles ~every 2 years. There is work at every level to figure out how to manage and use this data. Today the problem is getting business value out of the data, and this is particularly true around customer data. While I see significant progress we're still in the early days of building systems that can provide real time, actionable customer insight. It's important to think of moving from systems of  analysis to systems of decision. Analysis is something that happens among a few highly trained people, using highly specialized systems. Systems that enable data driven decisions that are embedded in every business process are the future. The road from data to insight is one that is, today anyway, difficult to travel. There is some new thought emerging around insight as a service, here's a post from Evanlegos Simoudis that talks about this concept.
3. TV will become the next big channel in customer engagement – TVs seem like a logical extension to current channels, especially as they get more connected first through smart set top add-ons and eventually through a new generation of connected device. It seem to me though, that the evolution of the connected TV could actually converge with other devices so that there would be a seamless experience across devices from smartphone, notebook, desktop and tablet to TV or even auto. All of these channels need to be activated in the CRM system on the backend, I think, which would start to create this consistent customer experience that is device agnostic. Identity, presence, and context all interact in a way that opens up many new opportunities for providing exceptional customer experience across all connected devices. We're already seeing the evolution of the connected device expand to TV and auto, the next step is to link the experience across devices and them connect the channels to the CRM solutions.
4. Virtual meetings will change the way people do business – The tough economy has accelerated the business trend of reducing travel and interacting in virtual meetings powered by technologies that have improved significantly over the last few years. Connectivity in general is rapidly changing the way we interact online and providing ever richer experiences in both consumer tools like Skype, Facetime, ooVoo and in business tools like Webex, Go-to-Meeting and LotusLive. Mobile is also changing virtual meetings by becoming a viable alternative to desktop and laptop. I often participate in online meetings on my iPad or iPhone with Go-to-Meeting and Webex with excellent results.  The addition of mobile clients to the connection options is increasing the rate of adoption. In addition there seems to be a new (or renewed I guess) focus on UC which should provide the development of better virtual enterprise tools and thus aid adoption.
5. Gamification will go from buzz to business strategy – Gamification is already turning into a useful and effective marketing tool on the consumer side. There are some good examples of networks like Foursquare that embedded games as a part of its basic business strategy. In BtoB and the enterprise in general there has been much less "buzz" and more of an attitude of wait and see, but that should start to change. Interestingly enough the place I'm starting to see the use of gamification in business is internally in some supporting HR systems, for things like motivation and reward and recognition, and also in decision support with the use of predictive market techniques. I'd think that communities, both internal networks and external customer networks would see a growth in use cases particularly to drive engagement.
That's my take on CRM's next 5 in 5, what do you think?
Tags: CRM, socbiz, social, mobile, gamification, collaboration, context