This year has been one of relatively grand alliances between emerging cloud computing vendors as they fill holes in their capabilities and try to create appealing one-stop enterprise cloud services.
We've seen major announcements so far from IBM and Juniper, Cisco/EMC/VMware, and most recently BMC and Salesforce. There are many other smaller initiatives that have formed as well and all of these efforts underscore several key points for those businesses trying to understand the real strategic benefits of the cloud including cost, agility, and scalability:
First, there is no single vendor that can today provide an end-to-end cloud computing solution for businesses, hence the reason for all the alliances. The cloud computing stack (facilities, bandwidth, compute power, storage, operations, management, etc.) is deep and comprises not only most of the elements that you would find in a corporate data center but a great deal more besides. This includes R&D, product development, support capabilities, developer networks, and capabilities such as compliance monitoring and additional layers of security and governance.
Second, it's unclear how the cloud computing vendor landscape is going to shape up. Everyone is in early days yet with only Amazon with anything approaching operational maturity, with Google and Force.com vying for the lower end of the enterprise. Making long-term decisions isn't a good idea in this environment, though using cloud computing tactically does make good sense at this point, especially if you're experimenting with private cloud technology that will likely translate well to public clouds, such as Eucalyptus.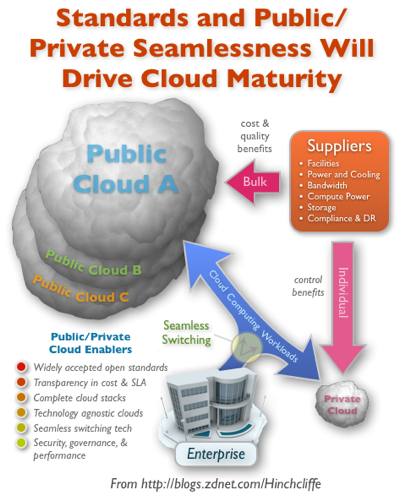 Related articles by Zemanta