The trouble with enterprise collaboration is that it's always been tied to enterprise servers. Having to constantly check documents in and out before you can work with them takes all the momentum out of teamwork and has always made collaborative processes a chore. But not any more. UK-based cloud vendor Huddle today claims to have overcome one of the biggest stumbling blocks for enterprise collaboration with the private beta launch of Huddle Sync.
Huddle's new intelligent synchronization tool brings Dropbox-like sync capabilities to shared enterprise documents stored in Huddle, allowing collaborators to update and read shared files simultaneously, whether they're online or offline at the time. Huddle's new iPhone app, also launched today, gives workers the ability to collaborate on synced documents while on the move — viewing, approving or commenting within the Huddle workspace.
While DropBox has solved the sync problem for individuals and is used by many organisations as a shared file repository, there are many problems it doesn't solve in an enterprise environment. Huddle, which as I wrote last month focuses on an enterprise customer base of 100-user-plus implementations, has set out to solve these problems with its new platform. "We're very excited," Huddle's CEO Alastair Mitchell told me in a pre-brief in London last week before setting off to prepare for today's launch in San Francisco. "People don't realise the enormity of how this changes the way you work."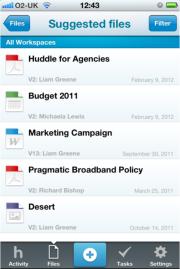 The standout feature of the Huddle technology is its ability to selectively sync files using a patent-pending prediction engine that downloads only the files that workers are most likely to need. These files are flagged as 'suggested files' (see iPhone screenshot) and an activity stream shows the most recently added or modified, which in a shared environment means that you can see what your co-workers are focusing on — a hugely valuable social component.
All other files you have access to are visible as placeholders, reducing bandwidth overhead and security exposure. Huddle Sync's algorithms learn from how workers use Huddle, not only individually but also across the workgroup and the wider user base (and not only going forward but also historically — Huddle has been able to draw on the activity patterns of its existing user base to hone the platform's algorithms ahead of release). This informs its selection of the files that will be of most relevance to users for full sync, and is destined to improve over time as it continues to analyze and learn from user behavior.
The platform also manages version conflicts, caused when a user modifies a file when offline and someone else makes another change to the same file during that time. Huddle Sync analyzes changes that have been made concurrently in order to assess which are not in conflict and which should be flagged. In practice, the company has found that the number of changes that need to be flagged for reconciliation is negligible, Mitchell told me.
In addition to limiting the volume of files downloaded, Huddle has taken care of enterprise security concerns by operating the synchronization within its existing, highly granular access model. It says it can provide IT with full transparency of where data is stored, who has synced what files and full audit trails. It also has a remote wipe capability to disable synced copies stored on client devices. Transmissions to and from Huddle are encrypted at 256-bit SSL and the iPhone app uses encrypted storage as a further security measure.
What really impresses about Huddle Sync is that the application fades into the background. You can go directly to the document and the app is just there when you need it, on whatever device you happen to be using at the time. Huddle's CTO, Jonathan Howell, who developed the learning algorithms for Huddle Sync, told me he has started using the iPhone app as an alternative to Facebook or Angry Birds "to fill that idle time when you're mobile." If habits like that take hold, the effect on enterprise collaboration could be electric.
Related articles