The hubris around Social Business is scaling new heights these days, and yet in many ways the concept seems to be redlining to nowhere.  As an example, take a look at this thread on Google Plus by Francine Hardaway. 133 comments later, there's little agreement on what all of this really is, who the experts are, what it entails and who the buyer is. Foundational elements of anything that you would characterize as a market. With marketers, PR leaders and collaboration specialists racing to lay claim to the movement from their own comfort zone / vantage point, I can only imagine executives getting very confused about what exactly all of this means to their business and if the needed upheaval is even warranted.
In the context of internal collaboration specifically, this report from Charlene Li at The Altimeter Group illustrates just how insufficient the progress has been for general purpose social business in the enterprise. And when you benchmark the technology category of social business software (that includes employee, customer and partner engagement) against say CRM, or BI or ERP, its even more striking how nascent the sector is compared to its predecessors. Yes, I get its about people before technology but tech spend is a good indicator of rubber-meets-the-road market uptake, when it's all said and done.
I recommend you give the data a good look to see what's working and what's not. Some big takeaways for me:
1. We're still miss firing on what should be big wins, if social business is all that: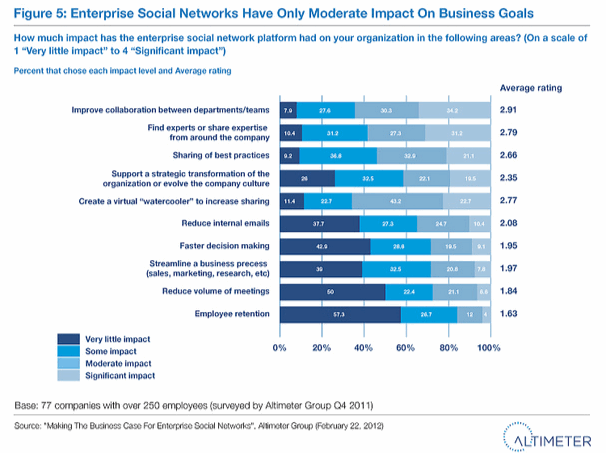 The report shows that table-stakes benefits of "social" such as expertise finding and the like are not showing up as runaway successes. To be fair, there is realized benefit but given all the options in Fig 5, you would expect to see at least some categories get a "significant impact" rating, six years after Professor Andrew McAfee coined the term Enterprise 2.0 which laid the groundwork for new approaches to connect enterprises.
2. We're still asking the wrong questions: Casting Social Business as everyones problem makes it no ones problem. There isn't a single CEO I've spoken with (or that you can speak with – I bet you) who would argue that his/her organization should not be collaborative or should not be innovative. But that nebulous intention is really hard to crystalize and delegate without baselining established strategic goals as yardsticks of success when it comes to becoming collaborative or innovative. Promises made to Wall Street come in the form of revenue, earnings and predictability of forward success. Yet we're still looking at things such as "Encourage Sharing", "Enable Action", "Knowledge Capture" and "Empowerment" as end value points via social business. The report does a good job of highlighting what the typical organization considers to be value drivers of "social business" but I think thats exactly the issue here.  If practitioners can't draw connectors between strategic and tactical objectives and how social networks facilitate execution, end users and executives won't get experience the needed aha moment.
3. No Context? No Collaboration: The thing that nags me the most about this is that we have an incomplete skill set involved in defining, evangelizing and executing what "social business" (or what ever term you use), entails. No question that we need solid practitioners and community managers to tie it all together and we have some amazing folks in the community without whom all of this would be a non starter. But context points that spark collaboration in the first place lie deep inside functional units – the folks that bring revenue in, ship products, serve customers, build components, close the books. The messaging and potential sources of value presented just won't keep these people up at night. Those getting work done need to be involved in crafting the value proposition as much as we need "social experts" in the mix so we force the topic of context at the outset and then understand how people, data and process come together.
4. Tactical Measurement:
Look, there have been changes in the public social landscape and we need to change what we measure to some degree when it comesto catering to this new social, vocal customer. But beyond that, performance metrics are in place for managers and business units and we need to support those. Figure 6.1 presents a host of tactical metrics that managers are subsumed in that the business just doesn't care about, in and of themselves. Each of these programatic health measures need to be casted as ways to meet metrics that have been promised to the market. "More and faster collaboration across the company, frequency of use, lowering reliance on email" are hardly things you're going to hear at your annual shareholders meeting.
This blog is precicely about the value of connecting our emplotees, customers and partners. Obviously, I'm a believer. But lets call a spade a spade if we want to get this right.
I hope this report will serve as a wake up call to many. The first innings of social in the enterprise is over. Those organizations that like to experiment have done so. Beyond those, a small number of executives who innately believe that collaboration is absolutely critical to execution have put their weight behind these programs. Industry colleague Dion Hinchcliffe has been documenting examples of both kinds. But there's massive untapped opportunity out there to revise the value proposition for those numbers-driven businesses who will want to understand how all of this enhances what they've invested in for the last decade. Until then, this massive bucket of executives will treat "social business" as another Mickey Mouse program until they see how it matters to revenue increase, cost reduction and risk mitigation.
On a related note, ZDNet's Dion Hinchcliffe and Dennis Howlett are battling it out live here.