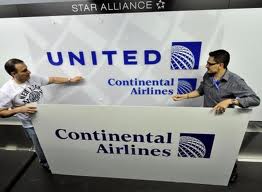 Multiple Respected Research Survey Results Confirm Frequent Flyer Observations
It's official. In multiple respected customer experience research reports that cover the airline industry, the results are in.  Despite the numerous attempts by CEO Jeff Smisek to gloss over the issue with increasingly slicked up, feel good, on board welcome ads, Continental's customer satisfaction numbers have reached the abyss of United's.  While United Holdings may tout their most admired status in the airline industry by Fortune, the award is measured by corporate executives, airline executives, boards of directors and industry analysts – basically not the customers and passengers who fly United Holdings.  On multiple flights this year, I've personally heard Continental flyers groan and boo out loud every time they see the welcome aboard video where Jeff Smisek touts how he's out to help customers, tells them why they are going to like this merger, and brags about how many planes he's painted in the new livery.  Flight attendants and pilots roll their eyes as well.
What was pure emotional speculation and conjecture can now be quantified.   A quick glance at the latest Temkin Group: Temkin Experience Ratings shows Continental scores as bad as United – basically smack in the poor category (see Figure 1.)Travel Industry benchmark, Atmosphere Research's US Airline sentiment shows United at the bottom with US Airways.  Even legacy analyst firm, Forrester's 2012 Customer Experience Index shows a 5% drop for United and a 11% drop for Continental (you'll need to pay for a subscription to read the results.)  Asked about Continental and United's customer experience performance, CX Transformist & Managing Partner, Bruce Temkin (@btemkin) pointed out that, "The overall industry actually had a modest improvement between 2011 and 2012 and only two carriers had significant drops: American and Continental. As these economically challenged big airlines focus on ringing out costs, they also squeeze the soul out of their brand, their employees, and the experiences they provide to customers.
Figure 1.Temkin Experience Ratings Shows Continental Falling to United Levels of Poor Customer Experience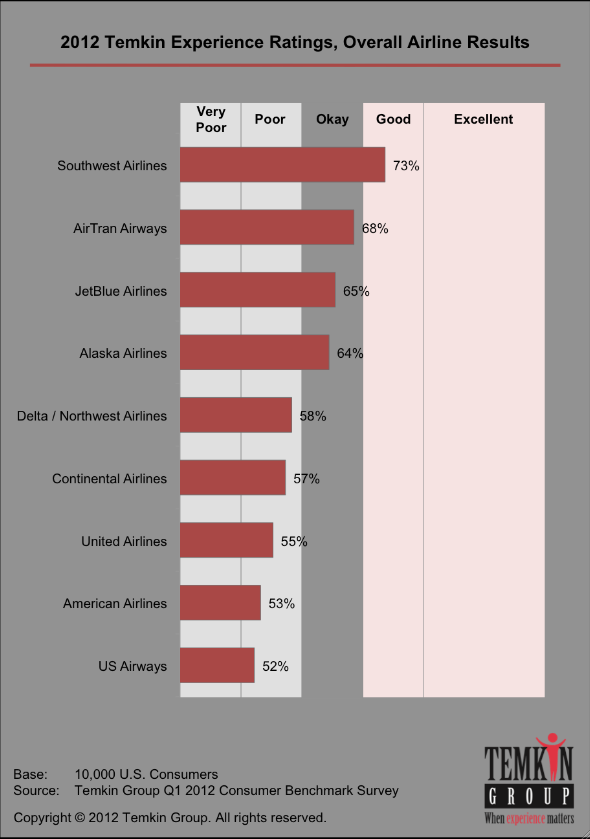 Source: Temkin Group
Many Continental employees agree. In a conversation with a Houston senior Flight Attendant who chose to withhold her name for fear of retribution, she stated, "It's all 'Jeff'ed' up! All the goodness of Continental is going away.  Since Jeff took over, they no longer care what we think and sadly, we think they no longer care what customers think."  A conversation with a few Newark Red Coats in January revealed similar sentiment as they mustered up, "It's the worst since Lorenzo. The management team is disconnected with the staff. We're reverting back to pre-Gordon as Jeff destroys our morale."  One of then pulled me aside and said, "We're still Continental at heart and I'll do the best I can while we can. Please stay with us!"
Figure 2. Atmosphere Research's U.S. Airline Sentiment Scores From August-December 2011 Show United Near Bottom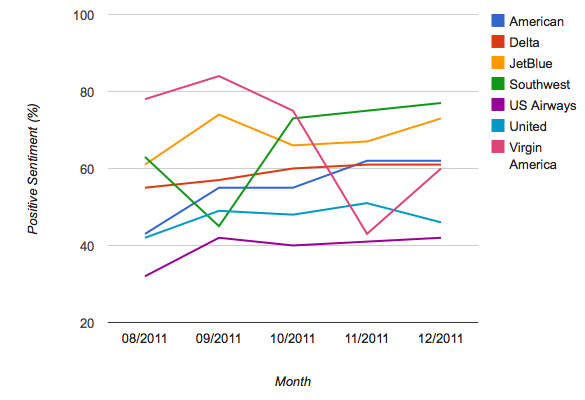 Source: Atmosphere Research
Gordon's Magic Fades Away With Smisek's Ascent
In 1994, Continental was the most hated airline in the industry.  The airline was in the pits after one of the worst airline managers, Frank Lorenzo had destroyed the airline and left it for dead. Amidst the ashes, former Boeing executive, Gordon Bethume took over the reigns and created a new culture. In fact, his bold leadership launched a new era that would create a 15 year run of loyal and satisfied customers. It started with the simple programs from reducing employee absenteeism with Ford Explorer giveaways for perfect attendance, to suing Delta at the Atlanta Hartsfield Airport for limiting carry on sizes with the X-Ray machine grates after Continental worked to put in bigger bins. Continental emerged as a favorite among loyal travelers for its service and was seen as the customer's airline.  With a deluge customer satisfaction awards, Gordon had moved the airline from "Worst to First".
Gordon's successor, Larry Kellner, continued the tradition with the introduction of DirecTV, lie flat seats, and even improved service qualities amidst 9/11 and the economic downturn. When he stepped down, it wasn't clear why, other than that Continental was considering a merger with United. Inside sources later revealed that Larry opposed the merger and Jeff was ready for the opportunity to be CEO at the world's "largest airline".
Since the merger, customers have sensed that the customer goodness of Continental has been taken away.  To be fair, loyal Global Services United customers also feel disgruntled but their numbers do not show as much change as the Continental flyers. Why? Well, most folks who flew Continental either went out of the way to fly them or truly felt the difference from great customer service. The consensus among most travelers, United was already at its bottom. "You couldn't get any lower" said May L. a Global Services flyer out of San Francisco.
Cumulative Reduction In Service Levels Start To Take Its Toll
In fact, many loyal customers find the upgrade percentage dropping, new boarding process to be hideous, baggage handling performance down from the first bag out by 11 and last by 22 minutes policy, and small items in international and domestic first continue to be whittled away. Prior to the merger, Continental proudly declared pillows and blankets on all domestic flights as an affront to the airlines that didn't care about customer service. Dave L, a fellow million miler from New Jersey puts it this way, "In Business First, Gordon Bethume always believed that a business person should have a great breakfast while on the flight. It could be their only meal of the day! So, you'd always get a fresh juice, yogurt, fresh fruit, eggs, mushrooms, half a baked tomato, a slice of canadian ham, a slice of turkey sausage, and some potato au gratin contraption (See Figure 3). Then the best part came with the hot breads which included a croissant, biscuit, or those awesome cinnamon rolls.
Figure 3. Gordon's Breakfast Circa 2011 (note the salt and pepper shakers)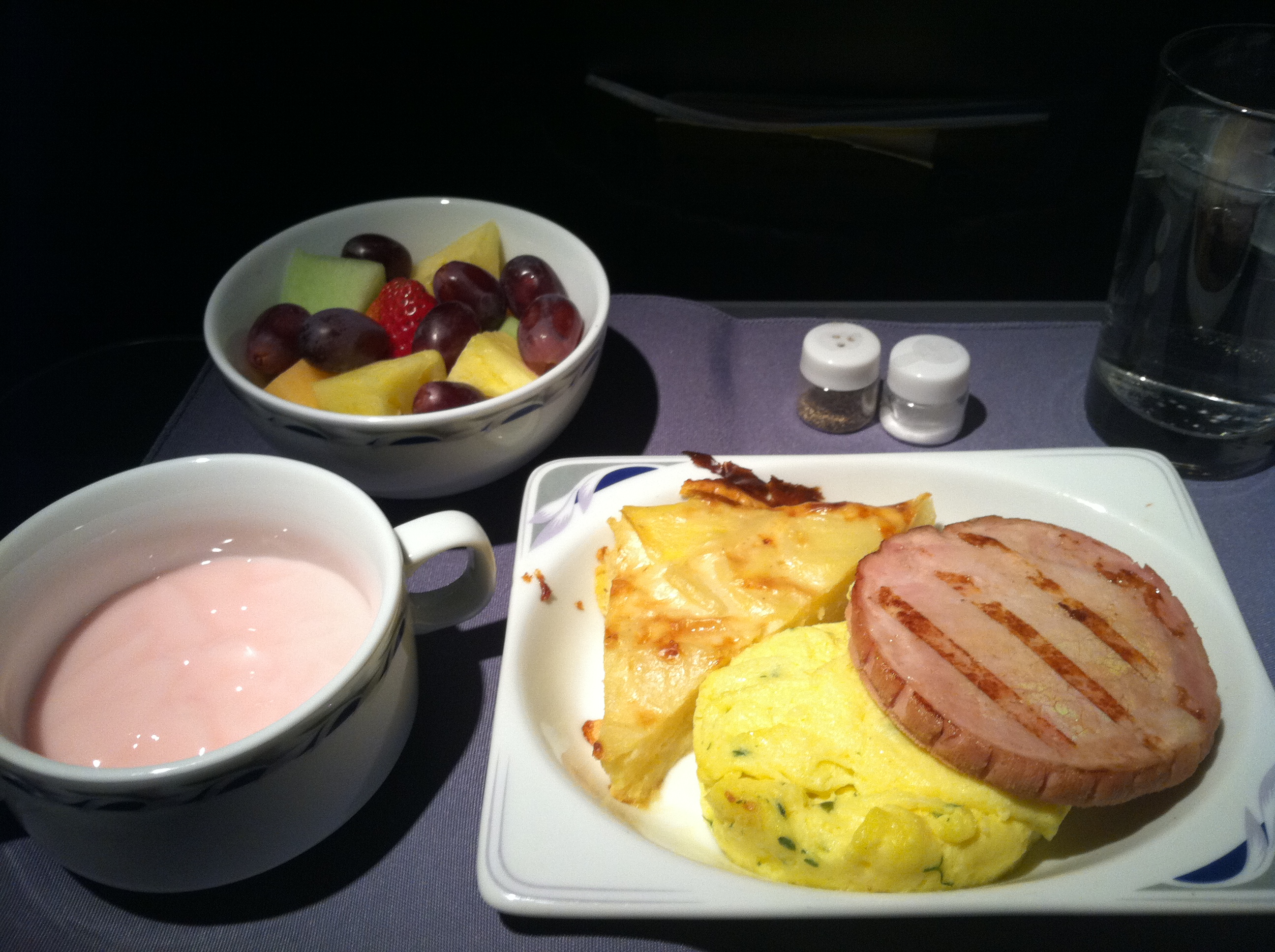 Now I get on a flight and they've gotten rid of the salt and pepper shakers – we get those cheap United paper packets. They took away one meat and we lost the mushrooms and tomatoes. Sometimes we get yogurt, but most times we don't. In another case, they didn't have enough meals for everyone and a few people got stuck with the cheerios and bananas. Even the basic coffee has been atrocious. We should have gotten the Starbucks stuff from United! Come on' it's business first, not cattle class"
On my recent trip back from India, my fellow seat mate in Business First, Deepak Sukh, Managing Director of Luminent, Inc, a leadership coaching firm that brings Indian and US companies together noted, "Even Air India is better and cheaper than this. If I had known it'd be this bad, I'd have taken Jet Airways back. Everything is wrong with this flight. From the food choices and variety, loss of hot appetizers, the entertainment is limited, what do you do on 16 hours? I'm so disappointed with this flight. This is not the typical Continental experience. I'm worried if this is what's happening post-merger. I've been a Continental frequent flyer for ages. I won't be taking this flight again."
United Management Frankly Fails To Listen To Its Employees
In fairness to the crew on my recent journey to and from India, they were awesome.  They did their best with the utmost experience and professionalism. However, it was obvious the airline had taken away the tools to empower employees to deliver an awesome customer experience.  Comparing service levels from 2010 to 2012, here's a list of items passengers noted and I have personally confirmed on the February 29th, 2012 flight from BOM to EWR (CO 49):
Not enough food for folks in coach
Loss of cheese cart in first
No more hot appetizers on selected night flights
1/3 the movies of a normal flight (37 vs 80+)
Deferred maintenance – taped up floor in the galley (see Figure 4.)
Low quality of meals
A dirtier plane than normal
Priority bags put out last on the arrival belt in EWR
Figure 4.  United Quality Maintenance Now On Continental Planes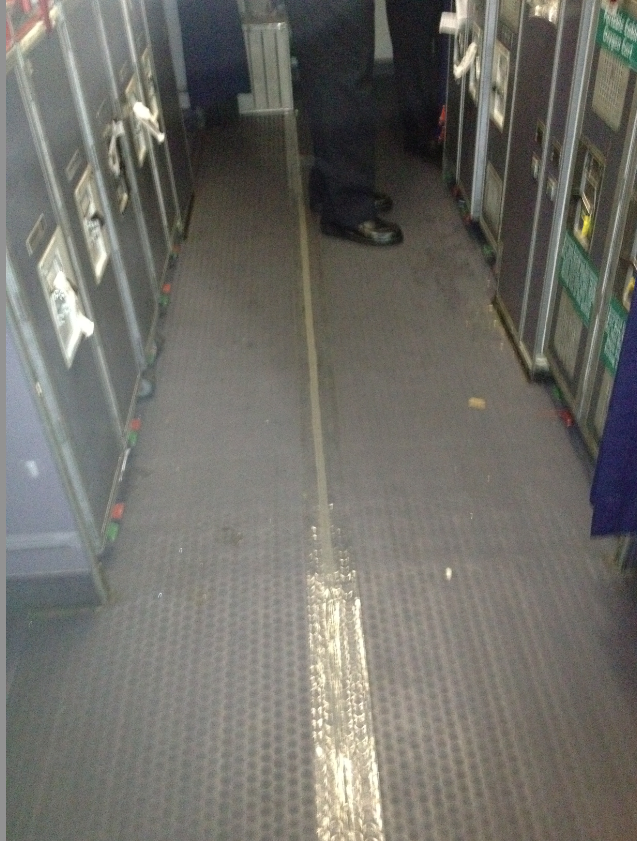 Customers Willing To Help But Is United Willing To Listen And Take Action?
And here's more, over the past 3 months, in interviews with over 50 Platinum Elites, the results show the same level of unhappiness from the most loyal flyers.  Sadly, even the tools of communication have also been taken away or ignored.  In fact, the in flight comment cards were taken away by Jeff Smisek's management. So how does a customer respond?  Email they say. Well, insiders note that Smisek likes to say he personally responds to every email.  Many million milers have written several times and not gotten a response until they escalated through back channels. In the past, the CEO would personally call or email back to frequent flyers. As one of Continental's top flyers, I was a CO-Star, and I could attest that both former CEO's Larry Kellner and Gordon Bethume always responded.  In fact, this will be a case study in my upcoming book on the New Laws of Business.
Social Media Exacerbates Transparency
Unfortunately, what's made the situation worse, the advent of social media. A quick scan on Twitter for #united lands a slew of complaints, mostly unanswered (see Figure 5). What kind of customer experience do you create when you fail to respond to legitimate customer complaints and allow the public to so publicly express their outrage. What kind of customer service on twitter is 9 to 5? You'd think the experience from David Caroll's "United Breaks Guitars" video would have taught them a lesson. Sadly, it hasn't. In fact, insiders tell me that the management team believes that their lock on the routes and command of corporate accounts gives them the leeway to treat customers poorly. Others tell me that since the customer backlash from United customers on the potential removal of Economy+, they've been afraid to engage in social.
Figure 5. The Twitterverse Lashes Out And Not A Single United Response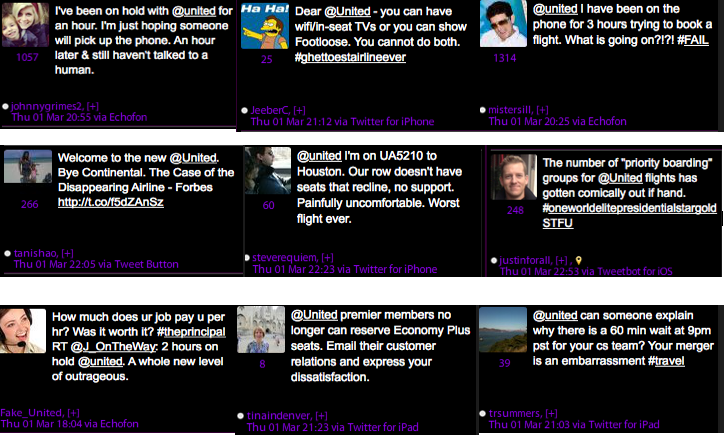 Industry Analysts Speak Out On Continental United

Asked about what an airline can do to improve customer experience in a down market, I turned to leading travel analyst, Henry Harteveldt (@hharteveldt), co-founder of travel industry research firm Atmosphere Research Group — and a former Continental marketing executive.  "The United teams need to be careful — this merger is an exciting opportunity that had best not be squandered through arrogance or failing to correctly judge the market.
Though the airline will be the largest after its merger, within the US it will be only the third largest, after Delta and Southwest. Our research shows just three in 10 travelers view themselves as brand loyal — so even though there are more than 70 million members in the Mileage Plus program, United can't take their loyalty or business for granted. United lags American, Delta, and Virgin America in offering amenities like in-flight Wi-Fi and in-seat power that business travelers, its bread-and-butter, value. Though United is adding Economy Plus to the former Continental fleet, they won't have it on the entire Continental fleet for a while – another missed opportunity. Worse, Delta is adding a similar product to its domestic fleet (it has premium economy on its international aircraft) and, on March 1, American announced that it too would add premium economy seating. These moves weaken United's lead.
United has announced plans to improve its long-haul premium cabin meal service, and it's bringing the Continental in-flight entertainment content to the long-haul United fleet that have in-seat entertainment systems. It's announced plans to add in-flight Wi-Fi to its entire fleet (only the 757s dedicated to the JFK-LAX/SFO premium service flights now have Wi-Fi ), though only a handful of aircraft will have that by the end of 2012. My advice to travelers: Borrow a page from Cold War geopolitics, and trust but verify that United is living up to its promises and your expectations. Other airlines are keenly watching to see how United handles the final elements of the merger. By all means, if you're a loyal United or Continental traveler, stick with the airline. But if the new United doesn't meet your expectations, let your wallet do the talking, and take your business to other airlines. If you're an "elite" United Mileage Plus member, some other airlines may offer you a one-time match of your United Mileage Plus status in their loyalty program. Check the various airline forums on Milepoint.com and FlyerTalk.com, the two leading online communities for frequent fliers, for more information on this.
For the folks at United, don't think March 3, "merger day," is the end. It's just the beginning. United must beat the basics — that is, offers superior on-time performance, that passegers' checked bags arrive with them, that front-line staff remain consistently professional and courteous, the planes are clean, and that key consumer-facing technology channels like the website, mobile apps, online check-in, and kiosks all work reliably. As I learned when I worked in the airline business, the measure of a good airline isn't how it operates when the weather is clear and sunny, it's how the airline handles things when it's snowing, you're overbooked, and half your flights are cancelled. United must now focus to deliver a more consistent customer experience. They'll have, at best, six months, before travelers lose patience — and before negotiations start with major corporations' for their 2013 airline contracts. As the saying goes, you never have a second chance to make a first impression. Let's hope United lives up to the challenge."
Meanwhile, Bruce Temkin noted that customers should, "Choose the carriers that care whenever they can. The more that the economics favor the carriers that do a good job with the CX, the more that others will need to put CX on their executive agenda.  From an airline's point of view executives should not, "Consider this a problem with customer interactions and recognize that its a fundamental problem in how their organizations operate. Once they understand that, they need to focus on what Temkin Group calls the four customer experience core competencies: Purposeful leadership, compelling brand value, employee engagement, and customer connectedness.
The GodFather of CRM, Paul Greenberg, devoted a post on customer experience calling United out and comparing the difference in service levels with Marriott Hotels.  The airline ignored him and never got back to him.  That utter lack of response pretty much explained how much the airline cared.
Customers "Just Want Their Airline Back"
The general verdict from frequent flyers, employees, and partners of Continental/United- "we want our airline back!" Sadly, the last Continental flight is Friday March 1st ( see Figure 6.)
Figure 6.  March 3rd Put An End To the Continental Legacy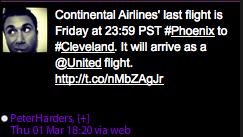 Basic Customer Experience Principles Lacking At The Management Level Since Jeff Smisek's Leadership
So what's the lesson learned here in delivering top-notch customer experience? United and other customer service facing industries can improve with just these 5 strategies.
Revisit listening to your customers. This doesn't mean you respond to every complaint or comment. It means you understand what the root cause of the problem is and seek to address that cause.
Understand that everything is public. In an age of social media it's all public. You have to engage your customers. This means taking your understanding and involving them in the process. Show customers you are addressing the issue and also helping them understand your side of the story
Stop resting on your laurels. Even the most loyal customers will bolt. Taking a customer for granted can be costly in not only money, time, but also publicity
Listen to your employees. In 8 out of 10 cases, the employees know what's going on and can provide the best feedback. In United and Continental's case here, the failure to listen to employees is breaking the culture of the airline.
Build an active community. An active and engaged community can provide United with the force multipliers to not only improve customer service, but also reduce costs. Giff Gaff in the UK has shown this with the mobile phone business. It's a great example of getting the best of both worlds in Social Business.
Your POV
Do you want your airline back?  Have you learned from this case study?  Are you a customer facing organization looking to win by improving customer experience?  Add your comments to the blog or send us a comment at R (at) SoftwareInsider (dot) org or R (at) ConstellationRG (dot) com
Please let us know if you need help with your Social CRM/ Social Business efforts.  Here's how we can assist:
Assessing social business/social CRM readiness
Developing your social business/ social CRM  strategy
Vendor selection
Implementation partner selection
Connecting with other pioneers
Sharing best practices
Designing a next gen apps strategy
Providing contract negotiations and software licensing support
Demystifying software licensing
Related Research:
Reprints
Reprints can be purchased through Constellation Research, Inc. To request official reprints in PDF format, please contact Sales .
Disclosure
Although we work closely with many mega software vendors, we want you to trust us. For the full disclosure policy, stay tuned for the full client list on the Constellation Research website.
* Not responsible for any factual errors or omissions.  However, happy to correct any errors upon email receipt.
Copyright © 2001 – 2012 R Wang and Insider Associates, LLC All rights reserved.
Contact the Sales team to purchase this report on a a la carte basis or join the Constellation Customer Experience!